NEWS HEADLINES SEPTEMBER 22
Three pupils drowned at hydropower reservoir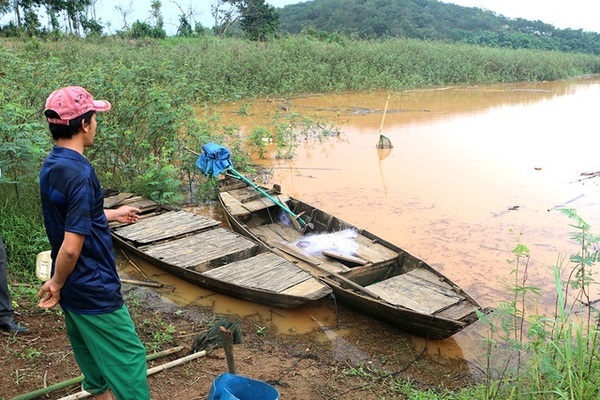 The area where the incident happened
Three 9th graders in the southern province of Binh Phuoc drowned while sailing at a local hydropower reservoir.
The victims are pupils from Ly Thuong Kiet Secondary School in Bu Gia Map District.
At around 9 am on Friday, on the way coming back home from school, a group of six boy students from Grade 9, Nguyen Ca Van Phuong, Lam Quang Duy, Nguyen Tien Dong, Tran Quoc Hau Dung, Nguyen Phi Hung and Mao Van Cao went to Phuong's house.
Phuong and his friends took his family's boat to sail on nearby Thac Mo Hydropower Plant's reservoir. When they were just 10 metres away from the shore, the boat suddenly overturned.
Dung swam immediately to the shore and used a bamboo stick to save Hung and Cao. Meanwhile, the three others who failed to hold the stick went missing.
Local residents quickly jumped into the reservoir for the search, but until more than two hours later, they could find them who had died around 15 metres from the shore.
Ancient tea tree in Yen Bai honoured
A ceremony was held in Suoi Giang commune, Van Chan district, the northern mountainous province of Yen Bai on September 20 to honour ancient tea tree, as part of the Muong Lo Culture and Tourism Week.
Visitors had a chance to learn about the process of picking, processing and enjoying shan tuyet tea and join cultural and sport activities such as pounding steamed rice cake, panpipe dancing, tug of war and pao throwing.
The annual event aimed to honour and improve the value of Suoi Giang tea brand in domestic and foreign markets, introduce cultural characteristics of the Mong ethnic people, attract investment to tourism and step up the construction of the Suoi Giang ecological tourism area, thus raising young generations' awareness of protecting and developing Suoi Giang tea.
On the occasion, the Suoi Giang tea space was inaugurated.
Suoi Giang tea complex is now home to over 400 ancient shan tuyet tea trees which have been recognised as Vietnam heritage trees by the Vietnam Association for Conservation of Nature and Environment.
Located around 1,200 to 2,200m above sea level, Suoi Giang commune in Van Chan district enjoys a cool climate all year round. The favourable geography, terrain and weather conditions have been the key to the development of tea trees which produce the well-known shan tuyet variety.
The latest figures show that Suoi Giang is home to 393 hectares of land for tea cultivation, three-fourths of them with ancient roots.
Vương's hat-trick gives Hoàng Anh Gia Lai breathing room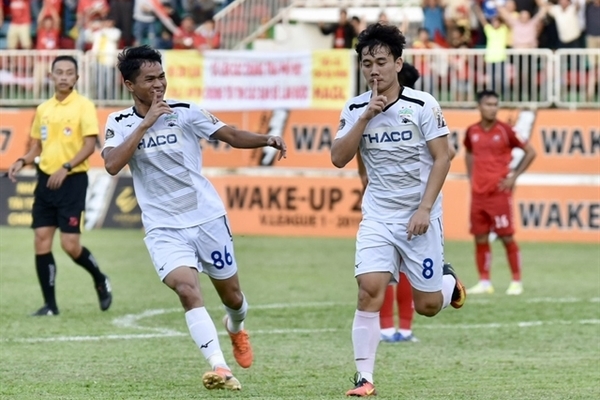 Trần Minh Vương (right) celebrates after scoring a goal in Hoàng Anh Gia Lai's 5-1 win over Hải Phòng on September 20.
Trần Minh Vương's hat-trick led Hoàng Anh Gia Lai (HAGL) to a priceless 5-1 victory over Hải Phòng in their battle to avoid relegation from the V.League 1 on Friday.
The home side's biggest win of the season helped them climb to 11th in the table on 29 points, four clear of the relegation playoff spot.
The first chance of the game at Pleiku Stadium fell to HAGL's Trương Trọng Sáng just eight minutes in, but he failed to beat Hải Phòng goalkeeper Phan Đình Vũ Hải.
The opener came in the 16th minute, as Brazilian forward Felipe Martins burst down the left side and played a ball across the box that Hải spilled, allowing Nguyễn Văn Toàn to tee up Vương for an easy finish.
The away side levelled things up after 31 minutes thanks to a blunder from HAGL goalkeeper Lê Văn Trường.
Trường came far out of his goal to catch a free-kick played into the box but couldn't get there, allowing Hải Phòng's Andre Fagan to tee up Vietnamese-German midfielder Adriano Schmidt for an easy headed-finish.
The hosts turned the game on its head in the second half and Vương completed his treble with goals in the 51st and 67th minutes after two poor Hải Phòng mistakes.
National team star Văn Toàn made sure of the result with a goal in the 74th minute by breaking the offside trap and an assist for Martins six minutes later.
Despite their best efforts, Hải Phòng were unable to get back into the game and even had a Jeremie Lynch penalty saved in the 85th minute.
The win pushed Hoàng Anh Gia Lai to 11th on 29 points while Hải Phòng are No 9 with 30 points, and both sides are still in danger of the drop.
In a later match in the same day, Quảng Ninh drew with Quảng Nam 1-1 in third place and HCM City secured second place this season after beating Sài Gòn FC 3-1.
Viettel played at home but drew with Becamex Bình Dương 2-2, leaving the former fourth from bottom on 28 points.
The last two matches this weekend are Thanh Hóa against SHB Đà Nẵng and Khánh Hoà versus Nam Định tomorrow.
While No 8 SHB Đà Nẵng just need a win to be safe this season, Thanh Hóa are in danger as they are second from bottom and have lost their last six matches.
In an effort to stay in the V.League 1, the team has appointed Hoàng Thanh Tùng as technical director. He led the team to finish third in the 2016 season.
Khánh Hòa have been in the bottom for most of the season but still have a chance to stay up if they can beat Nam Định at home and results elsewhere go their way.
Khánh Hòa have never lost to Nam Định. They beat Nam Định 2-1 earlier this season at Thiên Trường Stadium on April 6. 
Health ministry wants to promote cashless payments in the health sector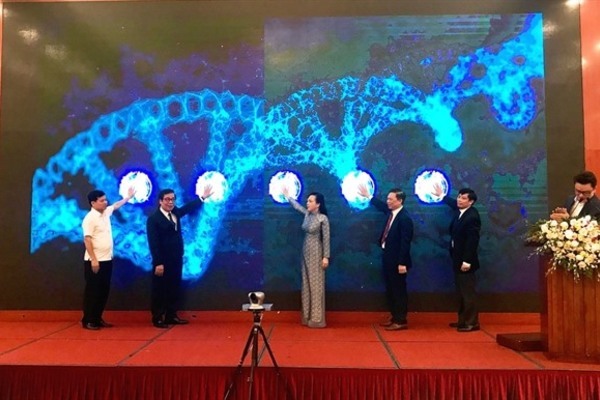 Delegates launch the portal on supporting medical electronic transactions in Hà Nội on Friday.
The Ministry of Health has set out a plan to promote e-payments, or cashless payments, in the health sector, especially for health check-ups and treatment services at medical facilities nationwide.
Speaking at an online conference on Friday in Hà Nội, health minister Nguyễn Thị Kim Tiến said the implementation of non-cash payments will be an important task of the health sector.
Tiến said that non-cash payments have many benefits, including improved safety, speed and accuracy. It also allows people to access and make payments not only within the country but even globally.
"To date, cashless payments have been applied at about 30 medical facilities nationwide, gaining remarkable results. At several hospitals, non-cash payments made up 35 per cent of total payment transactions for health check-ups and treatment, reducing congestion, queuing time and improving patient satisfaction," said Tiến.
However, Tiến said, there are still many difficulties in expanding cashless payments in the health sector, such as low rate of hospitals using cashless payment systems or shortcomings in connecting with banking software or between organisations providing intermediary services and information systems of hospitals.
"Vietnamese people are still used to paying for medical services with cash," said the health minister.
"Recently, the health sector has accelerated the application of IT and ensured infrastructure in improving management activities, quality of medical services and satisfaction of patients in fields of public administration, health check-up and treatment; medical and pharmaceutical training. This will be the foundation for implementing electronic payments for services," said Tiến.
At the event, the health ministry requested units in the sector to develop action plans, resources and conditions to implement suitable non-cash payment solutions.
The ministry asked hospitals and health facilities to actively deploy various forms of electronic payments for hospital fees and tuition, such as via credit card, smartphone, electronic wallets and electronic payment gateways.
"For people who have no bank card or account, health facilities must work with banks to implement a convenient non-cash payment solution," said Tiến.
At the same time, the health sector will also promote communication and strengthen people's awareness on the significance and important utilities of non-cash payment, encouraging people to use cashless methods in paying hospital fees and tuition.
The State bank of Việt Nam Deputy Governor Nguyễn Kim Anh said that the SBV will continue to work with the health sector in improving people's experience and satisfaction in paying treatment fees, reducing queues, contributing to improving the quality of check-up and treatment services.
SBV also suggested commercial banks research and apply incentive policies and affordable service fees for payment of hospital fees and implement incentives, promotion and discount programmes to change habits and behaviours of customers in paying hospital fees from cash to e-payments.
"SBV will instruct commercial banks to work closely with medical facilities in providing safe, fast, accurate service products and payment methods with affordable fees," added Anh.
A report of the State Bank of Việt Nam showed that around 50 per cent of Vietnamese people still do not have bank accounts or e-payment cards. Fees for cashless payments are still high and there is a lack of payment methods for medical services at hospitals in mountainous and remote areas, hindering the development of non-cash payments in the health sector.
Việt Nam currently has more than 70 banks providing Mobile Banking and 31 e-wallets of intermediary payment service providers that can participate in providing cashless payment solutions. Nearly 14,000 health facilities use bank accounts nationwide.
Long Biên's land use violations remain unsolved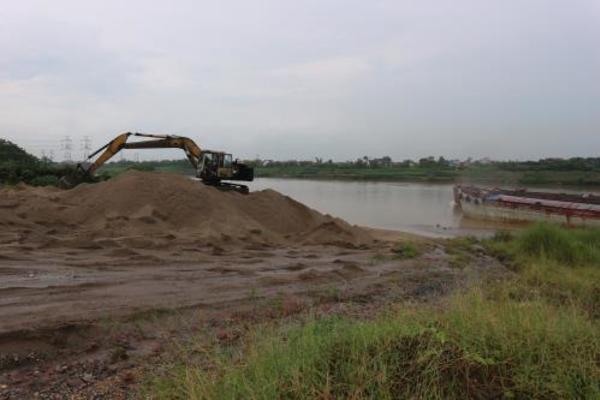 A building materials yard of Phúc Long Company is still open despite local authorities' demand to remove.
Hundreds of long-standing land use violations in Hà Nội's outlying district of Long Biên have recently been uncovered.
As the capital grows outwards, the district's land price has rocketed in recent years, motivating irresponsible public servants to ignore these wrongdoings.
Before 2014, commune authorities of Bồ Đề, Long Biên, Giang Biên, Ngọc Lâm and Gia Thuỵ allowed households to rent land for farming at about VNĐ500 (US 0.2 cents) per square metre per year for five years.
A broker who specialises in acquiring land use rights told Vietnam News Agency anonymously that there was a common "formula" to change the use purposes of leased farming land.
Lessees would ask local authorities to allow them to surround these areas and set up tents, claiming they needed to protect their plants, cattle, and assets.
After a couple of years when new commune leaders are appointed, these lessees would take advantage of their ignorance to put up buildings on the land or even construct villas for rent.
Thanks to such procedures, investors have collected thousands of square metres of public and agricultural land along the Hồng (Red) River at cheap prices, waiting to switch to other types of land which can bring them profits.
Meanwhile, if these areas come up for public auction, the Government can lease them at better prices.
The Government, in 1993, issued a decree on handing over land for local people to farm.
However, regarding this farming land, in July, 2018, nearly 300 violations on more than 8,300ha of farming land involving illegal construction, improper land use and illegal lease were found in Long Biên District, up 134 cases compared to 2017.
Phúc Long Company, for example, rented farming land from households living on the Đuống River's bank to set up a building materials yard.
Although local authorities have asked the company to remove all materials from the area, on August 22, the yard was still operating with dozens of large trucks coming in and out to carry sand and rocks.
A barge on the Đuống River was also seen mining and transferring sand to Phúc Long Company's yard.
"They hired our land then dug soil to sell elsewhere. After that, the company filled the area with rubbish to set up a building material yard. Even if we claim the land back, it is impossible for us to farm," said a local resident.
The yard's operation has also caused noise and environmental pollution.
A similar situation can be found in other Long Biên communes like Bồ Đề and Ngọc Thuỵ, where several riverside areas, once maize fields, have been turned into landfills.
According to Nguyễn Quốc Huy, head of Long Biên District Department of Natural Resources and Environment, the complexity of the wrongdoings and the reluctance of communal authorities have created loopholes for illegal acts to continue.
Since 2014, Long Biên District has handled half of detected cases yet only 20 per cent of violated land was revoked.
In Thượng Thanh Commune, for example, there are 47 houses built on agriculture land before 2000.
Communal authorities, however, are unable to come up with any solution as these violations happened long ago without any records, head of Thượng Thanh Commune People's Committee Hoàng Văn Lực said.
In Cự Khối Commune, 10 similar cases were found by Hà Nội Department of Natural Resources and Environment in 2014.
Explaining the delay in dealing with these problems, communal authorities said they were waiting for further commands from higher-level leaders.
Nguyễn Mạnh Hà, head of Long Biên District People's Committee, said they had established two task forces consisting of related departments and communal authorities to consider every case and work towards solutions to these wrongdoings, starting with withdrawing land lease contracts.
However, until now, no individual or organisation committing these violations has been charged.
Last year Hà Nội People's Committee established an interdisciplinary team to inspect illegal constructions on farming land in 10 districts, including Long Biên, Hai Bà Trưng and Cầu Giấy.
Eight heads of communes' people's committees were suspended for tolerating violations.
Nguyễn Đức Chung, head of Hà Nội People's Committee, stressed the irresponsibility of authorities was the main cause of the phenomenon and urged active involvement and robust leadership from local administrations in the management of land. 
African swine fever still a problem for local farms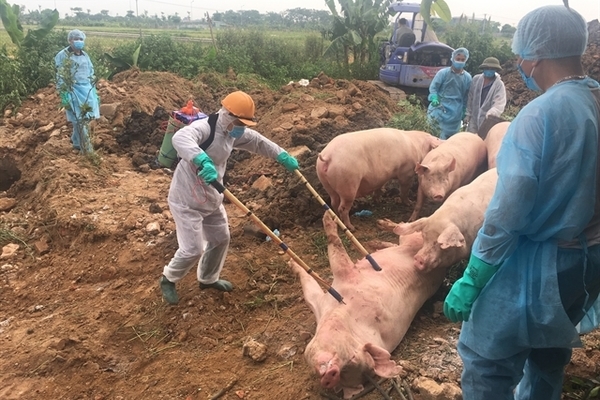 Pigs infected with African swine fever are destroyed in Đông Anh District, Hà Nội.
African swine fever continues to pose problems for the agricultural sector, with 522 small pig farms recently confirming cases of the disease in Hà Nội.
The report led to 4,631 pigs being destroyed within a week, said Nguyễn Ngọc Sơn, head of the city's Livestock Production Division.
Districts of Ba Vì, Chương Mỹ, Phúc Thọ, Mỹ Đức and Ứng Hòa were among the areas most severely affected by African swine fever, Sơn said.
It is estimated about 518,000 pigs, equal to 27.6 per cent of the total pigs city-wide, have been destroyed due to African swine fever so far this year.
As many as 248 communes, accounting for 55 per cent of the city's total communes which suffered from the disease have gone 30 days without any new cases.
Nguyễn Huy Đăng, deputy director of the city's Agriculture and Rural Development Department said the agency had taken drastic measures, following Directive No 34-CT/TW issued in May, to prevent and control the disease in the capital.
Additionally, the agricultural sector was co-operating with relevant agencies to strictly monitor the burial of pigs, instructing local breeders to take measures to stop the spread of the disease as well as disseminating information so that consumers do not stop buying pork, he said.
The sector was reviewing and supplementing materials and chemicals in aid of disease prevention in the city, he said.
It would continue maintaining animal quarantine stations at traffic hubs, he said.
In the southern province of Đồng Nai, the African swine fever virus has affected nearly 4,000 pig farms. More than 357,000 pigs have been destroyed so far.
In response, the Ministry of Agriculture and Rural Development instructed pig breeders to apply techniques to safely breed pigs as well as encouraged businesses to connect with breeders to set up safe livestock chains.
Nguyễn Xuân Dương, acting director of the ministry's Livestock Production Department, said some important techniques in re-breeding included the applying of livestock biosecurity and the use of probiotics.
Pilot models used in several localities showed that the use of probiotics in animal feed could prevent the spread of African swine fever.
According to the ministry, African swine fever has caused a 7-per cent reduction (equal to over 4 million pigs) in the total number of pigs in the country so far this year.
Deputy Minister Phùng Đức Tiến said African swine fever is very dangerous. There is no approved vaccine against the African swine fever virus.
Therefore, we should not neglect prevention and control measures for the disease. They aimed to ensure the yield of pork to customers in the last months of this year, he said.
African swine fever is an animal disease that has spread rapidly across Asia over the past few months, according to the World Organisation for Animal Health. It is fatal for pigs and wild boars, and can be transmitted in a number of ways, including direct contact and contamination of food waste and feed.
Thanh Hoa to provide more than 1,600 tonnes of rice for needy students
The north central province of Thanh Hoa will provide more than 1,600 tonnes of rice for some 21,000 students from disadvantaged ethnic minority areas.
Each student will get 15kg of rice per month. The rice is taken from the national reserves of the General Department of State Reserves under the Ministry of Finance.
The People's Committees of districts and communes are responsible for coordinating with the Department of State Reserves in the locality to deliver the rice.
The provincial Department of Education and Training along with the provincial Department of Finance, Committee for Ethnic Affairs, and the Department of State Reserves in the locality will examine the implementation of rice support for students.
Thanh Hoa's education sector suffered heavy losses after historic flashfloods on August 3.
According to the provincial Department of Education and Training, a lot of schools were submerged and heavily damaged due to the natural disaster.
Muong Lat, Quan Hoa, Ba Thuoc, and Quan Son districts were among the hardest hit areas.
In the 2019-2020 academic year, the local education sector needs about 26 billion VND (1.11 million USD) to address flood consequences.
Workshop promotes preservation of Quang Nam culture value
Measures to preserve and uphold Quang Nam culture values were debated at a workshop held in the central province of the same name by the provincial Department of Culture, Sports and Tourism on September 20.
The event attracted hundreds of scientists and culture researchers from universities and institutes nationwide.
Speeches delivered at the event focused on clarifying many aspects of the panorama of Quang Nam culture.
Participants discussed culture values of the Quang Nam land and people, ways to promote sustainably the value of archaeological heritage, and those to uphold the role of the local community in preserving folk festivals in coastal localities in Quang Nam.
They also pointed out changes of ethnic minority communities' traditional culture in the province.
According to Director of the department Nguyen Thanh Hong, Quang Nam is one of the localities with the most diverse cultural heritage of the country, home to four special national relics, including two world cultural, 62 national and 340 provincial ones.
The locality also boasts many beautiful landscapes, intangible cultural heritages, and long-standing traditional trade villages that need to be preserved in the integration period, he said.
The workshop introduced new perspectives and approaches, contributing to promoting the preservation of local cultural values in the coming time.
More wheelchairs to disabled in Bac Ninh
As many as 220 wheelchairs and 25 scholarships worth 2 million VND (86.14 USD) each donated by Samsung Vietnam's subsidiaries were presented to the disabled and poor students in the northern province of Bac Ninh on September 20.
According to Vice Director of the provincial Department of Labour, Invalids and Social Affairs Nguyen Van Cay, Bac Ninh is home to about 16,000 disable people.
Local authorities have issued policies related to social welfare, especially those in support of the people living with disabilities and disadvantaged children, he said.
Kim Byeong Sam, human resources manager of Samsung Electronic Vietnam, said apart from its manufacturing activities, Samsung are joining hands with other enterprises to help improve the life quality of locals, especially the disabled and disadvantaged children.
This is the 9th consecutive year the firm has granted wheelchairs to disabled children in Bac Ninh, lifting the total presented in the locality to 1,000, worth 2 billion VND.
Dong Thap to flood rice fields for fertility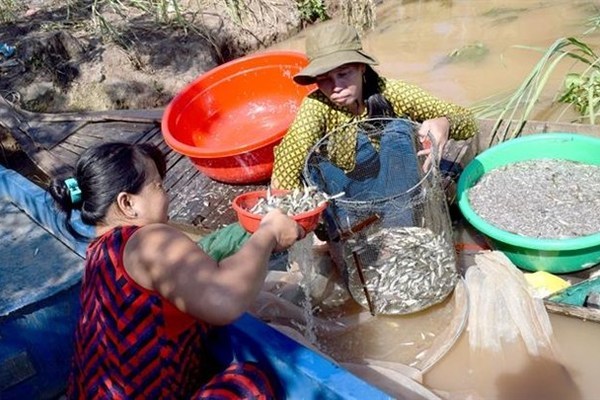 Siamese mud carp and other small-sized fish are caught in the floodwaters in Hong Ngu district's Thuong Thoi Hau A commune in Dong Thap province
The Mekong Delta province of Dong Thap plans to release floodwaters into 90,200ha of rice fields in this year's rainy season to fertilise the soil and flush away rice disease pathogens.
The fields will be inundated up to 40-80cm until mid-October, according to the provincial Department of Agriculture and Rural Development. The waters deposit sediments in fields.
This year, the flooding season began one month later than usual because of the low rainfall in the Mekong River's upper reaches, and water began flowing into rice fields in upper areas in Dong Thap province, one of the delta's upstream provinces, only in early September.
Nguyen Phuoc Thien, deputy director of the department, said in areas with reliable dykes, localities could release floodwaters into rice fields but have to do so safely and ensure fruit orchards and vegetable fields are not affected.
They should proactively implement measures like inspecting and repairing important dykes protecting paddies, sluice gates and pumping stations to cope with floods and rains to protect crops, he said.
Nguyen Van Anh, a farmer in Hong Ngu district's Thuong Thoi Hau B commune, said: "Sediments make rice fields fertile and increase the rice yield in the next crop."
But the floodwaters have inundated vegetables and short-term crops that were planted in alluvial areas along rivers.
Pham Van Dao planted 1ha of papaya in Hong Ngu district's Thuong Thoi Tien town and it was inundated.
Locals thought the floods would not come this year and so planted short-term crops like red chilli and papaya, he explained.
The floods came when the crops fruited, and damaged them, he said.
Hong Ngu district has 280ha of alluvial areas along the Tien River, a tributary of the Mekong. Local authorities have warned farmers not to grow crops in the alluvial areas during the flood season.
But the floodwaters also bring fish and other aquatic species to provide a livelihood to many people.
The flooding season is also the harvest time for sesbania sesban and water lily flowers, specialty flood-season foods.
Dang Van Duc of Hong Ngu district's Thuong Thoi Hau A commune said he and his wife can catch a few kilogrammes of Siamese mud carp, a flood specialty, and dozens of kilogrammes of other small-sized fish every night.
They can earn 500,000-1 million VND (21-43 USD) a day from this, he said.
Traders buy Siamese mud carp for 80,000-100,000 VND a kilogramme and other small-sized fishes for 6,000 VND.
The flooding in the upstream areas and rice fields this year is less than normal, according to the Dong Thap Centre for Hydro-Meteorology Forecasting.
It is expected to peak at the end of this month and early next month, the centre added.
India grants IT PhD scholarships to ASEAN students
The Indian Government has decided to grant 1,000 PhD scholarships in information technology for students in ASEAN member nations to pursue their study in technology academies in India, Indian Deputy Ambassador to Vietnam Rajesh Uike said on September 20.
The scholarship programme is the commitment by Indian Prime Minister Narendra Modi at the Summit celebrating the 25th founding anniversary of ASEAN-India in New Delhi in January last year, the diplomat added.
This is the largest human resources development initiative of India in its relation with ASEAN.
Accordingly, the scholarships will be allocated within three years from 2020-2022, with 250 for 2019-2020; 350 for 2020-2021 and 400 for 2021-2022.
Rajesh Uike said candidates are requested to have a master's degree in information technology and meet foreign language requirements.
Applicants can log in to the portal http://asean.iitd.ac.in of the New Delhi Institute of Information Technology to register for training programmes at various technology institutes.
The first semester of students from ASEAN countries will start in January 2020, he added.-
Nearly 10,000 households in Tra Vinh lack fresh water
A shortage of fresh water and severe saline intrusion have seriously affected the lives of tens of thousands of people in the Mekong Delta province of Tra Vinh.
According to the provincial Clean Water and Environmental Sanitation Centre, nearly 10,000 households have suffered from lack of fresh water, especially in Chau Thanh and Cang Long districts.
Since mid-February, more than 5,220 households living in 10 communes of Chau Thanh district have been forced to use surface water from canals, ditches or drilled wells for everyday living.
In the dry season, the water is salted while the underground water is contaminated with alum, causing a serious shortage of fresh water, local agriculture and rural development office said.
To cope, many households have been storing rainwater.
The authorities in Chau Thanh district said the local fresh water supply system only met 50 percent of demand and the rest were forced to drill wells.
Bui Van Mung, Director of the provincial Rural Water Supply and Sanitation Centre, said some water supply stations built were old and degraded and their initial designed capacity did not meet the needs due to population growth.
About 6 percent of rural households cannot reach fresh water because fresh supply water system cannot build in some remote areas, he said.
Proposals have been put to the province to build a water reservoir at four water supply stations using surface water to ensure sufficient fresh water supply in six months of dry season.
It also suggested building more pipeline systems in areas affected by saline intrusion and provide plastic tanks for about 2,000 poor households to store clean water.
The project is estimated to cost 18 billion VND (around 774,500 USD).
Book on movement against war in Vietnam debuted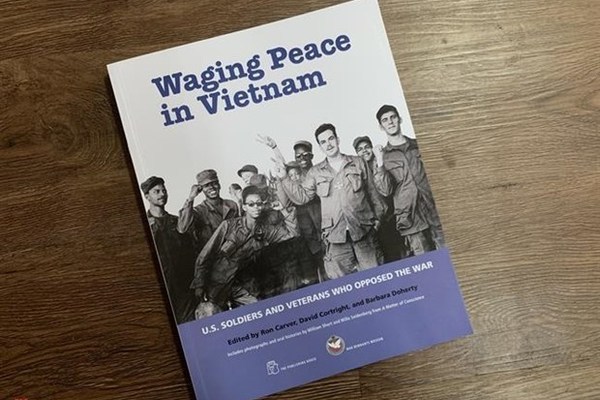 The book "Waging peace in Vietnam" is published by the Tre Publishing House (Photo: phunuonline.com.vn)
A book entitled "Waging peace in Vietnam" that reflects the mass objection against the war by the US in Vietnam between 1968 and 1972 made its first public appearance in Ho Chi Minh City on September 20.
Director of the War Remnants Museum Tran Xuan Thao said the 234-page book was compiled by Ron Carver, David Cortright and Barbara Doherty – American veterans who used to take part in the war.
The book gathers stories of American soldiers and anti-war activists collected from newspapers, posters and leaflets. It also features articles by scholars and anti-war activists like Christian Appy, and Chairwoman of the Vietnam Peace and Development Foundation Nguyen Thi Binh who played a key role in the achievement of the 1973 Paris Peace Accords on ending the war and restoring peace in Vietnam.
Ron Carver, a compiler of the book, said from 1968 to 1972, more than 300 anti-war newspapers were published for soldiers serving on camps or war vessels of the US. They reflected the opinions of hundreds of soldiers coming from the working class and newly-appointed officers who bravely raised their voice to protest the war and the unfairness in the US military then.
Aside from the book introduction, a photo exhibition on the objection to the unjust war in Vietnam was also opened at the War Remnants Museum on September 20.
Da Nang tightens HFM disease prevention measures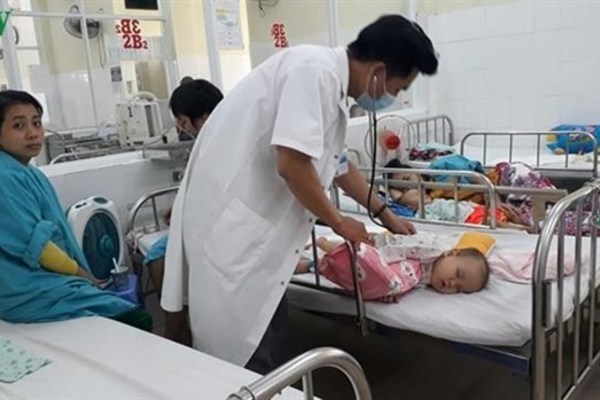 HFM patients are treated at the Tropical Medicine Department of Da Nang Hospital for Woman and Children. (Photo: vov.vn)
The central city of Da Nang is implementing preventive measures to control the spread of hand-foot-mouth (HFM) diseases as the number of HFM infections has increased steadily in the region.
The Tropical Medicine Department of Da Nang Hospital for Woman and Children recently received between 70-80 HFM cases for treatment each day.
However, Dr Nguyen Hai Thinh, Deputy Head of the Tropical Medicine Department, said there have been no serious cases with fatal complications.
"Currently, the number of hospital beds in the department still ensures one child per bed," he said.
Nguyen Tam Lam, Head of the Infectious Diseases Prevention and Control Centre under the city's Department of Health, said anti-epidemic teams were set up with qualified human resources, equipment and chemicals.
"District-level health centres are asked to coordinate with the education and training department, parents and schools to strictly examine food safety," he said.
Since the beginning of this year, the city recorded 1,300 cases of HFM disease, an increase of 200 cases over the same period last year.
Nguyen Thi Thu Mo, mother of an 8-year-old patient who was treated as outpatient in the Tropical Medicine Ward, said her daughter was hospitalised five days ago with fever and rashes.
"I kept her at home for two days but the fever didn't stop, so we took her to hospital," Mo said. "Now the rash is okay, but she still has a fever".
Dr Thinh said children infected with HFM disease often experience fever, loss of appetite, fatigue, sore throat, cough, abdominal pain and a rash on the skin.
"So when parents detect these signs, they need to take the children to medical facilities immediately," Thinh said.
Each year in Da Nang, there are two peaks of HFM disease: from March to May and from September to October.
The reoccurrence of virus Enterovirus 71 (EV71), a common cause of life-threatening illnesses for HFM patients, has made the disease dangerous and could easily spread into an outbreak.
Long An: 77 communes recognised as new-style rural areas
The Mekong Delta province of Long An now has 77 communes recognised as new-style rural areas, accounting for 46.4 percent of the total.
The provincial People's Committee revealed the figures at a conference on September 20 to review the 10-year implementation of the National Target Programme on New-style Rural Area Building.
Later this year, Hoa Phu commune in Chau Thanh district and Phuoc Hau commune in Can Giuoc district are expected to meet the criteria for new-style rural areas.
The province completed dossiers to submit to authorities to recognise Chau Thanh district as new-style rural area and Tan An city for completing new-style rural construction tasks.
Vice Chairman of the provincial People's Committee Pham Van Canh said the province will continue improving the material and spiritual lives near of rural people towards those in urban areas, establish more cooperatives and boost chain production in the near future.
On the occasion, two collectives were awarded with the emulation flag from the provincial People's Committee, 21 collectives and 15 individuals received certificates of merit from Chairman of the provincial People's Committee for their contributions to the effort for the 2016 – 2020 period.-
Muong Lo tourism-culture week opens in Yen Bai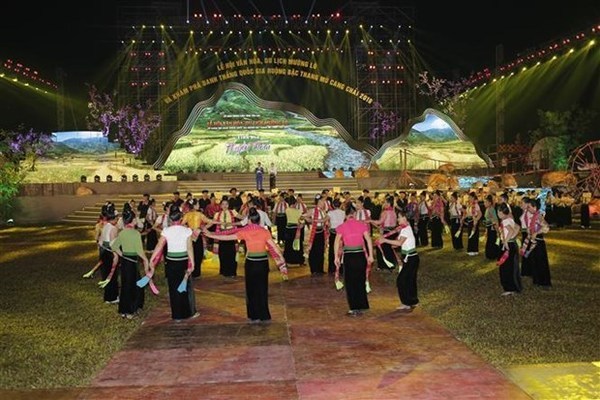 A massive performance of Xoe dance involving 5,000 people at the festival
The 2019 Muong Lo Tourism-Culture Week and the Mu Cang Chai Terraced Field Festival kicked off on September 20 in the northern mountainous province of Yen Bai, featuring a chain of exciting activities.
Speaking at the opening ceremony, Chairman of the provincial People's Committee Do Duc Duy highlighted that Yen Bai is endowed with spectacular natural landscape with high mountains and rivers, along with a long-standing history and great cultural diversity.
The Muong Lo Tourism-Culture Week and the Mu Cang Chai Terraced Field Festival were held to highlight the beauty of local landscape and culture, inviting visitors to explore the unique values of the province.
This year's festival started with a street parade staged by 600 performers from nine districts and towns and an art programme featuring 3D mapping technique.
A highlight of the event was a massive performance of Xoe dance involving 5,000 people of Yen Bai province.
Xoe is a unique type of traditional dance of ethnic Thai communities in the northern region of Vietnam. It depicts the daily lives of Thai people and shows their wish for a peaceful and prosperous life.
The dance has been recognised as national intangible cultural heritage and is seeking the honour of being part of the intangible heritage of humanity.
As part of the festival, the 6th paragliding festival themed "Flying over yellow fields" will offer visitors an opportunity to get a bird's-eye view of the impressive terraced fields.
Mu Cang Chai district is home to 500 hectares of rice terraces in La Pan Tan, Che Cu Nha and De Xu Phinh communes, cultivated by the H'mong people for centuries. The local terraces are among the 2,500 hectares recognised as national heritage sites in 2007 by the Ministry of Culture, Sports and Tourism.
The event, which runs until September 26, will also include food and tourism exhibitions, aiming to promote the locality's tourism development potential.
Hanoi's rural development outcomes comprehensive, impressive: PM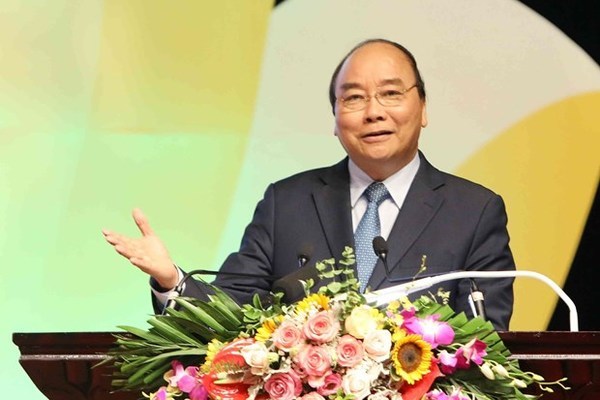 Prime Minister Nguyen Xuan Phuc speaks at the conference reviewing the 10-year implementation of the national target programme on building new-style rural areas in Hanoi on September 21
Prime Minister Nguyen Xuan Phuc has described the outcomes of the new-style rural area building in Hanoi as "comprehensive, impressive" while addressing a conference reviewing the 10-year efforts by the capital city on September 21.
The national target programme on building new-style rural areas, initiated by the Government in 2010, sets 19 criteria on different aspects, aiming to boost the development of rural regions in Vietnam.
According to Chairman of the municipal People's Committee Nguyen Duc Chung, six outlying districts have met all the criteria and earned the new-style rural area recognition, namely Dan Phuong, Dong Anh, Thanh Tri, Hoai Duc, Gia Lam and Quoc Oai.
As many as 325, or 84.2 percent of the city's total 386 communes, have gained the status, surpassing the target of 80 percent set for the end of 2020. Notably, Dan Phuong, Song Phuong and Lien Trung communes of Dan Phuong district have satisfied the advanced criteria for new-style countryside.
Over the last 10 years, municipal authorities have successfully involved thousands of collectives, individuals, businesses and households in contributing to the building of new-style rural areas with more than 14.74 trillion VND (633.7 million USD) raised. In particular, a number of local residents have made donations worth over 7.2 trillion VND in total to the programme, Chung said.
However, he also admitted certain shortcomings, noting that Hanoi hasn't succeeded in attracting more investment into agricultural production, especially hi-tech farming and connectivity under production chains. There remains a gap in the outcomes of building new-style countryside among districts, while funding for the programme in the city is still mainly sourced from the State budget.
At the conference, PM Phuc applauded efforts by Hanoi, where the new-style rural area building programme is carried out on the largest scale among all localities with 17 outlying districts that consist of 386 communes covering over 2,230 sq.km. and having a population of 4.1 million.
Requirements for new-style rural areas are very high, in terms of both quantity and quality, he noted, stressing that the ultimate goal of the programme is to improve the material and spiritual lives of people.
Living standards of rural residents in the city have been improved considerably and higher than the national average, the Government leader commented.
The PM said Hanoi's rural areas should take the lead in applying the achievements of the Fourth Industrial Revolution. He called on the city to develop satellite urban areas more strongly and associate new-style rural area building with urban development.
Additionally, local rural areas need to preserve the traditional culture of the millennium-old capital city, PM Phuc said.
He requested Hanoi to pay special heed to environmental protection while building new-style countryside, noting that it should use new technologies in waste and wastewater treatment, resolutely say no to plastic bags and disposable plastic products, ensure the qualified reuse of agricultural waste, and form green belts around the capital's central zone.
PM Phuc emphasised the importance of the new-style rural area building programme, describing it has "the stature of a long-term strategic revolution."
He pointed out that this is the field the Party and State pay special attention to create solid prerequisites for national industrialisation and modernisation.
As part of the conference, a fair was opened the same day to introduce agricultural products, handicrafts and other goods under the One Commune – One Product programme of Hanoi.
The fair, featuring 170 booths, is a chance to popularize outstanding products of the city's agriculture. It is also a platform for local businesses, associations and production facilities to step up partnerships in production, processing and sale of farm produce.
On this occasion, the municipal People's Committee opened an exhibition on Hanoi's achievements in building new-style rural areas.
The fair and exhibition at the Cultural Friendship Palace will run through September 22.
Mahatma Gandhi's 150th birthday to be marked with various activities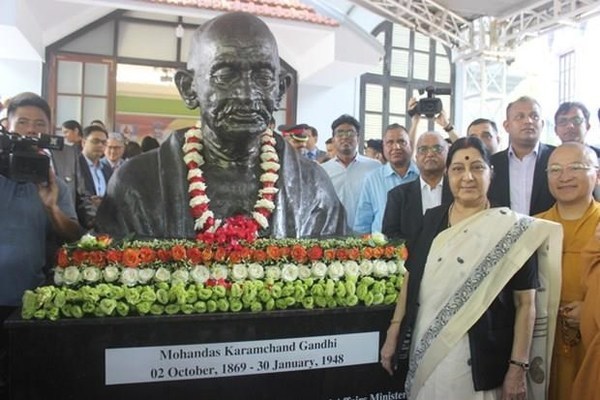 The Mahatma Gandhi bust is inaugurated in the Indian Embassy in Hanoi in 2018 (Source: dantri.com.vn)

The Indian Embassy in Vietnam on September 20 announced various activities to mark the 150th birth anniversary of Indian leader Mahatma Gandhi.
The embassy will organise a grand ceremony to commemorate his birth anniversary on October 2 with the coordination of two Vietnamese ministries and the Vietnam-India Friendship Association.
A photo exhibition on the Indian leader will also be held, and stamps will be issued and a special publication about him will be published on the occasion.
Earlier in June, film screening and book-reading sessions related to the Indian leader was organised by the Swami Vivekananda Cultural Centre under the Indian Embassy.
The Embassy had also presented many books compiled by Gandhi to the National Library of Vietnam.
In August 2018, a Gandhi bust was inaugurated at the Indian Embassy in Hanoi during a visit by Indian External Affairs Minister Sushma Swaraj.
With the support of the Indian Embassy, four Jaipur Foot Artificial Limb Fitment Camps have been set up in four northern provinces of Vietnam, namely Vinh Phuc, Phu Tho, Quang Ninh and Yen Bai.
Child protection efforts to go viral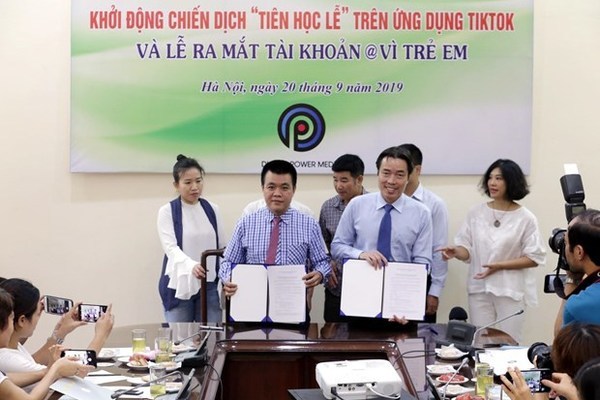 Representatives of the the Department of Child Affairs and TikTok show the deal signed on September 20
The #tienhocle programme that uses the short video app TikTok to popularise child protection skills was launched in Hanoi on September 20 as part of a deal sealed the same day.
Under the freshly signed agreement, the Department of Child Affairs under the Ministry of Labour, Invalids and Social Affairs (MoLISA) will team up with TikTok Vietnam to develop content for the programme via the TikTok platform.
The content is set to revolve around the topics of ethical values, civilised behaviours, and practical life skills to keep children safe from violence and abuse.
The programme targets 3,000 videos and 20 million views.
Director of the Department Dang Hoa Nam stressed it is better to help children raise their self-protection knowledge and skills.
Nam noted in partnering with TikTok, the department wants to approach users of the platform and make use of youths' influence to disseminate messages on child education and protection.
TikTok, which has over 12 million users, debuted in the country in late April this year. 
Thái Sơn Nam triumph in national futsal tournament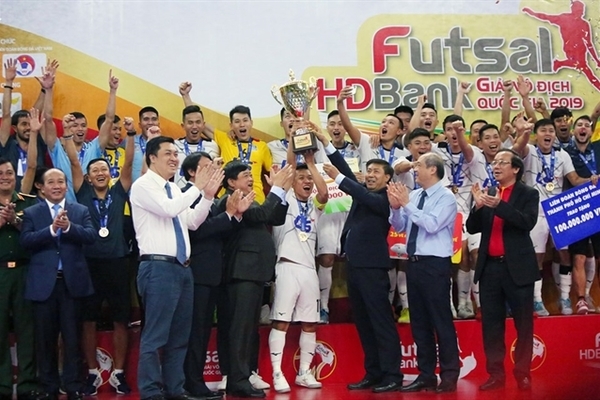 Thái Sơn Nam celebrate winning the National Futsal Championship on Thursday. — Photo vff.org.vn
Thái Sơn Nam has won the National Futsal Championship.
They were crowned champions on Thursdayafter thrashing Tân Hiệp Hưng 7-0 to seal their ninth title in HCM City with 41 points after 18 matches.
Sahako and Sanatech Khánh Hòa finished second and third with 37 points and 34 points.
Nguyễn Minh Trí of Thái Sơn Nam was named player of the tournament. The best goalie award went to Nguyễn Hoàng Anh of Savinest Sanatech Khánh Hòa, while Nguyễn Trần Duy of Đà Nẵng FC was top scorer award.
Thái Sơn Nam will be Việt Nam;s representative to compete in the AFC Clubs Futsal Championship 2020, while Sahako will play in the ASEAN Clubs Futsal Championship 2020.