New schools built on small change
If 100,000 people donated VND2,000 per day, 292 schools could be built every year.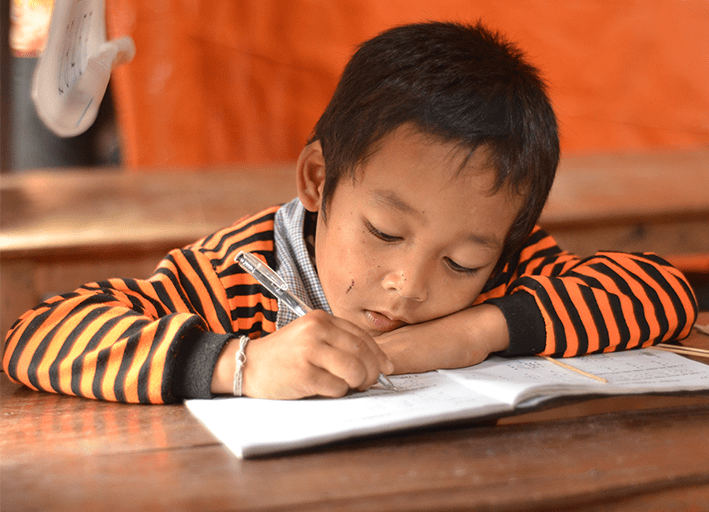 'Suc manh 2000 – Tien le moi ngay – Trieu nguoi chung tay – Xay nghin truong moi' (The power of 2000 – Daily change – Millions of people join hands to build thousands of new schools), launched on February 27, 2020, is a fundraising program belonging to the 'Anh sang nui rung – Moi nam mot ngoi truong cho tre vung cao' (Light in the mountains and forests – one school a year for upland children), sponsored by the National Volunteer Center.
As of March 2020, Anh sang nui rung had built 35 school branches in Dien Bien and Lai Chau.
After 'Suc manh 2000' was launched, in 2020 alone, 77 more school branches, happy houses, happy bridges and boarding areas were built.
Nearly 100 construction works have kicked off and been completed so far this year. The figure is expected to rise to 120 by the end of 2021.
The administrator of 'Suc manh 2000' is Hoang Hoa Trung, who introduced himself as a 'scrap dealer' and 'impractical man'.
Trung has been doing charity for 14 years. He manages 'Nuoi em' (Raising children), the project which commits to feed every highlands child and send them to school with just VND150,000 a month.
The first school Trung and his team built was in 2012. In 2019 alone, the volunteer team built 15 schools for upland children, worth VND3.9 billion, raising the total number of schools built by that time to 25.
The second school they built is in Nam Vi Hamlet of Dien Bien province, where 80 percent of people lived in dilapidated houses made of bamboo. About the 'school', Trung said, "I saw a cow poking its head through the bamboo wattle and licking the hair of a student in the class."
"In 2022, we will eliminate all dilapidated bamboo schools in Dien Bien," he said.
The story about a student who had to drop out because her house was far from the school prompted Trung to build boarding areas in school.
Believing that boarding areas will help change the life of thousands of students within 10-15 years, Trung and his friends began building boarding areas. It is expected that seven areas will be put into operation by the end of the year, benefiting 500 students.
His team also runs 'Nha hanh phuc' project (Happy house) which rebuilds houses in bad conditions for poor children, and calls for scholarships for children until they turn 18 years old. They also build happy bridges to make it easier for students to go to school.
Thirty-four happy houses and 11 happy houses have been built in the last two years. 
Phuong Chi

Faced with financial difficulties due to the COVID-19 pandemic, the owners of many private kindergartens are putting their schools up for sale.

Deputy Prime Minister Le Minh Khai has agreed with the Finance Ministry's proposal to help needy students with electronic devices to help them learn online during the COVID-19 pandemic.