Never too old to do good deeds

At the age of 87, People's Artist Le Thu is not that interested in growing old peacefully, she's more concerned about staying healthy so she can help other people.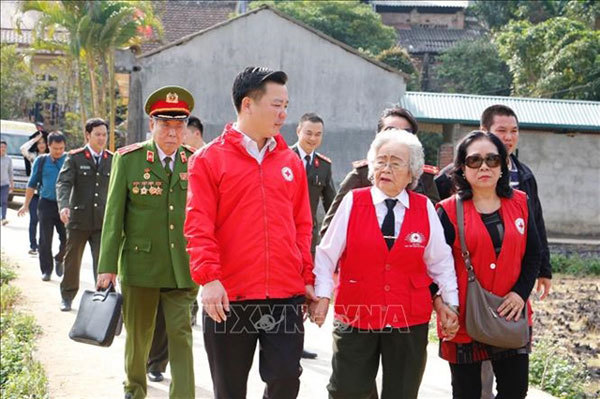 Le Thu on a charity trip. VNA/VNS Photo
Born in the northern mountainous province of Cao Bang, Thu joined the revolutionary force as a liaison officer when she was only 14. When the capital was liberated in 1954, she started to work at the Voice of Vietnam as an artist.
During her trips back to her hometown in Cao Bang, Thu was heartbroken to see poor children shivering during the cold winter with bare feet and thin worn-out clothes.
In 2002, she managed to raise some money from friends and families, enough to build a one-storey communal house for her village in Hoang Tung Commune, Hoa An District.
"I wanted my hometown to have a place to gather and organise events, and to discuss how they could escape poverty so the children have enough rice to eat and enough clothes to wear," she said.
Since then, she has been raising money every year to give to poor people in Hanoi and Cao Bang Province, or to buy cows for poor families so they can make ends meet.
In 2009, Thu established the Thang Long Red Cross Association under the Hanoi Red Cross Association, gathering 30 veterans and retired business leaders. As the association's president, she sources donations for charity activities during holidays or during times of floods and natural disasters.
In the past 10 years, the association has regularly supported 300 individuals, presented 24,000 gifts and built 10 new houses for poor households in Cao Bang Province and Hanoi.
The association has also donated 10,000 cotton blankets to poor households in northern mountainous provinces, built two bridges in Cao Bang Province, and opened ten savings accounts for poor families in Hoa An District. The total value of the association's efforts is estimated at over VND16 billion ($690,000).
Thu has also opened a charity stall at 19/52 To Ngoc Van, Tay Ho District, for people to donate goods for people in need.
"Thu does things from the heart and spreads compassion and meaning to others," said Major General Do Hung, former deputy general director of the General Department of Police.
Thu's family have been inspired by her good deeds, and have committed to giving regular financial support to five poor households in Hanoi.
At the age of 87, Thu can't travel as much as she used to on charity trips, but she follows what's going on closely.
"We all have things that we're unhappy about in life, but doing good deeds makes us feel more fulfilled. I wish I was healthy enough to do more for those in need. My heart always thinks of people and children living in difficulties," she said.
Le Thu was honoured as one of the ten 10 Outstanding Citizens for 2019 on the occasion of the 65th anniversary of the liberation of the capital city.
Previously, she was granted the First-Class Resistance War Medal by the president in 1985, and awarded for her charitable activities from 2011-2015. In 2015 and 2018, she was bestowed the "Good People, Good Deeds" title by the Hanoi People's Committee.
Hanoi was the first locality nationwide to launch the "Good People, Good Deeds" campaign in 1992, which has made important contributions to the capital's development.
VNS