nCoV: Vietnam capable of producing sufficient medical masks

Prices of masks have been driven up by hoarding and citizens' spookiness.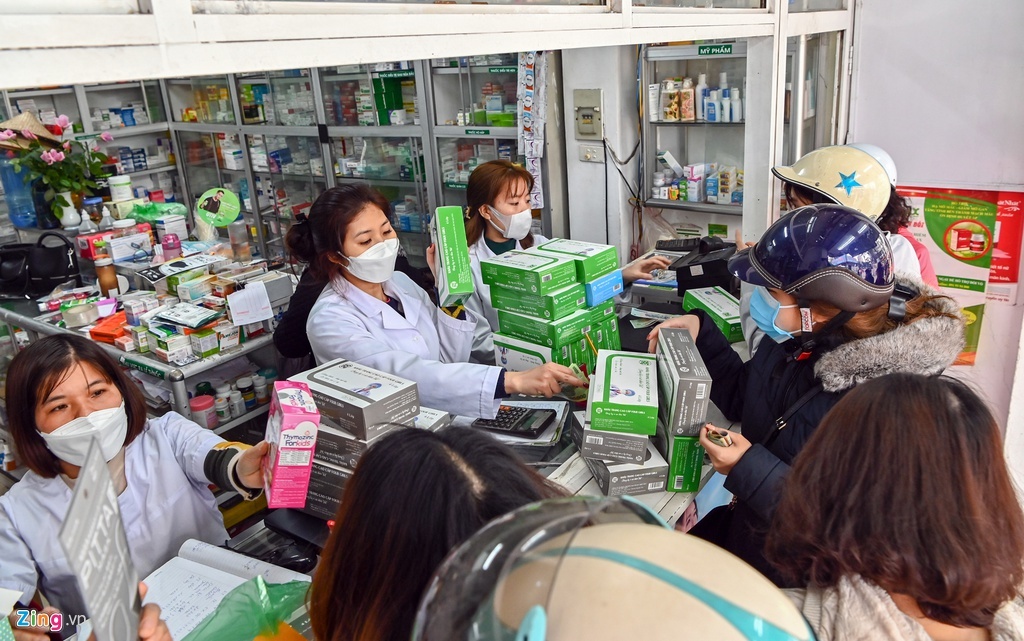 Medical mask has been one of the most sought-after products in Vietnam. Photo: Zing
Companies in Vietnam are capable of producing sufficient medical face masks for domestic consumption as locals are rushing to buy the masks on fear of getting infected with the nCoV, a health official has been quoted by local media as saying. 
Vietnam has more than 30 mask producers, but they are facing a shortage of laborers who have yet to return to work after the Lunar New Year holiday, Nguyen Tu Hieu, deputy head of the Medical Equipment Department under the Ministry of Health, said at a press conference just concluded.
Prices of medical masks and hand sanitizers have jumped in recent days, especially in major cities like Hanoi, as locals seek after the products to prevent nCoV infection.
Hieu said prices of masks have been driven up by hoarding and citizens' spookiness.
He added that the ministry has asked producers not to raise prices or sell to hoarders or export to other countries. He also called on producers not to take advantage of the epidemic to make a profit.
The official denied the rumors saying that Vietnam was selling medical equipment to China to help deal with the coronavirus.
The Market Surveillance Authority has sent a dispatch asking provincial forces to handle hoarding of medical masks, hand sanitizers and medical gloves.
 The Hanoi government has said it will store up to 20 million medical masks to deliver to local citizens for free when the epidemic spreads in the city.
At the press conference, Tran Dac Phu, former head of the ministry's Preventive Health Department, suggested people wear a mask when being at or traveling in crowded places like public means of transport or hospitals.
It's not necessary to were a sophisticated mask such as N95 in daily activities, an ordinary medical mask is enough to prevent nCoV infection at public places, Phu said. 
Prices of medical face masks in Hanoi skyrocket amid possible nCoV outbreak
Amid a possible outbreak of the new deadly coronavirus (nCoV) in Hanoi, locals are rushing to stockpile medical face masks and hand sanitizers, sending prices of these products skyrocketing in recent days.
An increasing number of customers have been looking for medical masks at drug stores, super markets and convenient stores, including Aeon Mall, Vinmart, or Circle K, as well as on major e-commerce platforms such as Sendo, Tiki, Shopee and Lazada.
A number of online stores on Shopee have announced the "out of stock" for Japanese Unicharm 3D Mask, which is said to be able to block virus, while others raised prices from VND16,000 (US$0.69) for a 5-piece pack to VND23,000 – 25,000 (US$1 – 1.08) with five to seven days until delivery.
Notably, single-use medical masks with prices of VND30,000 – 40,000 (US$1.29 – 1.73) per box have nearly tripled to VND80,000 – 120,000 (US$3.45 – 5.18). Others brands of active charcoal face masks such as Kissy, Kari Bon, Kitty, Anvilife, or Leo also witnessed price hikes from VND10,000 – 20,000 (US$0.43 – 0.86) apiece to VND30,000 – 60,000 (US$1.29 – 2.59).
Most store owners attributed prices hikes of facial masks to a sudden rise in demand. Some even declined customers' request for purchase of facial masks in large quantity, due to the supply shortage.
Nguyen The Trung, a reader on the Vnexpress, said that the Market Surveillance authority should step in and stabilize the prices of facial masks.
Meanwhile, another said there should be no shortage of facial masks, as they are easy to produce at low price, adding "it is unacceptable for those that hoard the products to sell at high prices."
"They are prioritizing profits at the expense of the fear of the public," he said.
Chairman of the Hanoi People's Committee Nguyen Duc Chung on January 30 urged city agencies to store between 15 and 20 million medical masks to cope with the possible outbreak of nCoV.
For a city of eight million people, Chung requested the municipal Department of Health to check the production of medical face masks to ensure sufficient quantity.
In case of disease outbreak, the masks would be delivered for free to local people, local media quoted the mayor as saying.
Shortage of facial masks currently is a common issue on global stage, as people around the world are stockpiling these products to protect themselves from the deadly virus, depleting online malls and store shelves from California to Beijing, Bloomberg reported.
Across China, Hong Kong and Singapore, people lined up for hours at stores and pharmacies hoping to secure dwindling supplies. People from San Francisco to Orlando said they were unable to find surgical masks at their usual outlets. Hanoitimes
Anh Minh/Ngoc Thuy

The prices of pork and face masks were the centre of discussion at an extraordinary meeting of the steering committee for pricing on January 31 under the chair of its head, Deputy Prime Minister Vuong Dinh Hue.

Prime Minister Nguyen Xuan Phuc has stated that Vietnam is willing to coordinate efforts with China in fighting the new coronavirus epidemic.