National campaign for HIV/AIDS prevention launched

A national communication campaign for HIV/AIDS prevention, called K=K – (Không phát hiện = Không lây truyền) or U=U (Undetectable = Untransmittable), was launched at a ceremony on Tuesday at the Bach Mai General Hospital in Hanoi.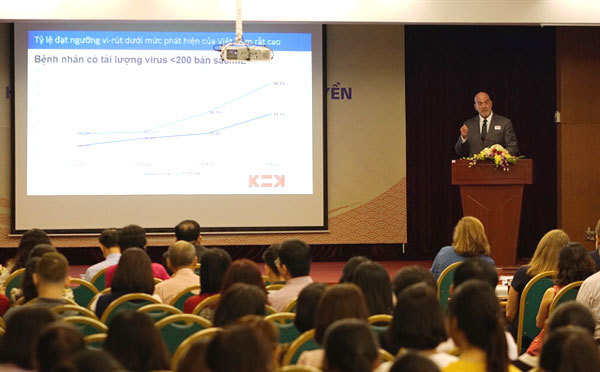 A representative of US Centers for Disease Control and Prevention in Vietnam speaks at a ceremony to launch a national communication campaign for HIV/AIDS prevention in Hanoi on Tuesday. — VNS/Photo Thanh Hai
The event is organised by the Vietnam Administration for HIV/AIDS Control under the Ministry of Health in collaboration with the US Centers for Disease Control and Prevention in Vietnam.
People with HIV should seek treatment as soon as possible. HIV medicine is called antiretroviral therapy, or ART. If taken as prescribed, HIV medicine reduces the amount of HIV in the body (viral load) to a very low level, which keeps the immune system working and prevents illness. This is called viral suppression—defined as having less than 200 copies of HIV per millilitre of blood. HIV medicine can even make the viral load so low that a test can't detect it. This is called an undetectable viral load.
K=K means that people with HIV who achieve and maintain an undetectable viral load – the amount of HIV in the blood-by taking ART daily as prescribed cannot sexually transmit the virus to others.
"The campaign aims to improve awareness of the community, people living with HIV and HIV prevention service providers on the meaning and content of the U=U message," said Vietnam Administration for HIV/AIDS Control director Nguyen Hoang Long.
"We can reach the goal of 90 - 90 - 95 (90 per cent of all people with HIV know their status; 90 per cent of people who know their status have been treated with HIV; 95 per cent people on ARV treatment have a viral load below the suppression threshold, reduced the risk of transmission) and manage to control the epidemic with K = K," added Long.
"Vietnam is one of the pioneers in K = K activities due to the early integration of these findings into national policies and programmes. Vietnam also is a country with the highest HIV restraint rate in the world," said Deputy US Ambassador to Vietnam Caryn McClelland.
"We should encourage all people at risk to get tested for HIV with the aim of early treatment with antiviral drugs for people with HIV. In this way, we can prevent the transmission of HIV," said McClelland.
Currently, Vietnam has nearly 140,000 patients on ARV treatment and can use K=K to extend treatment coverage. The national K = K campaign will focus on central and 11 provinces or cities under the US President's Emergency Plan for AIDS Relief (PEPFAR) programme with communication materials, community events, social media activities from which to integrate K - K messages into ARV in HIV/AIDS prevention and control strategy. In remaining provinces and cities, K = K messages will be integrated into activities of the National Action Month for HIV/AIDS prevention and control and World HIV/AIDS Day.
In addition, the campaign will strengthen communication and counselling activities, helping people with high-risk behaviours to get tested early. It will also encourage people diagnosed with HIV to live actively and have early access to treatment services and comply with treatment, periodically test for HIV load and especially reduce the stigma and discrimination on people living with HIV/AIDS.
The campaign will take place from October to December 2019. During these 3 months, there will be many activities to raise awareness about K = K among people living with HIV, high-risk groups affected or at risk of HIV infection with community organisations, health workers and society as a whole. The K=K statement has been recognised or endorsed by more than 895 medical and community-based organisations in more than 98 countries. The statement builds on evidence-based research demonstrating that HIV treatment is highly effective in reducing forward HIV transmission and that people living with HIV on ARV treatment with an undetectable viral load have effectively no risk of sexual transmission.
VNS