Mother of murdered girl in Dien Bien jailed for 20 years

A mother in Dien Bien Province has been sentenced to 20 years in jail for her connection to a drugs ring which led to her daughter being kidnapped, repeatedly raped and killed during the 2019 Lunar New Year holiday.
The Dien Bien People's Court on Wednesday afternoon found 44-year-old Tran Thi Hien guilty of storing, transporting and illegally purchasing narcotics. She, however, kept screaming "I am wronged, I am wronged" after the jury delivered its verdict.
Dien Bien murderer to be prosecuted
Four prosecuted for murder and rape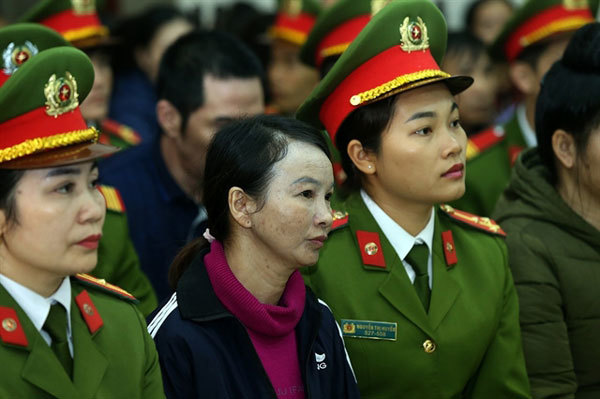 Tran Thi Hien (middle) was found guilty of dealing narcotics at a trial on Wednesday. VNA/VNS Photo

Bui Van Cong, 44, Luong Van Hung, 28, Vi Thi Thu, 37 and her husband Vi Van Toan, 37, admitted the same offence, which meant the former receive a 20-year jail term while the other three were handed lifetime sentences.
The court heard that Hien met Cong in May 2017 asking to buy four packs of heroin, which was quoted by Cong at a total of VND640 million (US$27,800).
The man later went to the drugs supplier Thu to order the drugs, but she only managed to bring home two packs from the Vietnam-Laos border and asked her husband Toan to look after them.
In late May, 2017, Cong and Hung dropped by Thu's house to take the heroin and delivered them to Hien. She at the time paid Cong VND290 million in cash and owed him VND30 million.
While Toan, Cong and Hung already received life sentences for drug offences, they should also face another trial for their murder of Hien's daughter – the 22-year-old Cao My Duyen – that shocked the entire nation earlier this year.
Dien Bien People's Procuracy last week decided to prosecute nine people for separate crimes of kidnapping, rape and murder in the case. The prosecutors said they were seeking the death penalty for six defendants.
According to police investigation, Cong, driven by a wish to get his VND30 million back from Hien, decided to take an offer from Toan to kidnap Duyen.
Toan, whom Hien alledgely owed VND300 million for drugs since 2009, thought the woman would have paid him the money in order to save her daughter. Hien refused to do so.
On January 4, 2019 – Lunar New Year's eve, after taking the girl to his house, Cong and his gang, including Pham Van Nhiem, 43, Luong Van La, 26, Luong Van Hung, 28 and Pham Van Dung, 47, were believed to have taken turns to repeatedly rape Duyen for three consecutive days.
Two other men, Vuong Van Hung, 35 and Cam Van Chuong, 45, alledgedly raped the victim once in the early hours of February 7 before she was strangled to death and left at an abandoned house near Cong's house.
Cong's wife, Bui Thi Kim Thu, 44, witnessed the girl being raped and killed by the men, but kept silent and did not call the police. She was prosecuted for failure to report criminals.
The date for the trial is yet to be confirmed.

A woman in the northern mountainous province of Dien Bien has been detained in a case in which her daughter was kidnapped, raped and strangled to death.
VNS