MoT requests investigation on bypass

The Ministry of Transport has sent an urgent document to request authorities to inspect and clarify the cause of severe road subsidence on a newly-built bypass in the central highlands province of Gia Lai.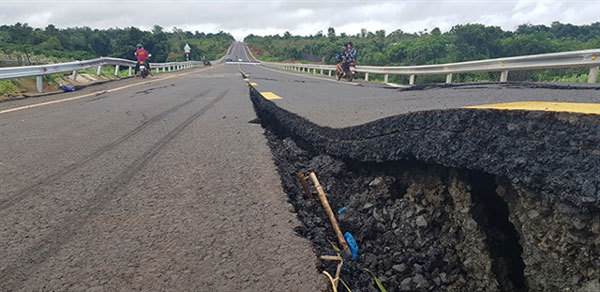 Cracks on the newly-built bypass running through Gia Lai Province's Chư Sê District. Photo thanhnien.vn
The authorities have been asked to repair the bypass as soon as possible.
The bypass – worth VND250 billion (US$10.8 million) – runs through Chư Sê District and connects to the Hồ Chí Minh Road. The bypass is in a state of serious disrepair with cracks and subsidence, even though construction has only just been completed.
The ministry's Project Management Board No.6 is the investor of the project. The bypass is 10.8km long and still awaiting testing before being put into operation.
In the document, Thể asked the project management board to co-ordinate with design and supervision consultants, the contractor and related units to inspect the entire construction process.
The management board would assess the problems and offer solutions before Tuesday (September 10).
The management board must report the situation to the ministry, Thể said.
The cracks on the bypass reportedly occurred after heavy downpours in the province's Chư Sê District between August 23 and September 3.
Earlier, the management board's general director Nguyễn Hữu Long said that he had sent two deputy directors and independent experts to find the cause of the subsidence.
Nguyễn Kiều Hưng, deputy director of the management board said the board had requested the construction unit to set up a barrier around the broken road surface to avoid traffic accidents.
According to Hưng, the subsidence is around weak land.
He also added it was likely the area used to be a pond, which was not found or mentioned in the management board's survey.
Hưng rejected the blame on poor-quality construction, saying that the quality of the road was good from beginning to end, except for this part.
He said that the management board had asked the design consultant to survey the entire area to calculate the drainage capacity and the subsidence.
Solutions would be put forward after the survey is completed, he said.
VNS