More than 100 million doses of COVID-19 vaccines arrive by year-end
Vietnam will accelerate the national COVID-19 vaccination campaign as more than 100 million doses of different brands are expected to be delivered to the nation in the fourth quarter of the year, said Deputy Minister of Health Do Xuan Tuyen.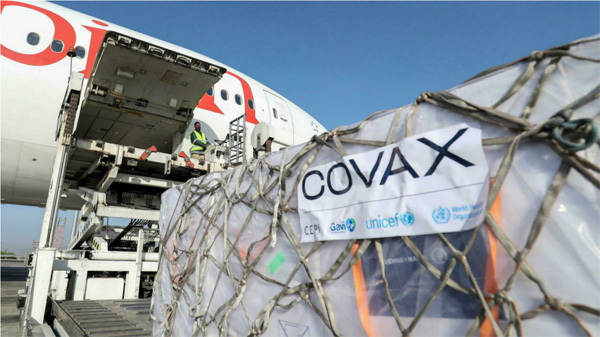 Vietnam has mainly received COVID-19 vaccines through the COVAX Facility. (Illustrative image)
Tuyen said Vietnam has so far received 87.7 million doses of vaccine, mainly from commercial sources, of which 81.7 million doses have been allocated to localities and agencies.
Besides approximately 26 million delivered in the opening 10 days of October, Vietnam is set to receive an additional 40 million doses in the remaining 20 days of October and approximately 65 million doses in the last two months of the year, he revealed.
According to the official, the Ministry of Health is organizing nationwide training to guide the use of new COVID-19 vaccines such as Abdala and Hayat-Vax. He also announced that this week the ministry will also issue guidelines on vaccination for children aged 12 to 18.
To date, about 55 million doses of COVID-19 have been administered nationwide. Nearly 39 million people aged 18 and above have received the first dose, accounting for 54.3% of the population aged 18 and above, while 16 million people have received the second dose, or just 22.1%.
Such vaccination rates remain low and the campaign should be stepped up when more vaccines are set to arrive in the coming time, said Tuyen.
Statistics show only eight cities and provinces have raised their vaccination coverage to 90% of the population aged 18 and above, while 49 cities and provinces have had less than 50% of their residents of the same age bracket vaccinated against COVID-19. Some provinces such as Quang Tri, Lai Chau, Kien Giang, Yen Bai, and Ha Giang have only used 50-80% of their allocated vaccines.
Vietnam has approved eight COVID-19 vaccines for emergency use, but it has mainly received AstraZeneca and Pfizer vaccines from different sources.
Source: VOV

In the relentless efforts to control the epidemic, vaccine diplomacy has become a key factor. 

Chairman of Japan's Daiyu Steel Co. Ltd Sakuo Inoue has pledged to donate 1 million JPY (8,940 USD) to Vietnam's national COVID-19 vaccine fund.