Ministry postpones punishment

The Ministry of Education and Training (MoET) on Monday postponed its decisions to punish workers over the national high school graduation exam scandal last year.
Five to be prosecuted in exam cheating scandal
Hoa Binh's officials get warnings after exam cheating scandal
Ha Giang disciplines officials in exam cheating scandal
Son La caught in high school exam cheating scandal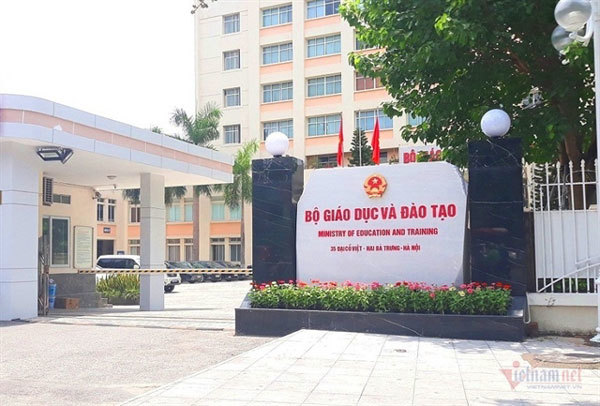 A view of the Ministry of Education and Training's head office. The ministry withdrew decision to punish officials to conduct careful assessment. — Photo: VNN
Originally 13 officials of the MoET, in Ha Giang, Son La and Hoa Binh provinces were disciplined.
But now punishment will be delayed pending a further, detailed assessment.
On August 21 this year, Minister of Education and Training Phung Xuan Nha issued the Decision 2450/QĐ-BGDĐT to discipline the staff.
On the same day, another similar decision was promulgated, and 13 officials were defined that they have to bear responsibility for faults.
But, following a guidance document issued on August 28 by the Inspection Commission of the Party Central Committee, the MoET is conducting a process to consider responsibility of individuals and organisations related to the exam.
The MoET withdrew the decision signed on August 21 based on guidance from the Inspection Commission.
After the process, if any organisations and individuals have faults, the MoET will issue punishments.
The MoET's decisions on August 21 listed different officials of the MoET including director and deputy director of the General Department of Quality Management, director of the Department of Information and Technology, director of Department of Legal Affairs, chief and deputy chief inspectors and other inspectors in the exam.
Deputy Minister of Education and Training Le Hai An told the Vietnamnet e-newspaper that the officials were not punished. It was only a step in the process of considering punishment for officials based on present regulations.
The MoET would assess fairly with sense of justice to give right consultancy to the Minister of Education and Training.
Last year, the average score of nine subjects of the contestants from Ha Giang, Son La and Hoa Binh was low, ranking among the five provinces and cities in the country with lowest exam score. However, the number students scoring 8 or higher was abnormally high.
Vietnamese authorities have imposed severe punishments against wrongdoers in exam cheating scandal in the northern mountainous provinces after as it caused much public indignation.
The scam was only found out after Hoa Binh and Son La were among the provinces in the country having the highest percentage of students scoring mark 9 or higher in mathematics in 2018 high school exams.
The number was much higher than the national average and the average of localities which have historically performed better in these kinds of exam.
The results of the exams are used for university admission.
Some 20 education officials and police officers of the three provinces have been prosecuted.
VNS