Ministry issues detailed guidance on COVID-19 assessment
People who have had two doses of COVID-19 vaccine, or have recovered from the virus, will only be tested when they come from high-risk areas or those under lockdown.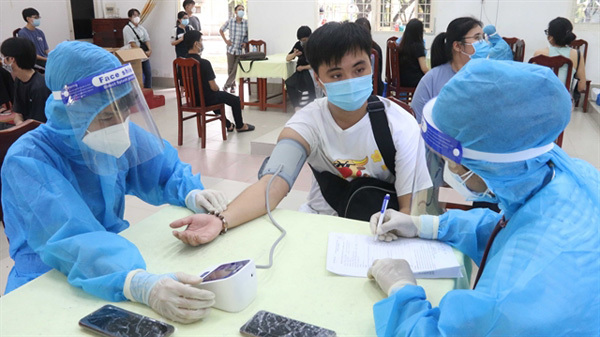 Medical workers check people's health and give them information before COVID-19 vaccinations in the southern province of Tra Vinh.
This is one of the factors included in the Ministry of Health (MoH)'s new guidelines to assess the COVID-19 situation. The guidelines were issued by the MoH in order to ensure safe, flexible adaptation and effective control of the pandemic.
Under the MoH's guidelines, the COVID-19 situation will be assessed based on three factors, including the rate of new cases in the community, vaccine coverage and medical facilities' treatment capacity.
As for the first factor, the number of new cases in the community will be divided into four levels based on the World Health Organisation's guidance. Level one will be for areas with fewer than 20; level two fewer than 50; level three fewer than 150; and level four more than 150 new cases out of 100,000 residents per week.
In the second factor, the rate of adults who have received at least one dose of vaccine will be divided into two levels, which are more than 70 per cent or less than 70 per cent.
This month, it is required that at least 80 per cent of those over 65 receive two doses of vaccine, and next month, at least 80 per cent of those over 50 get two doses.
As for the last factor, provinces and cities must plan to establish treatment facilities, ensure sufficient intensive care units (ICU), including both public and private, for the pandemic at the fourth level.
Districts and towns must plan to set up mobile medical stations and groups of medical workers to take care of COVID-19 patients in the community, as well as sufficient oxygen supply for potential outbreaks.
Also under the MoH's guidance, to ensure safe, flexible adaptation and effective control of the pandemic, provinces and cities must ensure medical workers for the pandemic situation at different levels, provide more training to medical workers regarding testing, quarantine and treatment and improve their capacity in receiving and treating COVID-19 patients, especially in ICU.
When an outbreak occurs, medical stations from the district-level and above must have a system for oxygen supply, mobile medical stations, working groups to treat and manage patients in the community and at home.
At hospitals, patients must be divided into groups based on their health condition to avoid cross-infection.   
People with one symptom out of a high temperature, coughing, tiredness, loss of taste and smell and breathing difficulties must be tested for COVID-19.
People at high risk, such as market traders, supermarket staff, drivers and delivery people must be tested regularly.
People will not be tested while travelling unless they come from areas at level four in lockdown.
Vaccination must be speeded up with priority given to those over 50, pregnant women and workers in industrial zones.
Outdoor activities can be held when all participants received two doses of the COVID-19 vaccine, recovered from the virus, or tested negative for SARS-CoV-2.
Provincial and municipal people's committees must improve inspection, prepare necessary facilities to be ready to cope with new outbreaks, and give instructions to the local department of health to announce the pandemic level, vaccine coverage and update information of the MoH's portal.
Ministries and concerned organisations should actively co-ordinate with localities and the MoH.
The Health Environment Management Agency under the MoH is responsible for working with the General Department of Preventive Medicine to give further guidance and check on the MoH's implementation of the guidance.
The Medical Service Administration is in charge of instructing localities to train medical forces and manage COVID-19 patients at home, whereas the Vietnam Administration for HIV/AIDS Control is responsible for mobile medical stations and medical worker groups to take care of the patients in the community.
While implementing the guidelines, if any difficulties or problems arise, organisations and units can give feedback to the Health Environmental Management Agency for solutions. This guidance will continue to be adjusted to suit the actual situation.
Source: Vietnam News

Hanoi has asked the Ministry of Health (MOH) to give guidance on allowing fully vaccinated people to travel and participate in production and pandemic prevention activities.

The Ministry of Finance (MOF) and Ministry of Health (MOH) are considering adding rapid test kits to the list of products subject to price stabilization after reports about price turmoil.