Ministry approves clinical trial of new COVID-19 vaccine
Vingroup's affiliate VinBioCare has received approval for clinical trial from the Ministry of Health to advance ARCT-154, a new generation Arcturus vaccine targeting SARS-CoV-2 variants of concern, including the Delta variant.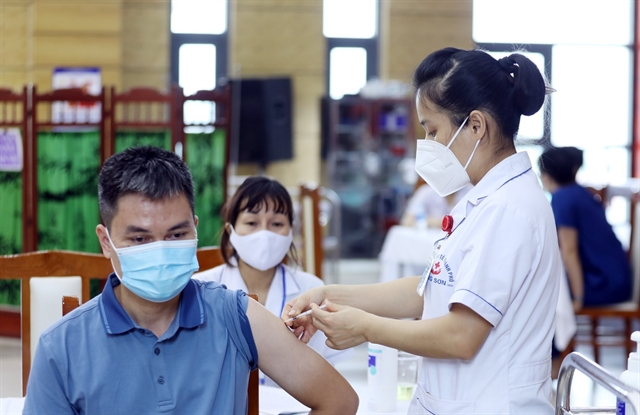 A resident in northern Lạng Sơn Province is vaccinated against COVID-19. The Ministry of Health has allowed VinBioCare to carry out clinical trial study of a new vacicne.
VinBioCare had negotiated with Arcturus Therapeutics medicines biotechnology company of the US on the purchase and transfer of COVID-19 vaccine production technology.
The ARCT-154 clinical study is a randomised, observer-blind, placebo-controlled design, and is sponsored and completely funded by Arcturus' manufacturing partner Vinbiocare.
The study will be carried out in Việt Nam in three phases on adult volunteers.
It aims to assess the safety, immunogenicity and efficacy of the SARS-CoV-2 self-amplifying mRNA vaccine, and will enrol up to 21,000 participants across the three phases, with 20,000 in Phase 3.
The first phase is scheduled to begin on August 8 by the Hanoi Medical University.
Primary endpoints include safety and efficacy with immunogenicity being evaluated in a subgroup. Participants will receive two doses of study vaccine separated by 28 days. Placebo participants will receive active vaccine after 6 months. All participants will be followed up for 1 year.
Joseph Payne, President and CEO of Arcturus, said: "We are very pleased to advance ARCT-154 into a significant, staged Phase 3 clinical development study with our partner to target SARS-CoV-2 variants of concern, including the Delta variant. ARCT-154 utilises Arcturus' STARR™ mRNA technology, and our preclinical immunogenicity data demonstrates that our newly developed vaccine candidate elicits a strong neutralising antibody immune response against the Delta variant and other variants of concern."
If the clinical trials prove successful at interim evaluations, Emergency Use Approval (EUA) by the Ministry of Health is anticipated in December 2021.
Technology transfer
Vingroup announced on Monday that it had signed an agreement with Arcturus Therapeutics on the transfer of COVID-19 vaccine production technology.
With a capacity to manufacture 200 million doses per year, Vingroup is projected to produce the first batches of vaccine by early 2022.
Arcturus Therapeutics is a leading clinical-stage messenger RNA medicines company focusing on the discovery, development and commercialisation of therapeutics for rare diseases and vaccines. 
Under the agreement, the US firm will grant permission for Vingroup's affiliate VinBioCare to produce COVID-19 vaccine named VBC-COV19-154, which targets new variants of the coronavirus such as Delta and Alpha.
The Vietnamese company is also approved to manufacture other COVID-19 vaccine types of Arcturus such as ARCT-021.
The transfer is slated to begin this month.
VinBioCare's plant will be located at the Hà Nội-based Hòa Lạc Hi-tech Park, which is built at an investment of over US$200 million.
Necessary devices will be flown to Việt Nam by September and the installation inside the plant is forecast to complete by two months later. 
Source: VNS