Minister denies reports about 14 Vietnamese identified among 39 deaths in UK

Minister of Public Security To Lam has denied media reports that 14 out of 39 people found dead in a refrigerated truck trailer in Essex, southeastern England, last week were from the north-central province of Nghe An.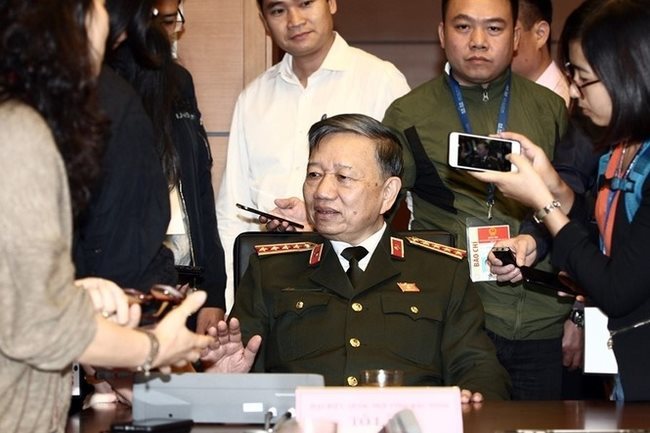 Minister of Public Security To Lam talks to reporters on the sidelines of a National Assembly session today, October 29 – PHOTO: TPO

"The identification process is still underway and no conclusions have been reached. Families should calmly await the results from the authorities," Lam was quoted by Tuoi Tre newspaper as saying on the sidelines of a National Assembly session this afternoon, October 29.
He noted that a large number of families in Nghe An and neighboring Ha Tinh have reported cases of missing relatives, and most are in a state of panic. Meanwhile, the deceased have yet to be identified.
"The rumors in circulation are incorrect, leaving people confused," he said.
He added that if any of the victims are found to be Vietnamese, the Government will send a team to the United Kingdom to coordinate with local authorities in identifying the victims. The Government will offer support in every way for the families.
News website VnExpress reported that police officers from Nghe An are having difficulty collecting DNA samples from people who believe their family members may be among the 39 victims.
Investigators took hair, nail and other samples from the local people to help identify the suspected human trafficking victims. However, many families are "not willing to cooperate with them for various reasons."
Deputy Prime Minister and Minister of Foreign Affairs Pham Binh Minh told reporters on the sidelines of a National Assembly session this morning, that after testing the samples, the ministry will transfer to British authorities the details on 14 families that have reported missing relatives.
The authorities of the two countries have provided each other with all available information, including the results of biometrics and DNA testing. "It is necessary to complete (the victim identification process) carefully, in line with regulations," he said.
The ministry's spokesperson, Le Thi Thu Hang, pointed out in a statement that the domestic citizen protection hotline has so far received requests for help from 14 families. The Consular Department has issued guidelines to these families and asked for their cooperation.
As of this morning, up to 28 Vietnamese families, including 18 from Nghe An, have reported to local authorities that their family members are missing in the United Kingdom and Europe.
On Monday, Deputy Minister of Foreign Affairs Bui Thanh Son said that British authorities had sent four case files on the Essex truck deaths to the Vietnamese Ministry of Public Security as part of the joint identification effort.
Son also stressed that so far there are no grounds to confirm whether Vietnamese nationals are among the victims.
UK Ambassador to Vietnam Gareth Ward said in a statement the same day that he had met with the Vietnamese Ministry of Public Security to discuss the tragedy and determine how they would work closely together during the process of victim identification.
"We know that there is a lot of concern amongst Vietnamese communities in the United Kingdom and in Vietnam about this tragedy… This identification process will take time to ensure the identity of the victims, to guarantee forensic accuracy and to secure information for the ongoing investigation," Ward explained.
The ambassador added, "The United Kingdom and Vietnam are friends and partners. We will work together to raise awareness of the dangers of human trafficking, to prosecute the criminals who facilitate it and to protect vulnerable people." SGT