Military medical force remain to support HCM City in the fight against COVID-19
About 1,600 military doctors, nurses, and students from Hanoi have been working at 531 mobile medical stations in the city since August 21.
The military medical force will not withdraw from HCM City yet, remaining to support the city's mobile medical stations until the end of November, Colonel Nguyen Van Giang, deputy director of the Military Medical Department under the Ministry of National Defence, has said.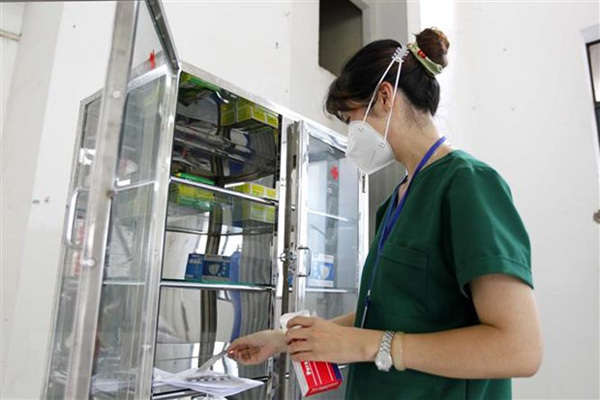 A doctor checks drugs at a mobile medical station in HCM City's District 3 which provides care for COVID-19 patients being treated at home. 
About 1,600 military doctors, nurses, and students from Hanoi have been working at 531 mobile medical stations in the city since August 21.
They are offering free healthcare consultancy and medical care to COVID-19 patients being treated at home, contributing to controlling the COVID-19 pandemic in the city.
They are also helping to deploy COVID-19 vaccinations as well as provide treatment to patients at field hospitals and healthcare facilities.
Since August 20, the city has set up hundreds of mobile medical stations to deal with the increase in new COVID-19 cases and the high fatality rate.
With the overload of patients at medical facilities because of thousands of new infections per day, the treatment of COVID-19 patients at home has proved highly effective in providing care and treatment for self-quarantining patients and reducing pressure on medical facilities.
The number of severe cases and deaths has also decreased significantly.
Military force starts to gradually withdraw from HCM City
Military units started to gradually withdraw their personnel from HCM City after nearly a month and a half of offering assistance to local authorities as the city relaxed COVID-19 restrictions and reopened several socio-economic activities from October 1.
In the evening of October 6, the city's Binh Tan District held a gratitude ceremony to say thank you and goodbye to nearly 200 of the 560 soldiers from the 9th Division of Army Corps 4 after supporting the local people.
The soldiers who have helped to take samples from local people for COVID-19 testing for more than a month will return to their unit in Dong Nai Province's Long Thanh District.
Nguyen Thi Ngoc Dung, deputy chairwoman of the district's People's Committee, said the soldiers have also supported district authorities in 10 wards by distributing 242,000 support packages of food and necessities to local residents, and take care of more than 20,000 COVID-19 patients being treated at home.
"The dedication of military personnel has made a great contribution to help the district control the pandemic," she said.
On the same day, authorities of Binh Thanh District gifted khăn rằn (scarf with a checkered pattern) to show their gratitude to 50 of the 780 soldiers of the 5th Division for supporting the district switch to green zone (COVID-free zone) from red zone (extremely high-risk zone).
The soldiers have helped in guarding checkpoints and provide food to 47 local health stations.
On October 5, about a quarter of the soldiers supporting Go Vap District returned to their unit.
According to the district's military command, nearly 1,000 soldiers are still on duty to distribute more than 1,300 tonnes of rice sourced from the national reserve and the city's third COVID-19 support package for local people.
About 1,600 soldiers from military units will gradually leave Thu Duc City depending on the local pandemic situation.
Colonel Nguyen Tuan Bao, the deputy political commissar of the city Command, said the units under the Ministry of National Defense will withdraw their troops first, while Military Zone 7 will withdraw its personnel from now until October 15.
The soldiers will leave areas where the outbreak is under control, and adjust their number in other areas depending on the need.
Soldiers and military and self-defence forces have been participating in guarding checkpoints, maintaining security and order, carrying out food deliveries and supervising locked-down and quarantine areas, and transporting goods for needy people.
More than 400 soldiers have been divided into 33 teams across the city, helping to receive and return the ashes of deceased COVID-19 patients to the family.
More than 34,000 soldiers, 98,000 militia and self-defence, and 2,000 military doctors, nurses and students across the country have been called upon and sent to the city since August 23.
Source: Vietnam News

Health workers, police officers and soldiers have fully supported the people day and night, caring for and treating patients with Covid-19.

Thousands of soldiers, doctors and medical students have traveled to the South to support the fight against the Covid-19 epidemic with a high determination to stamp out the disease.