Military helicopters to be used to transport Covid-19 vaccines
To ensure the vaccination schedule when many shipments of Covid-19 vaccines arrive in Vietnam in the fourth quarter, the Ministry of Defense is ready to use helicopters to transport vaccines.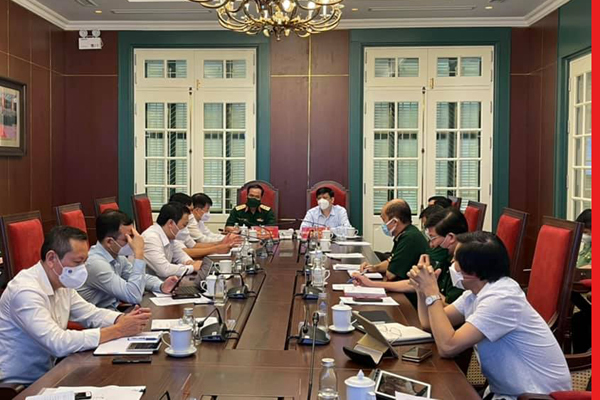 A meeting between officials of the Ministry of Health and Ministry of Defence.
Minister of Health Nguyen Thanh Long said that over the past time, the work of receiving, transporting and preserving vaccines has been implemented drastically.
The health sector has coordinated with the military to survey, build and install eight vaccine storage warehouses in seven military regions and the Hanoi Capital Command with a storage capacity of up to 60 million doses of vaccine.
The Ministry of Health has handed over 63 refrigerated trucks to Military Regions to transport vaccines to localities.
However, in the fourth quarter, many shipments of Covid-19 vaccines will arrive in Vietnam, including nearly 50 million doses of Pfizer vaccine, and tens of millions of doses of other vaccines such as AstraZeneca, Sputnik V, Moderna, and others.
Some types of vaccines must be stored at ultra-low temperatures. Therefore, the transportation and preservation of vaccines must be carefully planned, with the coordination between the medical sector and the military, between the central and local governments.
Deputy Defense Minister Vu Hai San said that the Ministry of Defense has directed military zones, corps and military medical forces to closely coordinate with localities across the country to prepare plans of vaccine transportation.
"The military force is ready to be on duty 24/24, even sending helicopters to transport vaccines to islands and disadvantaged areas to vaccinate people on schedule," Deputy Defense Minister San said.
To date, Vietnam has administered nearly 10 million doses of vaccine out of a total of more than 19 million doses in stock.
In the past two weeks, the vaccination rate has accelerated after the Ministry of Health issued dispatches urging localities to speed up the vaccination rate. On August 9, nearly 600,000 vaccine doses were administered, the highest ever.
It is estimated that with over 19,000 fixed and mobile vaccination sites, around 1 million doses will be administered a day.
To prepare for the use of the vaccine passport, the Ministry of Health believes that it is necessary to speed up the updating of vaccination data on the electronic health record application.
The Ministry of Information and Communications said that so far more than 4.9 million shots have been updated on the electronic health book system, but only 2.4 million people have downloaded the application.
Health Minister Nguyen Thanh Long suggested that the Ministry of Information and Communications soon launch a communication campaign calling on people to download the application, to register for vaccination and issue vaccination certificates via apps.
Thuy Hanh

The 36th Contracting Squadron at Andersen Air Force Base in the US territory of Guam are poised to send a total of 77 ultra-low temperature freezers at a total value of US$691,000 to Vietnam.