Mekong Delta men convert vehicles to ambulances to aid the poor
People nationwide have done their bit to help fight the COVID-19 pandemic, but few have gone quite as far as Ngon Duc Thang. 
The 33-year-old who lives in Can Tho City, the Mekong Delta province of the same name, has gone into debt to buy an ambulance to transport patients to hospitals for free. 
Many neighbours were surprised when their Vinh Tuy Commune neighbour borrowed VND300 million (US$13,000) from a local bank to buy the vehicle, but Thang has been doing charity work to help needy people in the Mekong Delta for years. 
He worked as a salesman for a logistics company but due to the pandemic, his income has decreased a lot.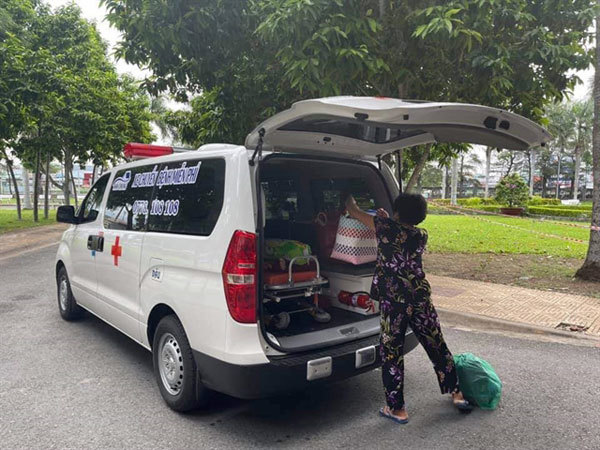 Ngon Duc Thang's ambulance takes poor patients to hospital for free in Can Tho City. — Photos: VNN
However, he still decided to spend more than VND800 million to buy a South Korean-made ambulance to serve the poor, with VND500 million borrowed from his friends and relatives and the VND300 million from the bank. 
"There is nothing to worry about. I still have earned money from online sales. Seeing many poor people lived worse than me, I will help whatever I can," he said about the loan.
Thang marked the vehicle with the phrase "Free transportation, no money in any form" as well as two phone numbers to reach him on.
Thang also founded the 'Nhà Chung' shelter in Can Tho City, which aids lonely and disadvantaged elderly people. During the COVID-19 pandemic, he has raised nearly VND200 million to help many poor people, including lottery sellers and lonely and homeless people. 
Kindred spirit
Another man in Kien Giang Province also uses his car to transport poor patients for free.
For several years, people in Go Quao District, Kien Giang Province have known about the volunteer work of local man Nguyen Hoang Giang, 40.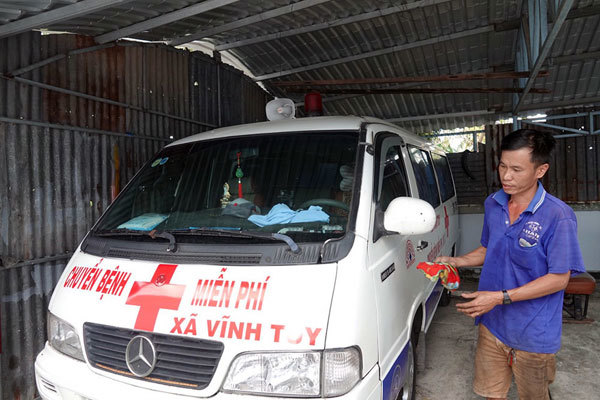 Nguyen Hoang Giang.
He spent more than VND100 million to buy a second-hand car to transport poor and disadvantaged patients for free.
Giang and his wife set up a vehicle wash and repair shop on a small piece of land lent to them by their relatives in Vinh Tuy Commune. Every day, Giang repairs and his wife washes vehicles to provide for their two small children.
Although his life was far from easy, Giang wanted to help local people.
"Many patients can not find a vehicle to get to a hospital in an emergency and there are many unlucky people who not survive because they arrive at the hospital late," he said.
"I wanted a car to transport poor patients to the hospital for free."
Thirteen years ago, Giang bought a second-hand car worth VND85 million and transformed it into an ambulance.
"I had to use all my savings, and got some money from my friends and relatives."
For a few years, the car was damaged and it was expensive to repair, so he sold it and bought a new 16-seat car worth more than VND100 million to use as an ambulance.
To serve patients safely, Giang also sought medical help from doctors and medical staff. Local hospitals have provided oxygen machines and medical supplies for Giang's car.
"The poor travel completely free. Those who have the financial conditions can pay petrol costs depending on their ability," he said.
Day or night, whenever someone needs him, Giang is willing to help out. On average, he makes about 30 trips per month.
One of the most memorable trips was when he took a pregnant woman to hospital to give birth.
"When the car hadn't gone far, the woman went into labour while in the car with only her old grandmother and me, so everyone panicked."
"I decide to change direction and drive to the nearby commune health centre to seek emergency care for the pregnant woman. Fortunately, both mother and the newborn baby were safe," he recalled.
Giang was honoured as part of the campaign 'Studying and following Ho Chi Minh President's moral example' in 2016-2020 by the communal Party Committee.  
VNS/VNN

Understanding the difficulties of the poor, a car mechanic in Kien Giang and a young man in Can Tho have bought ambulances to take patients to the hospital for free.

A group of young people from the central city of Da Nang led by Ho Ngoc Thanh have set up a volunteer programme to help poor sick people get to hospital.