Agriculture tackles African swine fever subsidy fraud
The Ministry of Agriculture and Rural Development (MARD) has instructed localities hit by African swine fever (ASF) to detect whether there has been fraud designed to take advantage of the Government's financial support for farmers
whose pigs were infected and to deter further violations.
African swine fever continues to ravage north
African swine fever presents opportunity for Vietnam's large-scale livestock enterprises
African swine fever continues spreading in Vietnam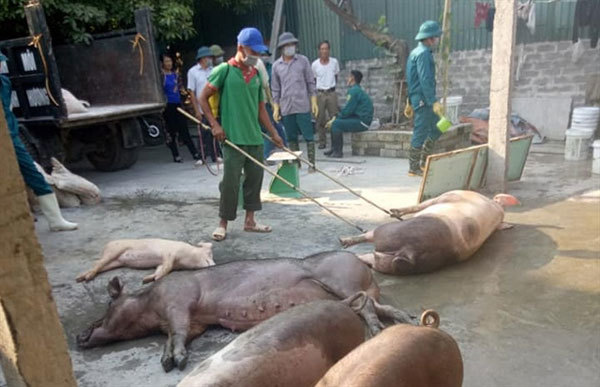 Pigs infected with African swine fever are collected to be culled. Photo baochinhphu.vn
In a document on the prevention and control of ASF sent to cities and provinces on Thursday, the ministry said some households had deliberately made false or inflated claims about the number of dead pigs to cash in on subsidies.
The fraudulent claims have made it more difficult to tackle the spread of the disease.
The ministry asked the people's committees of affected localities to inspect all the subsidy claims. Farmers found to have made fraudulent claims will be strictly fined.
The move came after local press reported fraud in northern Hai Duong Province.
Many households in Tu Ky District's Binh Lang Commune were found to have submitted claims for subsidies for dead pigs despite owning no pigs at all. Some even made multiple claims.
Phung Duc Tien, Deputy Minister of Agriculture and Rural Development, told Vietnam News Agency the ministry had asked the Hai Duong Province People's Committee to quickly clarify the situation and deal with violations.
The results of the province's inspection must be reported to the ministry by May 27.
The ministry also asked local authorities of 63 cities and provinces to tighten supervision of the trade, slaughter and transport of pigs to prevent the further spread of the disease.
Anybody found to have deliberately kept information about infected pigs from the authorities would be fined, Tien said.
Tiến said the spread of ASF has hit some areas in the south, where large-scale pig farms are located. Drastic measures should be taken to prevent more losses for the livestock industry.
Pork accounts for a large share of the nation's food supply. If the number of infected pigs continues to increase, there could be a pork shortage in the near future.
Those who had pigs culled due to the disease will be compensated at a level of VND38,000 (US$1.58) per kilogramme.
South tackles spread of African Swine Fever
Stricter preventative measures are needed to combat the spread of African Swine Fever (ASF) in Vietnam's southern provinces, especially in the Mekong Delta, which is highly susceptible to the disease, experts said at a conference in HCM City on Saturday.Since the first outbreak in Hung Yen Province in the north in February, ASF has been detected in 2,904 communes in 42 provinces, with 1.7 million pigs culled – over 5 per cent of the country's pigs.
After ASF was spotted in China in August, the Vietnamese Government began providing instructions on disease prevention, according to Bach Duc Luu, deputy head of the Animal Husbandry Department.
He said the disease had appeared in small towns in the country. About 80 previously affected communes in 22 provinces have now gone 30 days without another outbreak.
Large-scale pig farming areas owned by businesses are taking bio-security steps to protect their pigs, and around 740 farming facilities have been certified as safe from the disease.

South at high risk
Nguyen Xuan Cuong, the minister of Agriculture and Rural Development, said that frequent transportation and traffic, the abundance of canals and high temperatures made the Southern region highly susceptible to ASF, as there are more avenues for the disease to spread and transport is more difficult to manage.
Luu said ASF was first discovered in the south in the province of Hau Giang in April. "The disease has occurred in eight southern provinces, and 4,840 pigs have been culled, which is 0.08 per cent of all pigs in the region," Luu said.
Southern Vietnam has nearly 6.5 million pigs, or 23 per cent of the country's total.
There are 3,514 pig farms, only 459 of which are considered safe from the disease. Many clustered individual households with pig farms are located near accommodations, making it more difficult to prevent the spread.
Many farmers in the south are still not fully aware of the dangers of ASF and have not applied bio-security measures.
Some farmers have tried to treat the disease themselves or have discarded pig carcasses in the river or garbage dumps, and have withheld information from local authorities or failed to co-operate.
Some officials, especially at the commune level, are not taking proactive measures to inspect areas and deal with outbreaks.
In addition, pig slaughtering has not been managed well. Several units are gathering and harvesting pork from pigs with unclear origins to sell to restaurants.
Disinfection has also not been done as frequently or thoroughly as instructed, and some areas lack the required chemicals.
Pig culling has not always been carried out safely as staff are not adequately trained and they lack proper equipment and chemicals. The burial sites are also problematic because much of the south is very low, allowing water so seep in and spread the disease.
Financial support for affected households is not enough, so some families try to hide the presence of the disease from local authorities to avoid having the rest of their pigs culled, according to the Bac Lieu Province People's Committee.
Preventative measures
Luu said different departments throughout the south need to strictly monitor ASF and pig transportation activities and disinfect more farms.
Authorities should also develop better pig culling teams, offer support to farmers whose pigs have to be culled and build more facilities that are protected from ASF, he said.
A representative of Dong Nai Province People's Committee said it had also been dealing with unmonitored pig harvesting, adding that one of the outbreaks in the province was caused by the activity.
Randolph Reinecker Zoerb, deputy general manager of swine operations at GreenFeed VN, said Vietnam should identify countries at a high risk of ASF and tighten its customs procedures.
There is no cure or preventive medicine for ASF, and ensuring bio-security is the best way to prevent ASF or slow its spread, according to Nguyen Xuan Cuong.
Households and businesses also need to actively take part in tackling ASF.
Farmers with culled pigs should wait until they receive notice from authorities to begin farming pigs again. Affected farmers have been receiving help so they can farm other animals.
The disease has occurred in more than 60 countries since 1996.
Although not dangerous towards humans, ASF is highly infectious and resilient, and has a high mortality rate among pigs, causing great economic losses.
Factors leading to African Swine fever spread
VNS