Many beautiful flowers available for decoration during Tet
People in HCMC now can buy beautiful but low-cost flowers at markets around town for decoration at upcoming Tet (Vietnamese traditional New Year festival – from February 12 to 14, 2021 this year).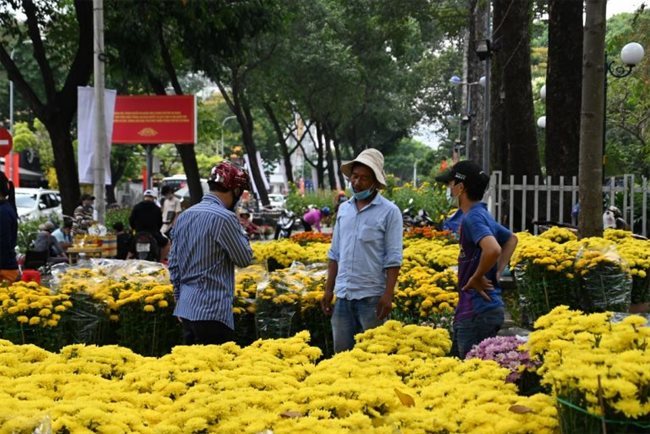 Reportedly, the selling prices of Tet flowers this year are lower than last year. In details, at the flower market of Hai Ba Thang Chin Park in District 1, prices of flowers decreased by about 10-15% over the previous year. For example, a pair of periwinkle flowers is sold at VND250,000 (from last year's price of VND300,000) while ruby chrysanthemum is priced at VND250,000/pair against VND270,000 - 290,000/pair last year.
As usual, buyers must pay for delivery fees. However, this year it is different. Free delivery will be offered for every buying from VND1 million.
An owner of a flower shop on Thanh Thai Street in District 10 said that in order to have an amicable sale, he will pay for inner-district deliveries.
Meanwhile, in some flower markets, free or 50%-discount delivery charge will be offered for buying big kinds of flowers such as chrysanthemum, bougainvillea and yellow apricot flowers.
At the flower market of Hai Ba Thang Chin, a flower vendor said the purchasing power this year decreases by about 20% year-on-year.
At the flower selling area at the Nga Bay area linking District 1 and District 5, in addition to traditional flowers, this year, bonsai fruit trees are also available.
At the traditional Ho Thi Ky Flower Market in District 10, a large number of flowers from the Central Highlands City of Dalat are available for sale.
At the Thu Duc Agricultural & Food wholesale market in Thu Duc City, bloomed lilies are sold at only VND40,000 - 50,000/dozen, and beautiful lilies at VND70,000/dozen. Chrysanthemum costs only 20,000-25,000 VND/dozen.
A vendor selling marigolds at the market said the purchasing power is low, so the price is down. The retail price is only VND40,000 a bunch of 10 beautiful marigolds.
SGT

Tet is coming. Where is the best accommodation for shopping trips on the year's biggest sales season in Saigon?