Man jailed for nine years for defaming Government

A man from Thanh Hoa was sentenced to nine years behind bars for spreading false information defaming the Vietnamese Government on Tuesday.
Facebook user gets two years in jail for defaming Party, State
Man jailed for attempting to overthrow people's administration
Facebooker jailed for Facebook comments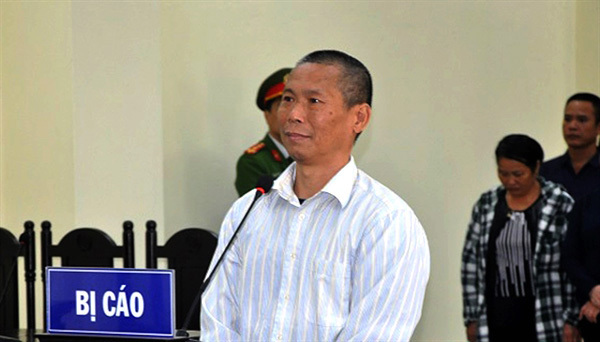 Pham Van Diep stands trial in Thanh Hoa on Tuesday. — VNA/VNS Photo
The Thanh Hoa People's Court found 54-year-old Pham Van Diep from Sam Son City guilty of making, storing and spreading information and documents against the Socialist Republic of Vietnam.
According to the verdict, Diep dropped out of school and joined the 21 Democratic Party while he was studying abroad in Russia during Soviet times.

On June 28, 2016, the man wrote and gave out 120 leaflets near the touristic spot of Patuxay Manument in Vientiane, Laos. He also filmed his actions and uploaded the video onto Facebook.
Diep was arrested by Laos police and went to a trial in Vientiane where he was sentenced to 21 months in jail for committing crimes against friendly nations.
Diep was also found to have written posts and live-streamed on Facebook between April 2014 and June 2019 to share distorted information defaming the Communist Party and the Vietnamese Government and insulting and smearing the images of Party and Government leaders and employees.
He also spread fake and baseless news about the country's policies which caused Facebook users and residents to misunderstand the Party and the Government, according to the verdict.
VNS