Man investigated for illegally sending people abroad

The Investigation Security Agency in the central province of Ha Tinh has announced the prosecution of a man for illegally sending Vietnamese guest workers abroad.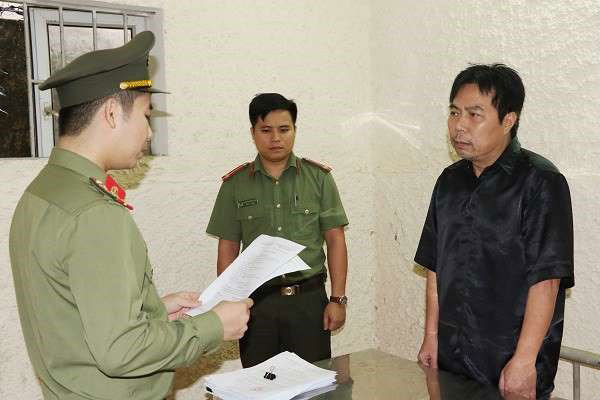 Nguyen Minh Cam (right) at the police station. He was detained on Tuesday on charges of organising other people travelling abroad illegally. — Photo courtesy of Ha Tinh Police Department
The accused, Nguyen Minh Cam, 55, from Thanh Chuong District, Nghe An Province, was detained on Monday on charges of organising other people to go abroad illegally, under Article 349 of Penal Code, said Colonel Nguyen Tien Nam, deputy director of Ha Tinh Police Department.
On the afternoon of the same day, police also searched Cam's house in Tran Phu Ward, Ha Tinh City, in Ha Tinh Province.
According to the investigations, Cam was not licensed to operate in labour export but he co-ordinated with people in Germany to help people in Vietnam work in the European country.
He received US$1,000 for each person who successfully went to Germany.
The case is under further investigation.
Earlier, Ha Tinh Police also detained two suspects related to the organisation of other people going abroad illegally.

Police in the central province of Ha Tinh have just arrested two local men possibly involved in the deaths of 39 people in a lorry in the UK last week.

The Ministry of Public Security has directed the Social Order-Related Crime Investigating Police Department to work with Ha Tinh and Nghe An to verify information of local residents who reportedly went missing while moving from France to the UK.

Thanh Hoa police announced that they have detained a woman for illegally sending workers overseas.
VNS