Man given VND6.7 billion in compensation for wrongful murder conviction

The Supreme People's Court of Vietnam on Wednesday awarded VND6.7 billion (US$290,000) in compensation to 83-year-old Tran Van Them, who was wrongly convicted of murder in 1973.
Death-row prisoner released after wrongful conviction
Ca Mau apology for wrongfully convicted man
Officials jailed for wrongful conviction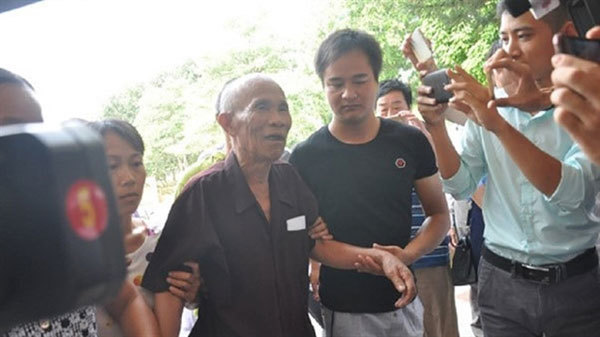 Tran Van Them, who was wrongly convicted for murder in 1973, seen at a public apology in 2016. — Photo thanhnien.vn
The compensation was approved by Ministry of Justice's State Compensation Department late 2017, but the disbursement has finally been paid.
According to conviction made by northern Vinh Phu Province People's Court in 1973, Them, from the northern province of Bac Ninh, was charged for killing his cousin Nguyen Khac Van.
On the night of July 24, 1970, Them and Van were attacked by two robbers while they were staying in a hut near Dien Bridge in Dong Tinh Commune, Tam Duong District, Vinh Phu Province (now Vinh Phuc Province). Van sustained a serious head injury after being struck and died. Them was also injured but he was accused of killing Van and handed a death sentence.
At an appeal in 1974, the Supreme People's Court upheld the charge and the penalty for Them. But in 1975, Phan Thanh Nhan – a prisoner who was jailed in Lao Cai Province – admitted that he had been the one who killed Van and injured Them.
On December 27, 1975, Them was released from prison because of his head injury without any mention of re-investigating his case.
Since then, Them had repeatedly sent appeals to high-level agencies. In 2015, the Supreme People's Court received his appeal. In August, 2016, the central procuracy made a public apology to Them and terminated the wrongful conviction.
Them asked for compensation of VND12 billion but the payout was reduced to VND6.7 billion after negotiations.
VNS