Man caught taking turtle from Hoan Kiem Lake

Hanoi police have caught a man and started to investigate a turtle being caught from Hoan Kiem Lake.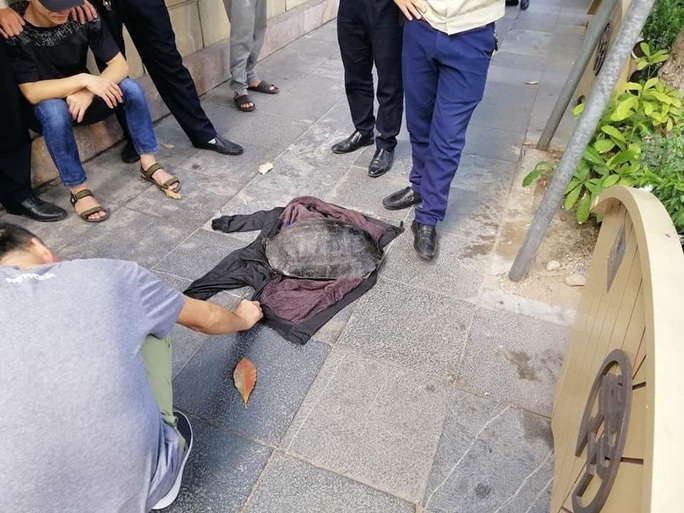 A turtle caught from Hoan Kiem Lake

According to Hang Trong Ward police, the man was caught at 3.30 pm on December 16 for illegally catching a turtle that weighed over 10kg from Hoan Kiem Lake.
A witness said the pedestrians around Hoan Kiem Lake noticed that the man was trying to cover up the turtle with his coat so they reported to the authorities. The man was quickly brought to the police station at Hang Trong Ward with his hook and the turtle.
The 41-year-old man at first tried to deny the accusation. He later admitted to catching the turtle after seeing it floating in the lake.
Hang Trong police said they were waiting for the forest protection department to identify the turtle species. The man may be charged with property theft.
Ha Dinh Duc, a former lecturer at the University of Science, said this was an Asian brown tortoise.
"Looking at its shell, I can say that this is an Asian brown tortoise. This type of tortoise usually lives in the mountainous area. It's best to look at its belly and head to identify," he said.
Duc confirmed that there is no offspring of the legendary turtle in Hoan Kiem Lake but more common turtles and tortoises like Asian brown tortoise or pond turtle. Those turtles are often released into the lake by the locals during special occasions.
The legendary turtle of Hoan Kiem Lake was the Red River giant softshell turtle, an extremely rare species of turtle listed as critically endangered in the IUCN Red List. The Hoan Kiem Lake turtle died in 2016 and only three living individuals are left in Vietnam and China.
"Two specimens kept in Ngoc Son Temple belong to a turtle died in 1967 and the other one died in 2016," Duc said.
Fishing at Hoan Kiem Lake was banned long ago but the rule is often flouted and rarely anyone is punished. Dtinews

Con Dao National Park on Con Dao Islands lying off the coast of Ba Ria-Vung Tau Province has been recognised as an official member of the Indian Ocean-Southeast Asia (IOSEA), becoming the 11th member of the marine turtles conservation network. 

Sea turtles lay about 100 eggs a few times each year, but the survival rate of the species is approximately 1 out of 1,000.