Man appears in court accused of abducting Vietnamese teenager in UK

A Vietnamese man has appeared in court in the United Kingdom accused of abducting a Vietnamese schoolgirl.
Young Vietnamese tourist missing in UK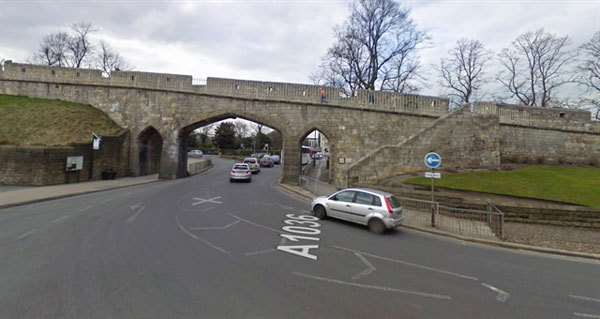 The bar wall on Station Rise in the city of York. Police say the 16-year-old was last seen here talking to an Asian man. — Photo Google Maps
Quang Ngoc Ho has been remanded in custody by magistrates in the city of York in northern England.
Ho told the court during the brief appearance on Monday he was a Vietnamese national.
No other details were released during the hearing. Ho will next appear in at York Crown Court on September 16.
He is accused of abducting the girl, who was born in 2003. Her whereabouts remain unknown.
Magistrates in the UK have placed reporting restrictions on the case preventing the press revealing any information that will lead to her identity.
Ho is also charged with facilitating a breach of immigration laws.
The Vietnamese child was last seen almost a week ago chatting to an Asian man on the bar walls, a popular area for tourists to visit in York.
She was travelling to England as part of an organised tour group.
A spokesperson for North Yorkshire Police said: "She was last seen with an Asian man on the bar walls above Station Rise, York at 4.40pm on Tuesday, August 6.
"She was wearing a white Ariana Grande jacket, light blue denim shorts and carrying a white rucksack at the time.
"The man is approximately 20 years-old and was dressed in a dark top and a black baseball style cap.
"Following enquiries, eight people have been arrested in connection with her disappearance and remain in custody for questioning.
"Officers are growing increasingly concerned for her safety and are appealing to the public for information as to her whereabouts.
"It is believed that she could be anywhere in the country."
Seven of the eight people arrested have been released pending further police inquiries.
On Monday afternoon, a spokesman for North Yorkshire police said warrants have been issued for the arrests of two other people, in a different part of the UK.
The police spokesman added: "Seven other people who were arrested in connection with the case have been released under investigation while enquiries continue.
"As part of the investigation, warrants have since been executed in the Staffordshire area and a further two people – a man and a woman – have been arrested. They remain in police custody.
"Police are still actively searching for the girl and are appealing for any information that could help find her. It is believed that she could be anywhere in the country."
The Vietnamese Embassy in London is working with the authorities in the UK to help find the missing girl.
She had travelled to the UK on a legitimate visa as part of a group of tourists with the HCM City company Travel Plus.
Thanh Niên (Youth) newspaper is reporting she was visiting the UK with a woman who was registered with the company as her mother, but the company was not sure if she was actually her mother.
Travel Plus told Vietnam News Agency the rest of the group that had travelled to the UK returned to Vietnam on August 9.
It is not known if her alleged mother returned or is still in the UK.
The city of York is a popular tourist destination in the UK. It was founded by Romans in 71AD and is surrounded by a wall built at that time.
It is known for its famous historical buildings including York Minster Cathedral. Figures released in 2018 revealed around 6.9 million people visit the city each year.
Paul Kennedy
VNS