Long Thanh Airport plans send land prices soaring

The real estate market in Long Thanh District in Dong Nai Province, site of the proposed new airport, has entered an upward spiral following the National Assembly Standing Committee's passage of a resolution to dissolve
 and alter the administrative boundaries of six communes on May 29.
Dong Nai authorities seek to speed up construction of Long Thanh Airport
More land required for Long Thanh airport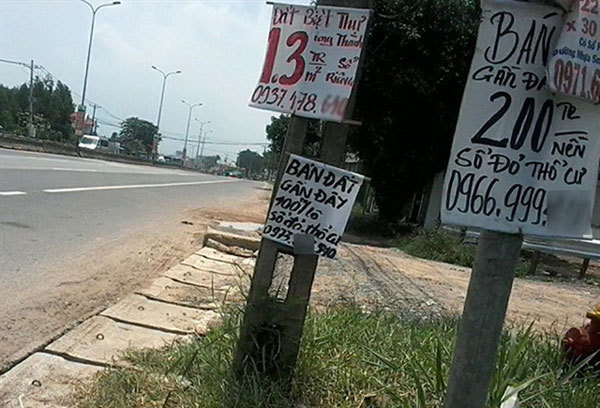 Signs indicate land for sale in Long Thanh District in Dong Nai Province, site of the proposed new airport. Prices in the area have recently surged. — VNS File Photo
Suoi Trau Commune ceases to exist and adjustments and mergers will be done to Cam Duong, Long An, Long Phuoc, Bau Can and Binh Son communes.
A huge number of advertisements have come up on roads in communes near the proposed Long Thanh Airport, including for the Long Thanh Airport Urban Area project in Loc An Commune.
A real estate broker named Nam in Loc An said 41 out of 49 plots in the project have been sold at VND1.3 – 1.4 billion (US$60,000) for plots of 100sq.m.
However, buyers find it difficult to check the legality of lands. At the Loc An Commune People's Committee office, Chairman Nguyen Tan Long said he could not provide any information about them because his administration does not oversee the real estate projects.
Buyers could get information about them from the Long Thanh District People's Committee, he said.
Ly, the owner of a coffee shop in Long An Commune, said land prices in the area had increased from VND200,000 per sq.m three years ago to VND2-3 million now.
In the past few months, with land prices around the airport increasing relentlessly, many people in Binh Son, Long An and Cam Duong have become real estate agents.
Nguyen Thi Hang Thuy, a farmer in Binh Son Commune, said she could earn a profit of VND600-700 million from a 1,000sq.m plot of land she bought two months ago.
She said Binh Son residents are happy because the airport project has forced land prices up and helped locals like herself get a "new and better" life.
Vo Tan Duc, chairman of the Long Thanh District People's Committee, said authorities are seeking to remove illegal constructions, including works by Alibaba Vietnam, in the district.
The Dong Nai Province People's Committee has instructed relevant agencies to call for tenders to do survey and land pricing consulting for the Long Thanh International Airport project.
It ordered them to adjust land prices.
According to the committee, construction of the airport is scheduled to start late next year.
VNS