Long Bien Market parking racket mastermind died

Nguyen Kim Hung, also known as Hung "kính", the infamous mastermind of a parking racket in Hanoi's Long Bien wholesale market, died of end-stage liver disease on Wednesday at Ha Dong General Hospital.
Hanoi market porter gang jailed for extorting merchants
Leader of protection racket at Long Bien market arrested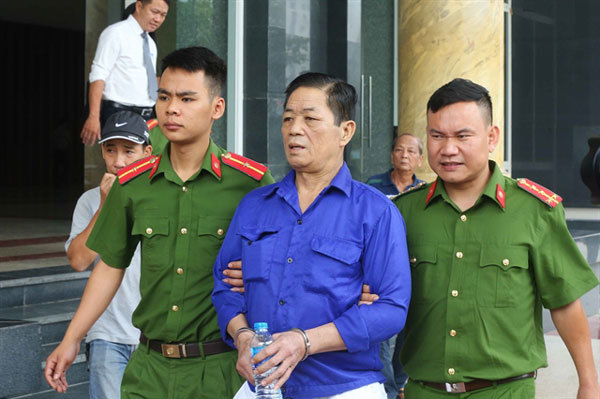 Nguyen Kim Hung, aka Hung "kính", is sent to prison after the sentence hearing. — VNA/VNS Photo Doan Tuan
Hung was hospitalised at 0:10am this morning in grim condition and he passed away at 11:31am despite intensive care treatment, according to the hospital.
His body is being preserved in the hospital's morgue, the hospital said.
Earlier, on July 26, Ha Noi People's Court announced sentences against Nguyen Kim Hung and his four accomplices Nguyen Huu Tien, Le Thanh Hai, Nguyen Manh Long and Duong Quoc Vuong for the crime of appropriating assets under Article 170, of the 2015 Criminal Code.
According to investigation results, from March 14 to September 1, Hung took advantage of his position as a head porter to let his partners in crime force merchants pay extra to unload their cargo.
Each merchant had to pay VND250,000 to 300,000 (US$11-13) for each vehicle a day.
The gang returned a part of money collected to the market's management board and shared the rest among them.
Nguyen Kim Hung was sentenced 48 months in prison while other defendants were put up to 42 months behind bars.
VNS