Vietnam braces for storm and cold spells

The National Steering Committee for Natural Disaster Prevention and Control has urged authorities of coastal localities from Quang Ninh to Khanh Hoa to proactively brace for storm Kalmaegi and cold spells.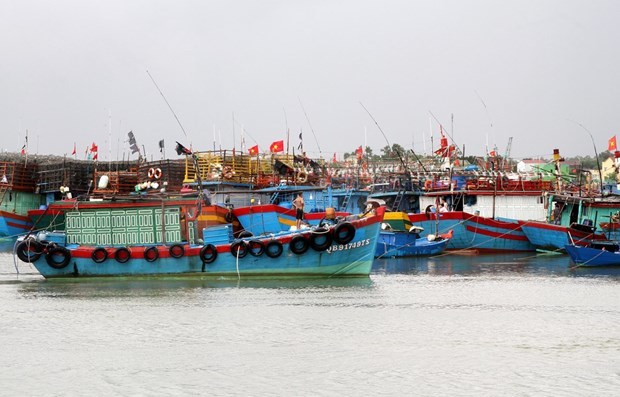 Ships anchor at port to avoid the storm. Photo for illustration.
Storm Kalmaegi is offshore Luzon Island of the Philippines and is moving west-northwest at a speed of 5-10km, according to the National Hydrometeorological Forecast Centre.
It is forecast to move southwest from 1am on Wednesday with a speed of 25-30km before weakening into a tropical depression.
The committee asked these localities and relevant ministries and agencies to closely monitor the developments of the storm and issue forecasts and warning messages.
Coastal localities should regularly notify owners and captains of ships operating at sea on the developments of the storm so they could avoid dangerous areas.
They were instructed to develop evacuation plans in low-lying areas and those at high risk of flash floods. Rescue personnel and equipment must be on standby for any emergency.
Cold spells have hit the northern region, lowering temperatures to 11 degrees Celsius in some mountainous areas, according to the National Hydrometeorological Forecast Centre.
The lowest temperatures were recorded at 11 degrees Celsius in Sa Pa, a popular tourist town in northern mountainous Lào Cai Province on Tuesday morning. The temperature is forecast to continue dropping to 9 degrees Celsius at night.
Fog also covered many mountainous areas, causing difficulties for transport.
Localities have proactively taken measures to protect animals and crops from cold spells. — VNS
Many trees in the central city of Danang have been trimmed to help ensure safety during the storm season.
It is anticipated that typhoon Kalmaegi will travel west-northwest at a speed of between 5km and 10km during the next 12 hours, according forecasts by the National Centre for Hydro-Meteorological Forecasting.