Let children enojy their summer vacations

When summer arrives, Nguyen Thi Hang, whose son is nearly two years old, already wants the vacation to be over.
Long summer break leaves parents looking for daycare
What do Vietnamese kids want to do this summer?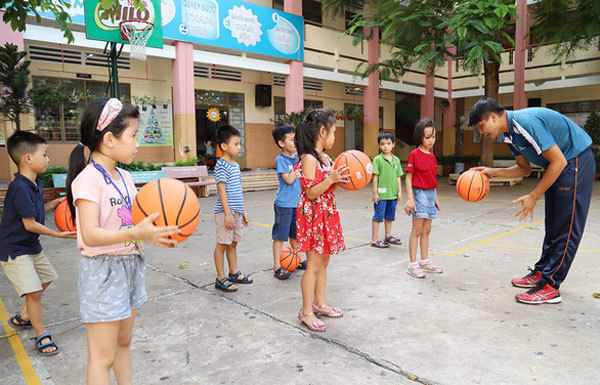 Students at a basketball club during their summer vacation at Tran Quoc Tuan Primary School in Tan Binh District, HCM City. — Photo tuoitre.vn
Hang lives in HCM City's An Phu Dong Ward and is very busy with her work.
Her office is far from her house so every day she leaves home at 7am and returns at 6.30pm.
Her husband takes their son to school and collects him everyday.
Her son's summer vacation started when her husband had to go on a business trip, and she had to take several days off at home to look after their baby.
Pham Thi Anh, a clerk in HCM City's Thu Duc District, also gets a headache searching for extra classes for her daughter.
Her daughter goes to a state kindergarten in the district, which means the summer vacation lasts for up to three months.
The municipal Department of Education and Training has said that kindergartens can open extra classes from June 17 to August 16 depending on the demands of parents and teachers.
"I have inquired at several private kindergartens, but none of them have accepted my daughter because they're too crowded," she said.
Other parents have taken their children to their hometowns to gain more social skills experiences.
Nguyen Quoc Hung is from the central province of Quang Nam, but now lives in HCM City's Tan Phu District.
Hung's took his 10-year-old son to their hometown to stay with his grandparents when the summer vacation started.
"The air there is pure with many trees and animals, so my son is excited. I think it's a good way to enjoy the summer holiday," he said.
Hung totally feels secure that his son is having a happy and healthy vacation.
Nguyen Thi Kim Anh from HCM City's District 3 was faced with another choice.
Anh registered for her son to go on a training course in Singapore for nearly one month, which costs several thousand US dollars.
Anh's son has been studying at an international school so his English and communication skills are good.
"The summer vacation is time for children to play, but my husband and I do not have enough time to take care of him in the city. I did not want to take him to our hometown because there are too many lakes and rivers there," said Anh.
Warnings
Nguyen Bao Nhat Thu from HCM City's Tan Binh District said she felt unbearably sad when she saw her daughter breaking down in tears at the news she would have to go to extra classes last summer.
At that time the girl was seven years old and had just completed first grade.
Thu registered for her to study at a foreign languages centre with fees of more than VND10 million (US$430) per month.
Reading the curriculum, Thu felt satisfied. Half of the teachers ware foreigners, and the idea was for students to play and study in an English-speaking environment.
"But in fact, it created more of a burden for my daughter," said Thu.
The little girl had to use English from morning till afternoon, but she only had a few words. She also had to read, write, do exercises and work in groups using English, and she did not understand anything.
After three weeks, Thu's daughter got in trouble for not listening to the teachers.
"I realise now that when we sign our children up for extra classes during the summer vacation, we need to look at their ability," said Thu.
Nguyen Quang Vinh, head of the Primary Education Division under the HCM City Department of Education and Training, said the department encouraged parents to let their children practice social skills and take part in leisure activities.
But parents should listen to their children's hobbies and wishes, instead of forcing them to follow what they think is best.
Parents should also not expect too much after a summer vacation, because learning is a long process, not only a few days at summer school, said Vinh.
VNS