Less is more for lovers of bonsai
Though growing bonsai is an imported art form from Japan, it has become more and more popular in Vietnam in recent times and local enthusiasts have proven to be quite the creative bunch.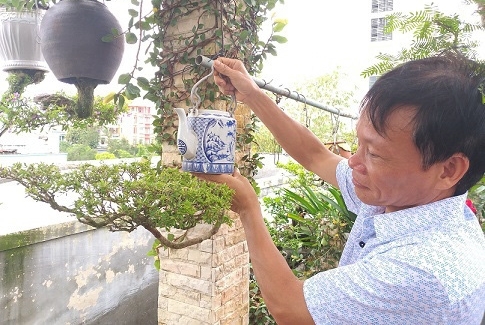 As a bonsai enthusiast for more than 20 years, Le Thanh, a retired bank employee in the central province of Quang Nam, has travelled all over the country seeking the coolest bonsai to add to his burgeoning collection.
He's even done something pretty unusual, having had the wacky idea of growing bonsai upside down back in 2010.
"On one of my trips to Quang Binh Province I noticed a tree growing down from the roof of a cave," he explained. "It attracted my attention straight away, and inspired me to learn how I could train my bonsai to grow in such an unnatural position."
More than ten years on, he has mastered the art of growing trees upside down, and they join a range of other varieties in his little garden.
He experimented first with little trees in small pots and then moved on to larger ones, from orange and jackfruit trees to oak as well as flowers such as orchids, roses, and lilies. Depending on their look, the upside-down bonsai then go into either pots or vases of different shapes and sizes.
Once they are growing healthily, he begins to prune them into artistic shapes.
"Their battle with gravity is like us encountering difficulties in life," Thanh said. "Despite the challenges from factors it can't control, like gravity, the bonsai grows out of adversity to become a beautiful work of art."
His small garden on the rooftop of his house is now home to 100 bonsai, half of which are growing upside down. It's also where he hangs out with friends.
Many think of Thanh as a bit "odd" because of his unique way of growing bonsai, but he's more than happy that his "treasured" bonsai garden and upside down bonsai are now recognised by others.
Late last year, the 58-year-old was recognised by Vietnam Book of Records (VietKings) for having the highest number of upside-down bonsai in the country.
Another long-time bonsai enthusiastic, Lam Ngoc Vinh in HCM City, cares for his miniature trees with impressive patience and meticulousness.
He places them, right way up, in little pots that are 15cm in height at a maximum. He began to take an interest in bonsai when he caught sight of one on a flight with his father.
Cultivating his first tree at the age of 14, Vinh is now proud of his garden and its wide range of species, from Shimpaku Juniper and Wrightia religiosa to Antidesma acidum and Casuarina, which are all less than 15cm tall.
Bonsai, Vinh explained, are divided into several levels based on their height, with supermini bonsai being under 7cm tall and mini bonsai from 7-15 cm.
The appeal of a bonsai lies in its foot and roots, which require the most time, care, patience and love from growers.
It takes some mini bonsai three to seven years to become a work of art. With meticulous and precise care and pruning, they gradually take up a particular shape over the years.
Growers like Vinh more often than not start with a young plant, so they can take creative control from the outset and prune it in their very own way.
Quality bonsai sell for high prices given the creativity and patience required, and Vinh does good business both in Vietnamand overseas.
For enthusiasts like Thanh and Vinh, nurturing a bonsai is not just a hobby but also part of their lives; a craft that gives them great pleasure and puts more than a little money in their pockets.
VNS

Farmers in flower villages in HCM City are worried as merchants have not contacted them yet for Tet sale season.