Latest Coronavirus News in Vietnam & Southeast Asia September 12
SARS-CoV-2 testing possible for those wishing to go abroad
Foreigners living and working in Vietnam and Vietnamese citizens needing to go abroad for work or study who require a certificate stating they are free of the SARS-CoV-2 coronavirus will be considered for testing, according to the Ministry of Health (MoH).
The Ministry of Health issued an urgent dispatch on September 11 asking the Ministry of Labour, Invalids and Social Affairs and the People's Committees of provinces and centrally-run cities to direct the implementation of SARS-CoV-2 testing for such persons.
Diplomatic representative agencies, UN organisations or agencies in Vietnam, and organisations and businesses that send Vietnamese citizens to work and study abroad are responsible for preparing specific lists to send to the standing agency of the MoH's National Steering Committee for COVID-19 Prevention and Control or standing agencies of the Steering Committee for COVID-19 Prevention and Control in provinces and cities nationwide, for consideration and instruction.
Those providing testing services are responsible for performing testing and issuing certificates, as appropriate, to individuals and organisations.
They must also carry out quarantining measures for those testing positive and report to authorised agencies implementing preventive measures in line with regulations.
Every person and business must become familiar with "new normal": PM
Prime Minister Nguyen Xuan Phuc asked that each person and enterprise in Vietnam familiarise themselves with the "new normal", while chairing a cabinet meeting on COVID-19 prevention and control on September 11.
No new cases of community transmission have been reported for nine days and a continuous increase in the number of recoveries show that the disease has been brought under control nationwide, he said.
He reiterated the need, however, to remain vigilant, especially in the health sector and at hospitals, as there remains a risk of the disease breaking out once more, especially with several re-opening measures being applied in the time ahead.
Vietnam must continue working on the dual targets of disease prevention and economic development over the remainder of the year to achieve a positive growth rate, possibly 3 percent, he emphasised.
He asked ministries, sectors, and localities to create the conditions necessary for trade to flourish, and required localities to stay ready to attract investment, especially from major partners.
The Government leader asked the health sector to coordinate with ministries, sectors, and localities to publicise the latest disease prevention and control measures and to monitor and test all people entering Vietnam once international commercial flights resume.
He urged the Transport Ministry to direct airlines to consider resuming commercial flights to and from several nations and regions and opening flights for those transiting through Japan, the Republic of Korea, Taiwan (China), Laos, and Cambodia.
The ministry was also requested to coordinate with the ministries of Health, National Defence, Public Security, and Foreign Affairs when considering issues relating to the re-opening of international flights, including selecting prioritised passengers and airports, monitoring and quarantining passengers, and taking test samples.
He asked the ministries of Foreign Affairs and Transport to consider increasing the frequency of flights to and from countries that have not been so hard hit by the disease, to bring Vietnamese citizens home and facilitate investors, experts, and managers coming to the country.
The ministries of National Defence and Public Security and localities need to control and strictly punish those illegally entering Vietnam, while the ministries of Labour, Invalids and Social Affairs, Finance, and Planning and Investment are asked to continue submitting to the PM measures to carry out the second phase of the social welfare assistance package and propose other packages in support of others, especially the unemployed.
Numbers of COVID-19 cases continue increasing in some SEA nations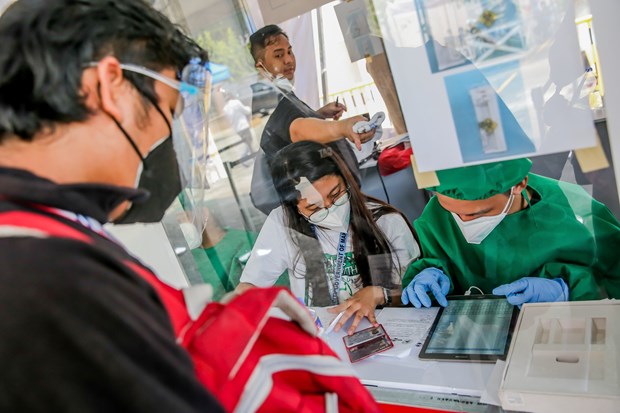 A man registers for COVID-19 testing in Manila capital of the Philippines on September 3 (Photo: Xinhua/VNA)
Some Southeast Asian countries continued to record sharp rises in the numbers of COVID-19 cases on September 11, with the Philippines still the biggest hotspot in the region.
The Philippine Department of Health confirmed an additional 4,040 infections of the coronavirus SARS-CoV-2, the biggest daily rise over the last 12 days, raising the COVID-19 tally in the nation to 24,947 – the highest in Southeast Asia.
The country also saw 42 more related deaths, bringing the total fatalities to 4,066.
Under-Secretary of Health Maria Rosario Vergeire said the Philippines is promoting the capacity of the whole healthcare system, with a focus on increasing beds at public hospitals.
The government will also increase COVID-19 testing laboratories and quarantine facilities while installing more bedrooms for medical workers, she added.
In Myanmar, 115 new cases were reported on September 11, one day after new lockdown measures had been imposed in an effort to contain the second wave of infections.
COVID-19 cases in the country now number 2,265, including 14 deaths.
The Myanmar Government on September 10 requested people to restrict travel, except for emergencies. Local airlines also announced the suspension of services until the end of September.
On September 11, Malaysia reported 182 new coronavirus infections, the biggest increase over the last three months. As a result, the number of COVID-19 patients in the country now totals 9,810, including 128 deaths.
Meanwhile, Brunei went through the eighth straight day without any new cases on September 11, keeping the number of infections at 145 with 139 recoveries.
One imported COVID-19 case on September 11
Vietnam recorded one new imported COVID-19 case who was put under quarantine following arrival on September 11 evening, according to the National Steering Committee on COVID-19 Prevention and Control.
The 21-year-old patient residing in Thanh Hoa returned to Vietnam from Russia on September 8. He tested positive to SARS-CoV-2 and is being treated at the Central Hospital for Tropical Diseases in Hanoi's outlying district of Dong Anh.
The country has so far confirmed 1,060 infection cases, 691 of them are locally-transmitted.
The same day, nine patients in Da Nang, Quang Ngai, Quang Nam, Dak Lak and Hai Duong were given all-clear from the virus, raising the total number of recovery cases to 902. There have been 35 deaths from the disease to date.
Among patients under treatment at medical establishments, 16 tested negative once, 17 twice and 21 others the thrice.
As many as 35,799 people who had close contact with patients or entered from pandemic-hit areas are under quarantine, 603 of them are in hospitals, 16,432 in other establishments and 18,765 at homes.
Amid the complicated developments of COVID-19, the ministries of health, information and communications have called on residents to install Bluezone app to receive infection risk alerts.
Nearly 350 citizens brought home from US
Vietnamese authorities and representative agencies in the US, Vietnam Airlines and US authorities have coordinated to arrange a flight to repatriate close to 350 Vietnamese citizens on September 10 and 11.
The passengers from many states of the US included children under 18, the elderly, the ill, stranded tourists, students completing their learning courses and facing accommodation difficulties, and those facing other difficulties.
Vietnamese representatives in the US assisted the citizens in completing procedures to travel to gather in international airports in San Francisco and Los Angeles cities. Security, safety and hygiene measures were carried out throughout the flight to protect their health and prevent the spread of COVID-19 pandemic.
Right after landing at Van Don airport in the northern province of Quang Ninh, the passengers and crewmembers received health check-up. They were sent to concentrated quarantine facilities in line with regulations.
In the future, more flights are set to be conducted to repatriate Vietnamese citizens with disadvantaged circumstances, depending on their need and quarantine capacity at home.
Thai firms offer help in Vietnam's anti-COVID-19 efforts
Thai Ambassador Tanee Sangrat handed over supplies for Vietnam's fight against COVID-19 to the Vietnam Fatherland Front (VFF) Central Committee in Hanoi on September 10.
He presented 1,000 cartons of canned fish and 25,000 face masks worth 1 billion VND (43,200 USD) in total. This was the second time he had visited the headquarters of the VFF Central Committee to offer support in this regard.
Congratulating Vietnam on its achievements in the COVID-19 fight, the ambassador said Thai businesses in the country have joined hands with a view to helping the country tackle difficulties caused by the resurgence of the disease.
For his part, President of the VFF Central Committee Tran Thanh Man thanked the ambassador and also Thai businesses, saying their good deeds will lend strength to the Party and State's efforts to contain the outbreak.
He also expressed his belief that, with their experience, the two countries will reap better results in COVID-19 prevention and control, thereby creating the conditions for enterprises from both to bolster operations.
ADB approves 500 million USD loan to boost Philippines' disaster resilience
The Asian Development Bank (ADB) has approved a 500-million-USD policy-based loan to allow the Philippines to quickly access emergency financing in the event of disasters triggered by natural hazards or public health emergencies.
The Philippines has been hit by several major disasters in recent years, including typhoon Haiyan in 2013, the Taal volcano eruption in January 2020, and the ongoing COVID-19 pandemic, ADB Vice-President Ahmed Saeed said in a statement.
"This new contingent disaster financing instrument will help the government manage fiscal risks posed by those shocks and lessen the economic and social impacts on people's livelihoods and the country's economy," Saeed added.
ADB Financial Sector Specialist for Southeast Asia Benita Ainabe said the Disaster Resilience Improvement Programme will support government policy reforms aimed at ensuring the government to quickly address the needs of vulnerable segments of the population following disasters. It will also strengthen the Philippines' overall response to disasters and pandemics.
Located in the Pacific Ring of Fire, the Philippines is among the most disaster-prone countries in the world, including active volcanoes, frequent earthquakes, and an average of 20 typhoons per year with floods and landslides.
Nearly 75 percent of the country's population are vulnerable to multiple natural hazards, and such disasters worsen poverty in typhoon-prone provinces along the country's eastern seaboard.
According to the ADB, disasters cost the Philippines 0.7 to 1.0 percent of GDP every year, including about 43.5 billion pesos (roughly 890 million USD) caused by earthquakes and around 133 billion pesos (roughly 2.7 billion USD) from typhoons.
The bank has provided at least 1.8 billion USD in loans and grants to assist the Philippine government in its urgent COVID-19 response.