Latest Coronavirus News in Vietnam & Southeast Asia May 15
Trillions of VND spent from Central budget to combat Covid-19
Vietnam has extracted trillions of dong from the Central budget for ministries and the revelant agencies to contain the spread of the coronavirus pandemic.
According to the Finance Ministry, the central and local budgets were tapped for activities to prevent and control Covid-19 infection in the first four months of the year, reported Nguoi Lao Dong newspaper.
The Finance Ministry, in coordination with other ministries, submitted a plan to the prime minister to consider extracting VND2.8 trillion from the budget for the ministries of Health, National Defense and Public Security to fight the epidemic.
Besides this, following the Government's Resolution No.42, dated April 9, regarding supporting policies for people who have encoutered difficulties due to Covid-19, the Finance Ministry sent a report to the Government and the Standing Committee of the National Assembly on setting aside VND20 trillion from the Central budget to support the affected localities.
Aside from expenditure on the fight against Covid-19, a sum of VND530 billion from the Central budget was spent during the January-April period to offer help to eight Mekong Delta localities to mitigate the severe impact of drought and salt water intrusion that they had suffered.
Hanoi capital likely to declare itself coronavirus free
With no new locally transmitted coronavirus infections for the past 29 days, the capital of Hanoi has met the criteria for declaring itself coronavirus free, said Hanoi deputy mayor Ngo Van Quy.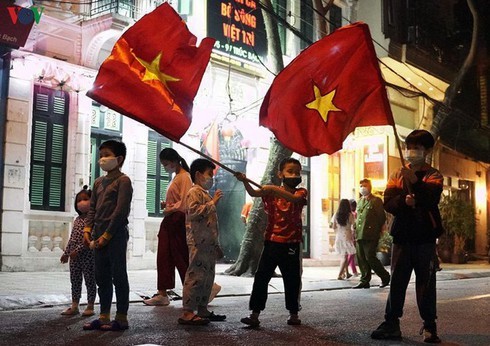 Hanoi has brought the coronavirus epidemic under control with no new locally transmitted cases detected for 29 straight days

Quy was speaking at an online Cabinet meeting chaired by Prime Minister Nguyen Xuan Phuc in Hanoi on May 15. 
According to the Hanoi official, the municipal administration on May 14 lifted restrictions on Dong Cuu village, Thuong Tin district, which is the capital's last coronavirus outbreak.
Hanoi tops the country's list of coronavirus affected localities, with 112 cases confirmed, of whom 101 patients have recovered and been discharged from hospital.
Currently, 128 people remain in quarantine for medical observation, plus 13 people who had close contact with COVID-19 patients.
"According to the regulations, Hanoi has met the criteria for declaring itself epidemic free," Quy said. "Whether or not the Prime Minister decides to announce the end of the epidemic, Hanoi vows to implement the dual goal of epidemic prevention and economic recovery."
He stated that Hanoi has gradually lifted restrictions, with many businesses and services returning to normal, except for discos, karaoke clubs and others.
"The capital will stimulate domestic tourism services and get ready to receive international visitors as soon as conditions allow," Quy stressed.
The deputy mayor voiced the capital's resolve to tighten control as more Vietnamese citizens stranded in coronavirus-hit countries are returning to the homeland, in an attempt to keep the virus at bay in the community. 
Vietnam determined to avoid first COVID-19 death and save British pilot
Prestigious news publication Reuters of the UK featured an article on May 14 detailing the nation's all-out efforts to save the life of a critically ill patient suffering from the novel coronavirus (COVID-19), a British pilot who works for national carrier Vietnam Airlines.
The article outlines that through aggressive testing and a mass, centralised quarantine programme, the country has successfully kept its tally of COVID-19 cases to just 288 whilst reporting no deaths.No expense has been spared in an effort to save the life of the 43-year-old man, identified only as "Patient 91", an individual who first contracted the virus at a bar in the southern business hub of Ho Chi Minh City in mid-March.
The UK news agency stated that more than 4,000 people connected to the cluster were subsequently tested, with 18 of them being discovered to have been infected with the COVID-19.
While the majority of cases have gone on to make a successful recovery, the British pilot is currently on life support with his condition significantly deteriorating.
This comes after the Ministry of Health led a meeting with experts from top hospitals on May 12, in which they decided that the only way to save the man's life was through a lung transplant.
The case has garnered national attention throughout Vietnam, with the Government winning broad support for its campaign to contain the COVID-19.
On May 14, Reuters quoted the Tuoi Tre (Young Age) newspaper which stated 10 people, including a 70-year-old military veteran, had put themselves forward as lung donors, but had subsequently been turned down by state doctors.
"We are touched by their good intentions, but current regulations don't allow us to transplant lungs donated by most living people," a representative of the Vietnam National Coordinating Centre for Human Organ Transplantation explained to Tuoi Tre.
At present, the patient is living with just 10% of his total lung capacity and has been on life support for over 30 days, Tuoi Tre described.
Deputy Health Minister Nguyen Truong Son told media last month that the nation has since imported specialist medicine from overseas in order to treat blood clots found in the patient, but to no avail.
Reuters also quotes the Vietnam News Agency which stated that the country has spent over VND5 billion, equivalent to US$200,000, in an all-out effort to try and save him.
In March, Chinese state media proclaimed that it had successfully carried out a double lung transplant on a COVID-19 patient, a procedure hailed as a significant method of treating the worst-hit victims from the disease.
The nation is hoping to capitalise on its success in fighting the COVID-19 by positioning itself as a safe place to do business, with plenty of international manufacturers seeking to diversify their supply chains away from China, according the UK-based publication.
COVID-19: Vietnamese expatriates in Philippines return home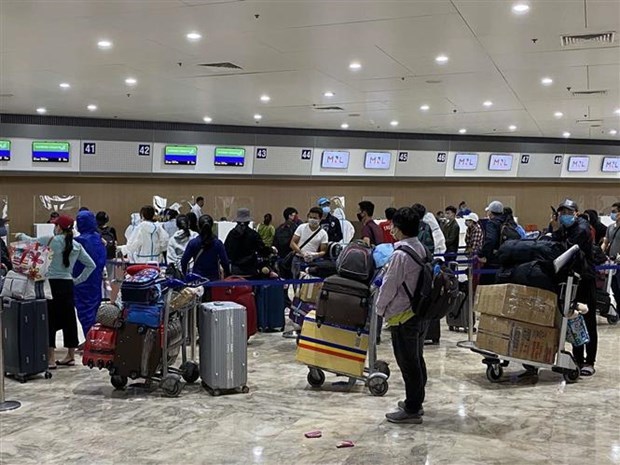 Vietnamese expatriates in Philippines return home
Nearly 200 Vietnamese citizens who were in disadvantaged situations amid the COVID-19 pandemic in the Philippines, were repatriated on May 14 in accordance with Prime Minister Nguyen Xuan Phuc's direction.
Authorised agencies of the two countries, the Vietnamese Embassy in the Philippines and Bamboo Airway coordinated to arrange a flight to take the citizens back to Vietnam.
Those repatriated included underage children, pregnant women, sick persons, students made homeless due to dormitories closed, and tourists trapped in the Southeast Asian nation due to the COVID-19 outbreak.
Bamboo Airway has strictly taken measures of security, safety and hygiene and epidemiology during the flight to ensure health for passengers and prevent the spread of the disease. After the flight landed in the Mekong Delta city of Can Tho, all persons on board were given check-ups and put under quarantine.
Domestic authorities and representative agencies of Vietnam abroad continued to advise Vietnamese abroad to abide by the guidance of local authorities, and minimising travel.
They will continue to work together to support Vietnamese citizens in disadvantaged situations abroad in returning home through commercial flights./.
Vietnam presents over 100,000 face masks to assist Oman's COVID-19 fight
Over 100,000 antibacterial face masks were presented to the Omani Embassy in Hanoi on May 14, as a gift from the Vietnamese people to assist Oman in coping with COVID-19.
At the handing over ceremony this morning, representatives from the Vietnam - Oman Investment Fund (VOI) and the Aikya Pharmaceutical Group presented the face masks to Omani Ambassador Saleh Mohamed Ahmed al Suqri.
Accordingly, the first package of medical supplies which will be transported to Oman include 100,800 Mebiphar medical masks meeting European standards and produced by Aikya.
Speaking at the ceremony, Nguyen Xuan Giao, VOI Investment Director, said that this is a gift from the Vietnamese people to their Omani peers, aiming to share the difficulties with the Middle Eastern country amid the complex development of the COVID-19 pandemic around the globe.
Affirming that the Vietnamese business community and people will always support Oman in the fight against COVID-19, Giao also expressed his wish that this medical support package would help the Omani people soon overcome the epidemic. 
Packages of face masks presented at the ceremony to support Oman in fighting COVID-19.  
Omani Ambassador Saleh Mohamed Ahmed al Suqri expressed his appreciation for the support package, saying that it is a meaningful and practical present, a harmonious message for the Omani people sent by the people of Vietnam as a whole, and by VOI and Aikya in particular.
"This aid from the friendly Vietnamese people to the Omani people has many meanings, as a true friend is the one who stands beside you in difficult circumstances, and this kind gesture of the Vietnamese people is highly appreciated by leadership and people of Oman," the diplomat said. He also praised the accomplishments of the Vietnamese government and people in preventing the spread of the disease.
As a joint venture between the State General Reserve Fund of Oman (SGRF) and the State Capital Investment Corporation of Vietnam (SCIC), VOI was established in 2008 and has disbursed more than US$250 million in the Vietnamese economy over more than 10 years, focusing on essential sectors such as hi-tech agriculture, toll roads, water treatment plants, renewable energy, pharmaceutical and healthcare, education and so on. VOI has cooperated with the Aikya Pharmaceutical Group to take an active part in providing protective gear and hundreds of thousands of medical masks directly to doctors, nurses and other forces in the frontlines of the fight against COVID-19 since its early days in Vietnam. 
According to the latest update on the COVID-19 pandemic in Oman, as of May 14, there were over 4,000 confirmed cases – most of whom (70%) are foreign expatriates residing in Oman, with 1,280 recoveries and 13 deaths.
An Giang quarantine camp escapee returns
Trần Văn Nam has returned to the quarantine camp in An Phú District in southern An Giang Province after escaping. — Photo tienphong.vn
A Vietnamese man who escaped from a quarantine centre in southern An Giang Province after entering Việt Nam illegally from Cambodia by boat has returned, the local Steering Committee on COVID-19 Prevention and Control has said.
Trần Văn Nam, 28, returned to the quarantine camp in Lương Thế Vinh High School in An Phú District on Thursday morning.
Đoàn Bình Lâm, deputy head of the committee, in co-operation with the provincial Centre for Disease Control, has taken samples from the man for COVID-19 testing.
The committee has also collected the travel schedule of the man after he escaped from the quarantine centre to get the list of people in close contact with him and ask them to be quarantined as stipulated.
At 5.15pm on May 10, Nam, from Kiến An Commune, An Giang Province's Chợ Mới District, returned to Việt Nam illegally from Cambodia by boat through Khánh An Commune, An Phú District.
He was stopped by border forces and sent to a quarantine camp in An Phú District.
The man was found to have escaped from the centre a day later. He had not yet been tested for SARS-CoV-2 at that time. 
Pandemic-hit employers to access interest-free loans to pay staff
A transaction office of the Bank for Social Policy in Thanh Hoa province
The State Bank of Vietnam (SBV) has transferred to the Vietnam Bank for Social Policy (VBSP) the full 16 trillion VND (680.4 million USD) in cash to be allocated to help struggling employers and their employees amid the COVID-19 pandemic.
SBV Deputy Governor Dao Minh Tu announced the move at a conference between banks and enterprises in Hanoi on May 14.
The central bank earlier allowed employers to borrow money from the VBSP at no interest for a year to pay employees forced to cease work due to the pandemic.
Tu said the economic recovery would not only take months but possibly several years, especially in the field of transportation, tourism, import and export. "Many industries are not only affected directly but also indirectly," he noted.
The SBV has also announced hotlines of its branches in 63 cities and provinces nationwide, which have been published on its website http://sbv.gov.vn. The hotlines are expected to be a channel for businesses to reflect their problems relevant to debt restructuring, extension and interest rate cuts due to the COVID-19 outbreak./.
Russian Federation Council Chairwoman thanks Vietnam for medical supplies
Chairwoman of the Federation Council of Russia Valentina Matvyenko
Chairwoman of the Federation Council of Russia Valentina Matvyenko on May 14 thanked Vietnam for presenting Russia with medical supplies to help with the fight against COVID-19.
In a letter to Chairwoman of Vietnam's National Assembly (NA) Nguyen Thi Kim Ngan, Matvyenko expressed deep gratitude to the Vietnamese NA and the Vietnam – Russia Friendship Parliamentarians' Group for their valuable solidarity amid the current difficult situation due to the COVID-19 pandemic.
The medical supplies, including medical masks and means to prevent the spread of the SARS-CoV-2, will be distributed to medical institutions and social organisations to support Russian people, she said.

The Russian legislative leader also said she believes that with common efforts, Russia will soon overcome the pandemic as well as its impacts on society and the economy.

On May 14 morning, Russia recorded 9,974 new cases of COVID-19 during the previous day, raising the total to 252,245. The country also reported 93 more deaths, bringing the total fatalities to 2,305. Meanwhile, 5,527 patients were given the all clear, taking the total recoveries to 53,530./.
Malaysia allows mass prayers ahead of Eid holiday
Malaysia announced on May 14 that it will lift a ban on mass prayers in mosques, starting from May 15, as the Muslim-majority country is gradually loosening restrictions imposed to contain the spread of the COVID-19 pandemic.
The news follows last week's reopening of many businesses in Malaysia, which has confirmed 6,819 infections and 112 deaths. It comes ahead of the Eid holiday that ends the fasting month of Ramadan, and falls on May 24 this year.
The Kuala Lumpur capital is among Malaysia's federal territories which will allow prayers by congregations limited to 30 or fewer, said Minister of Religious Affairs Zulkifli Mohamad Al-Bakri.
The measure excludes Malaysia's 12 remaining states, which have their own laws on religious matters, but Zulkifli said they were free to adopt similar measures if they wished.
Mass prayers have been banned since around mid-March in a partial lockdown after more than 2,300 people were infected in the country's biggest outbreak, following a religious gathering at a mosque attended by about 16,000 people.
Although new daily cases have declined steadily, schools and colleges will stay closed until June 9. Health authorities identified six infection clusters involving Islamic religious schools, with 635 students and staff testing positive.
On May 14, the country reported 40 new cases and one death.
Meanwhile, ít neighbour Indonesia confirmed 568 new infections and 15 fatalities on the day, raising the total to 16,006 and 1,043, respectively./.