Landslides cause traffic jam on highway in Lai Chau

Heavy rains in recent days have caused many landslides, especially on national highways, in the northern mountainous province of Lai Chau.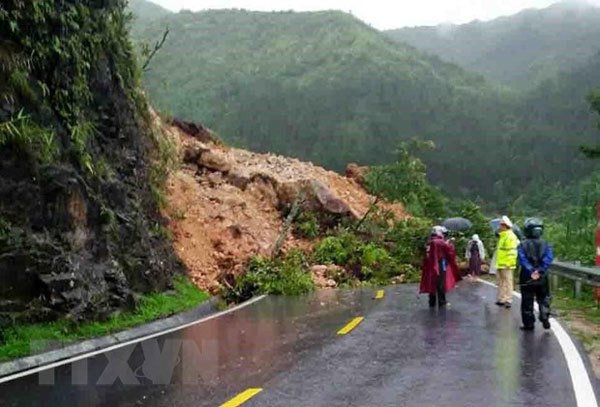 6,000cu.m of soil and rocks fell on Highway 4D, stalling traffic between Lai Chau and Lao Cai provinces, during heavy rains in the area. — VNA/VNS Photo
Traffic on the national highway that runs through the province was interrupted from Wednesday evening to Thursday morning.
Provincial authorities reported that at 4am on Thursday about 6,000cu.m of rocks suddenly swept onto Highway 4D, stalling traffic between Lai Chau and Lao Cai provinces.
On Highway 12 linking Lai Chau Province with Dien Bien Province, at least two landslide sites were seen at the Km32 and Km46 points, with thousands of cubic metres of rocks falling on the road.
On Highway 4H, the soil collapsed and rocks fell at the Km336+900 point, accompanied by heavy rains, stopping traffic between Muong Te District and neighbouring areas.
Local forces immediately arrived at the scene to direct the remedial work. Road recovery is expected to be completed on late Thursday on highways 12 and 4D.
At the landslide site on Highway 4H, construction workers are facing difficulties because heavy rain is still falling in the area and rocks and stones continue to fall.
Pham Ngoc Phuong, director of the provincial Department of Transport, said the provincial transport sector was working with district-level functional forces to direct rescuers at landslide sites and guide vehicles to ensure traffic flow.
After the landslides occurred, the department mobilised all equipment and human forces to resolve traffic interruptions and check all roads in the area to identify all landslide sites, focusing on repairing the most critical ones as soon as possible, the director of the department said.
VNS