Lack of parking space for trucks in HCM City hits transport companies

Most transport companies in HCM City lack parking space, and many resort to parking their lorries and container trucks on roads.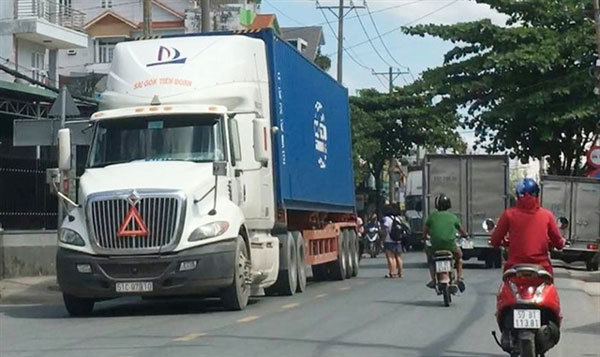 Large vehicles on Nguyen Duy Trinh Street in HCM City's District 2. — Photo tuoitre.vn
The parking space available in the city is in fact only 20-28 per cent of what is set out in its master plan for developing transportation.
Large trucks are now often parked on roads closed to traffic, posing a danger to other users.
Besides, a number of accidents have been caused by giant vehicles driving on restricted roads to reach unauthorised parking lots.
Last month many lorries and container trucks were found parked on streets like Nguyen Duy Trinh (District 2), Nguyen Xien and Do Xuan Hop (District 9) and Huynh Tan Phat (District 7). Some were even found on restricted roads and areas.
One of the drivers parking in a restricted road said it is very difficult to find parking space for trucks in the area and he drives his truck away if traffic police officers or other officials arrive.
Bui Van Quan, chairman of the HCM City Freight Forwarders Association, said hundreds of forwarders, especially cargo transport companies in District 9, face difficulties since there is no parking space for their trucks. Many of them have to park on roads or lease space in private lots.
"Transport firms pay large amounts of money for parking and as fines for violations," he was quoted as saying by Tuổi Trẻ (Youth) newspaper.
A number of them have had to suspend their operations due to losses, he added.
The association has urged city authorities to use vacant plots of land in districts 9 and 2 as temporary parking lots, pointing out that thousands of trucks would otherwise have no parking space in the two.
Temporary parking lots
Do Ngoc Hai, head of city Department of Transport's road transport management division, said the lack of parking space has affected both passenger and cargo transport.
It also has other adverse impacts, such as an increase in the number of accidents, he said.
He blamed the situation on the lack of land for construction of parking lots and terminals.
The association's proposal that the city should lease land in districts 2 and 9 and build temporary parking lots was rejected by the department since the proposed areas do not meet the conditions required for building parking lots, he explained.
The department would consider other areas in districts 2, 9 and Nha Be and complete construction works expeditiously, he added. — VNS

Many long-haul truck drivers have been found parking their vehicles and sleeping along the HCM City-Trung Luong Expressway, causing traffic disorder and posing a risk of traffic accidents.

The number of private, unlicensed container and truck yards in HCM City's districts 2 and 9 continues to increase because of a shortage of legal truck yards in the city.