Korean passengers flown back home from Da Nang city

Twenty passengers from the Republic of Korea were flown back to their home country on February 25 night, one day after their arrival in the central city of Da Nang.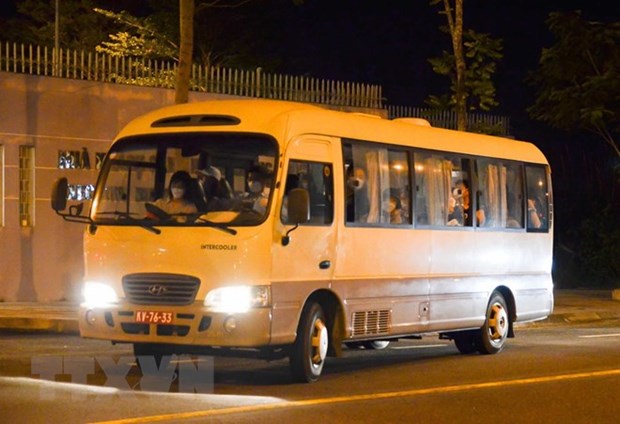 The bus carrying the Korean passengers to Da Nang International Airport
They are among 80 passengers who arrived on a flight from Daegu city – the centre of COVID-19 outbreak in the Republic of Korea (RoK)- on February 24. They had been kept under quarantine at Da Nang's Lung Disease Hospital since February 24.
Before their departure, the passengers received health screenings and certificates provided by the local medical sector.
Chairman of the municipal People's Committee Huynh Duc Tho sent a letter of apology to the Koreans, explaining that Da Nang is imposing urgent measures to ensure safety for visitors and the community in the face of the complex development of COVID-19.
The official expressed his hope to welcome the visitors at a more convenient time.
The remaining 60 passengers of the flight include 58 Vietnamese and two Thais.
Some airlines have suspended flights between Vietnam and the RoK over concern of the COVID-19 threat. Vietnam's Bamboo Airways suspends flights from the central cities of Da Nang and Nha Trang to the RoK's Incheon city as from February 26.
The airline is currently operating seven round trips per week on each route, using A321NEO capable of carrying nearly 200 passengers.
T'way Air of the RoK has also ceased flights from Daegu to Hanoi and Da Nang from February 18 to March 28, and flights from Daegu to Nha Trang from February 23 to March 28.
According to the Civil Aviation Authority of Vietnam, four Vietnamese carriers, namely Vietnam Airlines, Bamboo Airways, Vietjet Air and Jetstar Pacific, are running 182 flights per week from Nha Trang, Da Lat, Hai Phong, Da Nang, Hanoi and Ho Chi Minh City to Busan, Incheon, South Jeolla, Gangwon, Cheongwon-gu and Daegu of the RoK.
Meanwhile, four Korean airlines are operating 10 routes from Busan, Incheon, Daegu and South Jeolla to Vietnam's Cam Ranh, Phu Quoc, Da Nang, Hanoi and Ho Chi Minh City, with 381 flights each week./.
Foreign Ministry issues travel warnings amidst COVID-19 epidemic
The Consular Department under the Ministry of Foreign Affairs has advised Vietnamese citizens against travelling to areas with COVID-19 outbreaks or vulnerable to the epidemic as warned by foreign countries.
As for overseas Vietnamese, the department asked them to follow recommendations and guidelines on COVID-19 prevention and control set by local competent agencies, and avoid unnecessary trips.
Those who return from epidemic-affected areas or have had contact with infected people will be subject to medical screenings and a 14-day quarantine period.
The department also asked Vietnamese citizens to swiftly inform Vietnam's competent and representative agencies in foreign countries and territories, and their relatives in case of emergency.
In case of emergency, it is recommended to contact citizen protection hotlines posted on websites of Vietnamese representative offices abroad or the department's citizen protection hotline: 84 981 84 84 84./.
PM orders stricter countermeasures against COVID-19 outbreak
Prime Minister Nguyen Xuan Phuc has asked ministries, agencies and localities to stay vigilant and seriously implement solutions to fight the acute respiratory disease caused by a novel coronavirus (SARS-CoV-2).
In Directive No. 10/CT-TTg, PM Phuc said Vietnam had managed the outbreak well thanks to joint efforts, noting that all 16 confirmed positive cases in the country have been successfully cured.
However, there is still a need for more action to prevent and fight the acute pneumonia epidemic, he stressed.
"Fighting the epidemic is like fighting enemies," the leader reiterated, urging close monitoring over passengers travelling through border rails and strict observance of countermeasures in aviation, tourism and transportation sectors.
Under the directive, the PM asked the Ministry of Foreign Affairs to inform the Chinese side that Vietnamese citizens from China's coronavirus-hit areas are allowed to enter Vietnam via international border gates only.
The Ministry of Foreign Affairs was also tasked with informing the Republic of Korea (RoK) – fast becoming a major cluster of the new coronavirus outside China – and other countries and territories affected by COVID-19 about Vietnam's responses, including denying entry to people from or transiting through the virus-hit regions.
Even those on official missions will have to fill out health declaration forms and be subject to 14-day quarantine once they enter Vietnam.
The ministry must also tell Vietnamese citizens living and working in the RoK – especially in the virus-hit regions of Daegu and Gyeongsangbuk – to closely observe guidelines and recommendations on disease prevention.
At the same time, Vietnamese citizens are advised to avoid travelling to virus-affected regions except in necessary cases, and when they return home, they will face 14-day quarantine with no exception.
The Ministry of National Defence was ordered to prepare all infrastructure necessary to receive quarantined people that are not COVID-19 suspect cases but need to put under close observation.
The Ministry of Transport was requested to re-direct flights starting or transiting from virus-hit areas of the RoK to land in Van Don airport in Quang Ninh province, Phu Cat airport of Binh Dinh province, and Can Tho airport in Can Tho city.
Meanwhile, the Ministry of Public Security must provide the information about all passengers from the RoK entering Vietnam as from February 11 for localities in order to carry out monitoring and quarantine if necessary.
Hanoi to quarantine people arriving from epidemic-hit areas in RoK
Hanoi will impose quarantine measures on people arriving from or going through Daegu and North Gyeongsang, areas with COVID-19 outbreaks in the Republic of Korea.
On February 25, the municipal People's Committee required the Health Department to coordinate with the capital city's Military Command and police to carry out the quarantine work.
Accordingly, Vietnamese citizens will be kept in quarantine for 14 days since arrival at the military school under the municipal Military Command in Son Tay, while foreign nationals will be staying at the Municipal Police Hospital in Ha Dong district.
District administrations are told to look for people who arrived in Vietnam from the RoK within the past 14 days for monitoring and taking quarantine measures on those who came from or transited Daegu and North Gyeongsang.
The municipal Health Department instructed tightening international medical quarantine at the Noi Bai international airport, including requiring all passengers coming from or transiting the RoK to fill in medical declaration forms. All those who are found to have symptoms such as fever, coughing and shortness of breath must be put under quarantine at medical facilities and tested for coronavirus./.VNA/VNN

How the practices of a secretive religious sect may have played into the rapid spread of the virus.

Both Vietnamese and foreign airlines have suspended flights to South Korea until March as a precaution against the spread of the COVID-19 epidemic.