Kon Tum land dispute resolved

The People's Committee of Central Highlands Kon Tum Province held a press briefing on Sunday to provide official information about protesters who had occupied land in Kon Tum City's Ia Chim Commune.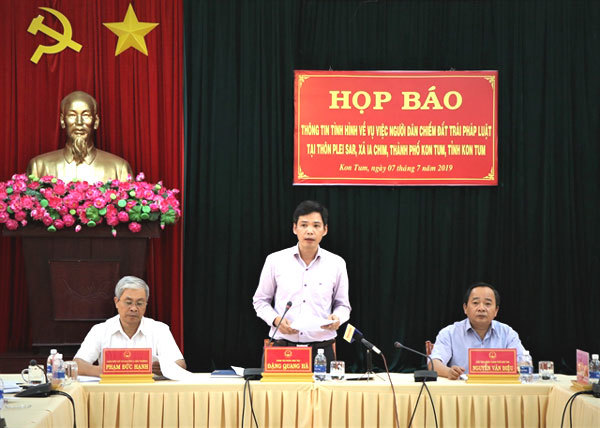 Authorities of Central Highlands Kon Tum Province at the press briefing on Sunday. —VNA/VNS Photo Quang Thai
The incident started on June 30, 2017 when some residents of the commune's Plei Sar and Lam Tung hamlets occupied nearly 210ha of land cleared by Kon Tum Rubber Co. Ltd and asked the company to return the land to them, according to Chief of the Secretariat of the provincial People's Committee Dang Quang Ha.
Local authorities held many meetings and dialogues with residents and most of them acknowledged that occupying the land violated the law, he said.
However, some individuals have recently incited the residents to continue occupying the land.
On Saturday, the People's Committee of the city of Kon Tum held a meeting with local residents to inform them of the province's land policies and the company's plan to replant rubber on the land.
Most of the residents agreed with the proposed solutions and supported the company's plan. They were encouraged to join the rubber plantation, he said.
Director General of the company Le Kha Liem said the company had signed contracts to employ 49 local residents to work at the rubber farm.
Ha said authorities would also punish those people who had allegedly incited the residents to occupy the land. Local police put 12 suspects into detention for further investigation.
The situation has stabilised, he said.
To support the residents who lack farm and residential land, the local administration assigned a plot of 26.85ha to build roads and serve as housing and agricultural land, according to Ha.
VNS