JICA offers emergency assistance to combat coronavirus in Vietnam

As a countermeasure against the new coronavirus in Vietnam, the Japan International Cooperation Agency (JICA) plans to provide testing reagents worth 14 million yen, which ensures the rapid detection of the virus.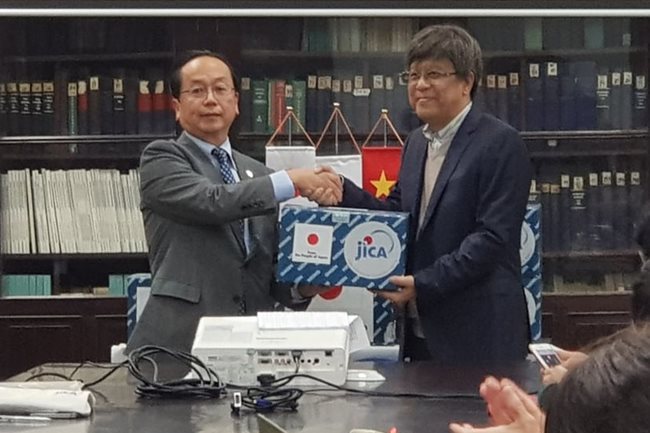 Chief representative of JICA Vietnam Office, Konaka Tetsuo (L), handed over the testing reagents to Professor Dang Duc Anh, director of the Hanoi-based National Institute of Hygiene and Epidemiology – PHOTO: JICA
In response to an urgent request from Vietnam's National Institute of Hygiene and Epidemiology (NIHE), the Japanese agency on Friday handed over the first batch of chemicals, valued at 2.3 million yen.
As of February 7, Vietnam had confirmed 13 cases of coronavirus, while more than 70 other suspected patients have been quarantined, and are awaiting test results. "The Vietnamese Government is on highest alert," said the JICA.
NIHE has been designated by the Vietnamese Ministry of Health as the leading institution to perform definitive diagnoses of suspected cases in the northern region.
In recent years, Vietnam has been exposed to a variety of emerging infectious diseases, including severe acute respiratory syndrome (SARS) in 2003 and highly pathogenic avian influenza (H5N1) in 2004.
Since 2006, through Japan's official development assistance (ODA) program, the JICA has supported the installation and strengthening of biosafety level-three laboratories that enable the safe handling of these high-risk pathogens.
In the ongoing "project for capacity development for medical laboratory networks on biosafety, and the examination of highly hazardous infectious pathogens," two long-term experts have been dispatched to strengthen the collaboration of major inspection agencies in Vietnam, such as the Hanoi-based NIHE and the Pasteur Institute in HCMC.
This support is part of the project. In addition, the first detected coronavirus patient was admitted to Cho Ray Hospital in HCMC on January 23.
A Japanese doctor, also a JICA expert who works at the hospital, had provided reference materials to the hospital's infection control department and supported preparations through a series of joint learning sections with colleagues at the hospital.
JICA pledged to continue supporting the Government of Vietnam to combat the virus. SGT
Thanh Thom

The Asian Development Bank (ADB) has approved $2 million in new funding to support efforts to combat the spread of the novel coronavirus (nCoV).