Japan suspends visas for Vietnamese citizens
Japan has suspended granting visas to Vietnamese citizens amid the country's Covid-19 problems.
According to the Department of Overseas Labour Management under the Ministry of Labour, Invalids and Social Affairs, that the suspension started from January 14 after the Japanese Prime Minister Yoshihide Suga declared a state of emergency in Tokyo and three nearby areas on Thursday as Covid-19 cases continue to surge.

Japan has decided to temporarily halt the granting of new visas for foreigners, including those from Vietnam.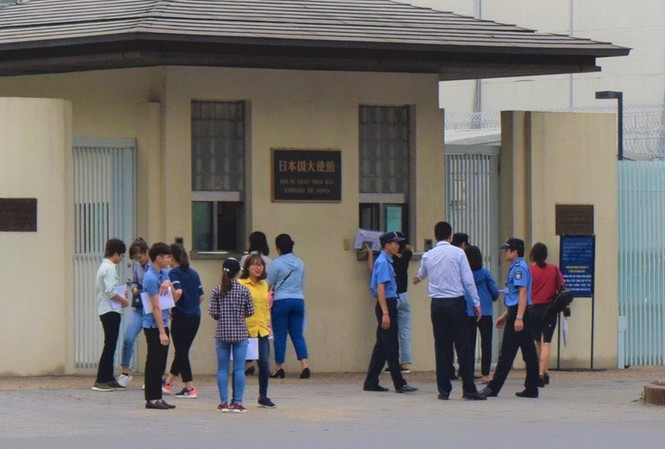 People gathered at the Japanese Embassy in Hanoi for visa application

People who had been provided with a visa to Japan earlier are allowed to enter Japan as of midnight of January 21 at the latest. However, they have to be tested negative for Covid-19 and the test certificate needs to be submitted to Japanese authorities no more than three days before their flight to Japan.

Anyone who enters Japan will have to undergo a 14-day quarantine. People are not permitted to use public transport from airports to quarantine sites.

People who violate Covid-19 prevention regulations will be strictly punished.

The measures will be applied until further notice from the Japanese government.

Japan was among six countries from June that offered looser visa policies. Dtinews/Tienphong

Vietnam successfully accomplished its role as ASEAN Chair 2020 in the context of COVID-19's impact being beyond imagination, the Director of the Vietnam Economic Research Institute (VERI), Hiroyuki Moribe, has said.

The Japanese government will set up a fund worth JPY250 billion ($2.4 billion) to support Japanese companies' "smart-city" projects and to help further decarbonisation measures in Vietnam and other Southeast Asian nations, reported the Nikkei Asia.