Japan donates 1 million COVID-19 vaccine doses to Vietnam
Japan has donated a batch of one million AstraZeneca vaccine doses to Vietnam. The shipment of the vaccines made in Japan is expected to leave on Wednesday and arrive in Vietnam the same day.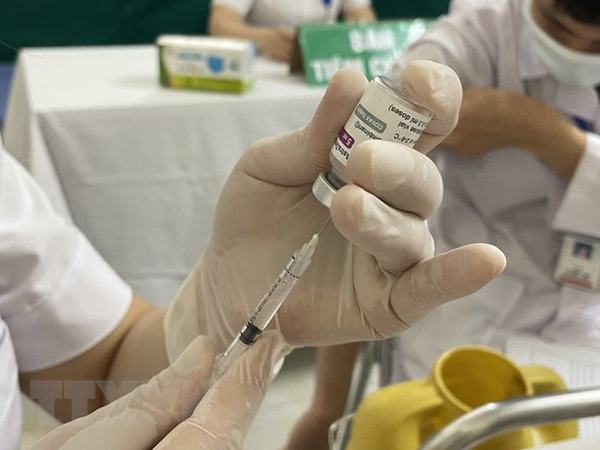 About one per cent of the country's population has received at least one dose of the COVID-19 vaccine. — VNA/VNS Photo Khieu Tu
On Tuesday, Japanese Ambassador to Vietnam Yamada Takio and Vietnam's Health Minister Nguyen Thanh Long exchanged notes relating to the supply of the COVID-19 vaccines to the country.
According to the announcement from the Japanese Embassy in Vietnam, the number of new COVID-19 infections has been increasing rapidly in Vietnam since late April this year due to new coronavirus variants, while some localities in the country are under social distancing order. Meanwhile, only over one per cent of the country's population has been vaccinated against COVID-19 and three million doses have arrived in Vietnam.
Purchasing COVID-19 vaccines is an urgent issue for the Government of Vietnam.
With the supply of the COVID-19 vaccine from Japan to Vietnam, the Japanese Government expects to help curb the spread of COVID-19 in Vietnam.
The Japanese Government sees that it's important to ensure equal access to safe and effective vaccines in all countries and regions to achieve universal health coverage. Japan would continue to co-operate with countries and international organisations to deliver support aiming to end the COVID-19 pandemic as soon as possible.
According to NHK, the Japanese government has a policy to send any surplus stocks overseas. The country donated about 1.2 million doses of the AstraZeneca vaccine to Taiwan earlier this month.
Source: Vietnam News

Minister of Health Nguyen Thanh Long met recently with the ambassadors of Australia, Switzerland and France in Vietnam regarding cooperation in epidemic prevention, especially the supply of Covid-19 vaccines to Vietnam.