Jail sentence given to gambling ring associated with 'social media influencer'

The People's Court in the northern province of Bac Ninh handed jail terms to Ngo Ba Kha (known as Kha Banh) and another five found guilty of gambling at a first instance trial on Wednesday.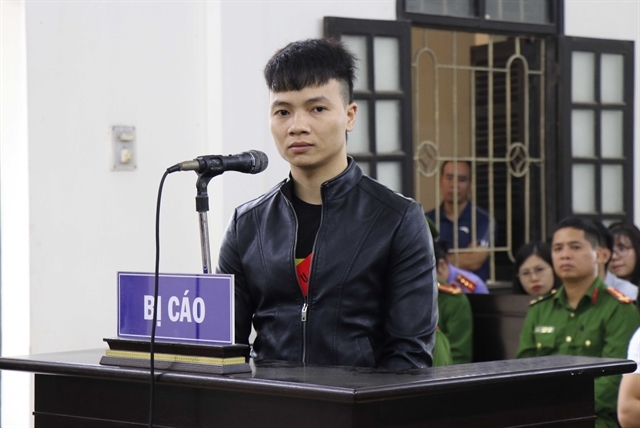 Ngô Bá Khá at the trial on Wednesday.
Twenty-six-year-old Ngô Bá Khá, whose nickname is "Khá Bảnh" (Handsome Kha), was sentenced to 10 years and six months in prison, along with a fine of VNĐ30 million (US$1,290) for gambling and organising gambling.
Nguyễn Hữu Hội got eight years and six months for the same charge, together with a fine of VNĐ30 million.
Other defendants, including Nguyễn Văn Quang, Trịnh Hữu Quý, Ngô Lương An and Nguyễn Trọng Công, received jail sentences ranging from 15 months to five years and had to pay VNĐ10 million in fines for organising gambling.
According to the indictment, from January and April this year, Kha took advantage of the State lottery.
The total proceeds of the gambling ring over 44 days totalled over VNĐ4.6 billion and he illegally earned over VNĐ280 million.
Quang and Hội helped Khá in getting numbers from players and their payments.
Khá also gambled with other defendants.
Khá was a high-profile public figure for posting a violent clip on social media. His YouTube has nearly 2 million subscribers.
One of his highly controversial clips involved him setting fire to his motorbike. Although he explained the vehicle is old, he decided to set it alight. However, he received many controversial comments and deleted the clip.
He was once put into a rehabilitation centre and has several criminal charges.  
Heroin traffickers sentenced to death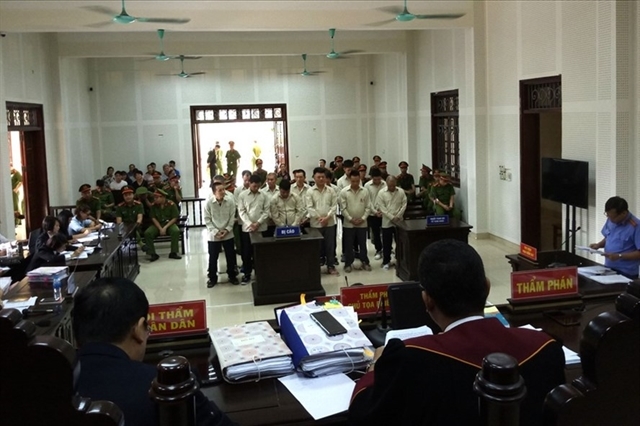 The heroin traffickers at court. — Photo laodong.vn
The Quảng Ninh People's Court on Wednesday afternoon sentenced five people to death for trafficking more than 50kg of heroin.
Four others received life imprisonment and another four received 20 years in jail.
The five facing the death sentence were Inthavong Paseuth, 41, from Laos, Nguyễn Bá Ngọc, Liễu Văn Láu, Vũ Đình Tuấn and Hà Hồng Quân.
Four receiving life imprisonment were Trần Hữu Đinh, Nguyễn Văn Tráng, Liang Yang Hai and Huang Chuan. Hai and Chuan are Chinese.
The four receiving 20 years imprisonment were Hoàng Đức Thế, Vũ Đình Hoàn, Nguyễn Văn Hoàng and Hoàng Ngọc Hưng.
The police on June 16, 2018 caught Nguyễn Văn Tráng, 43, with more than 20kg of heroin in a refrigerator.
Opening an investigation, the police caught more members of the trafficking ring, and discovered they already transported more than 50kg of heroin from Laos to Việt Nam and then brought it to China for sale. VNS
Gapo, Lotus and Astra, the three Vietnamese social networks, have debuted within a short time. But Facebook remains the favorite social network in Vietnam.

The HCMC Tax Department has ordered a YouTuber who earned VND19 billion in personal income from 2016 to 2018 via videos uploaded on YouTube to pay VND1.5 billion in back taxes, the local media reported.