Injured soldier flown from Truong Sa Island to mainland

A soldier based on Truong Sa (Spratly) Archipelago needed to be airlifted to HCM City Military after a serious fall.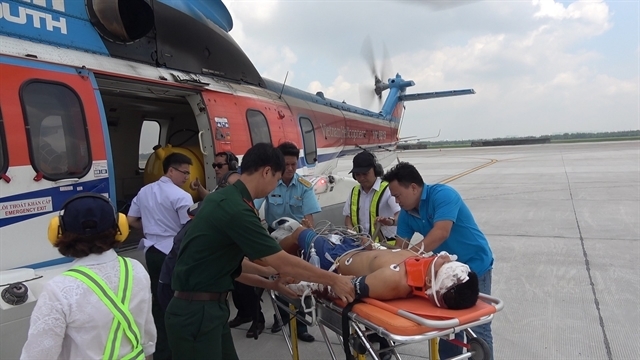 The soldier landed at the Tan Son Nhat International Airport in HCM City on Sunday.
The 22-year-old suffered injuries to his head, neck and arm after an accident.
He was treated at the Sơn Ca Island Infirmary but medics were concerned about his head injury so insisted he was transferred to HCM City after the accident on Saturday afternoon.
Receiving the information, the aviation rescue team went to the Trường Sa Archipelago, and took him to the Tân Sơn Nhất International Airport in HCM City at 10.15am Sunday.
During the flight, the patient had difficulty breathing and needed constant supervision.
He is currently in a stable condition in hospital.