Improving technical equipment of the Coast Guard's vessels to put into practical training
The High Command of the Coast Guard specially focuses on research and improvement of technical equipment on vessels of the Coast Guard forces and put into training to fit the actual situation.
Reviewing the implementation of the Education and Training Development Strategy for the period 2011-2020, it is shown that the High Command of the Coast Guard actively researched and built the "Plan to restructure the Center for training and fostering skills of coast guards into the Coast Guard School"; Constantly improved the quality, standardize the contingent of teachers and educational administrators; promoted the application of science, technology and information in teaching and educational management; did well the work of reviewing, evaluating, transferring, appointing, fostering cadres at all levels, adding foreign language criteria in mobilizing and appointing staff; promoted international cooperation activities on education and training and diversify forms of cooperation in order to improve foreign language skills and professional expertise.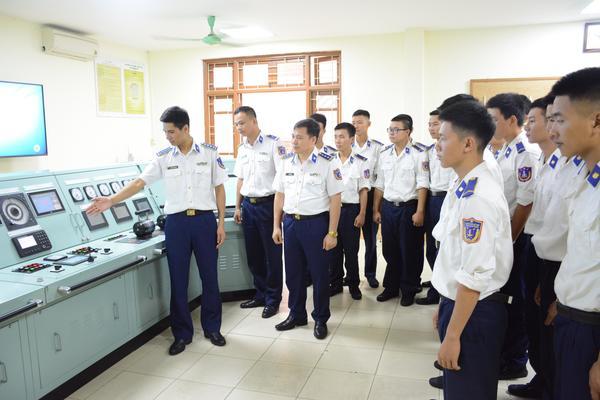 Officers and teachers of the Center for training and fostering skills of coast guards attend the lecture on specialized marine equipment - Illustration.
Major General Pham Kim Hau summarized: in the period of 2011-2020, the Standing Party Committee, Head of the High Command of Vietnam Coast Guard assigned the Center for training and fostering skills of coast guards to train and foster 316 primary technicians majored in Maritime, vessel engine, vessel electric system, vessel cannon, information; organize 3 classes to enhance maritime knowledge for 69 trainees; 2 classes fostering professional knowledge and law for 39 people; fostering knowledge of national defense and security for 3,029 trainees of the subjects 2, 3, 4 to ensure the content and program according to regulations.
Related agencies were proactive in scientific research, improving and renovating technical equipment, participating in and organizing competitions at all levels; compiling many electronic documents, lesson plans, model of learning tools for training and coaching; combining the application of information technology, science and technology into education and training.
In addition, the High Command of Vietnam Coast Guard also coordinated with academies and schools inside and outside the Army to train and foster expertise knowledge for 1,150 officers at all levels; send 156 people overseas; recruit 141 officers for the Coast Guard forces.
Hai Van