Hundreds of pregnant women, children return to hometowns by bus from HCM City
The provinces of Binh Dinh and Ba Ria - Vung Tau have sent dozens of buses to HCM City to transport children, pregnant women, and disadvantaged people from Ho Chi Minh City back to their hometowns.
On the morning of September 10, 20 buses carried 450 people citizens of the central province of Binh Dinh who were stuck in Ho Chi Minh City, Vietnam's largest Covid-19 epicenter, to Quy Nhon city, Binh Dinh. Among them, there were 373 students, 41 pregnant women and 36 disadvantaged people.
Upon arriving in Quy Nhon, they were brought to concentrated quarantine sites or hotels where they have to pay quarantine fees. Pregnant women were sent for home quarantine.
Binh Dinh province plans to send about 40 buses more to pick up Binh Dinh's students who are now in HCM City and pandemic-hit southern provinces back to their hometown to enter the new school year, which started on September 9.
Previously, on September 9, a flight carrying 193 Binh Dinh residents in Ho Chi Minh City to their hometown landed safely at Phu Cat airport. Passengers were also pregnant women, disadvantaged people and children.
This was the ninth flight in a series of free flights offered by the authorities of Binh Dinh province in combination with the Association of Binh Dinh Citizens in HCM City to bring Binh Dinh residents back home. The previous eight flights transported 1,514 Binh Dinh residents from HCM City and some southern provinces to Binh Dinh.
At the same time, the southern province of Ba Ria - Vung Tau on September 9 picked up the first 26 local residents, including 24 pregnant women and two children from HCM City by bus. These people are at a concentrated quarantine center in Chau Duc district.
Thousands of Ba Ria-Vung Tau citizens working and living in Ho Chi Minh City have registered to return to their hometown. Theprovince is working on a plan to repatriate its citizens back home, with priority given to pregnant women, children, and the elderly.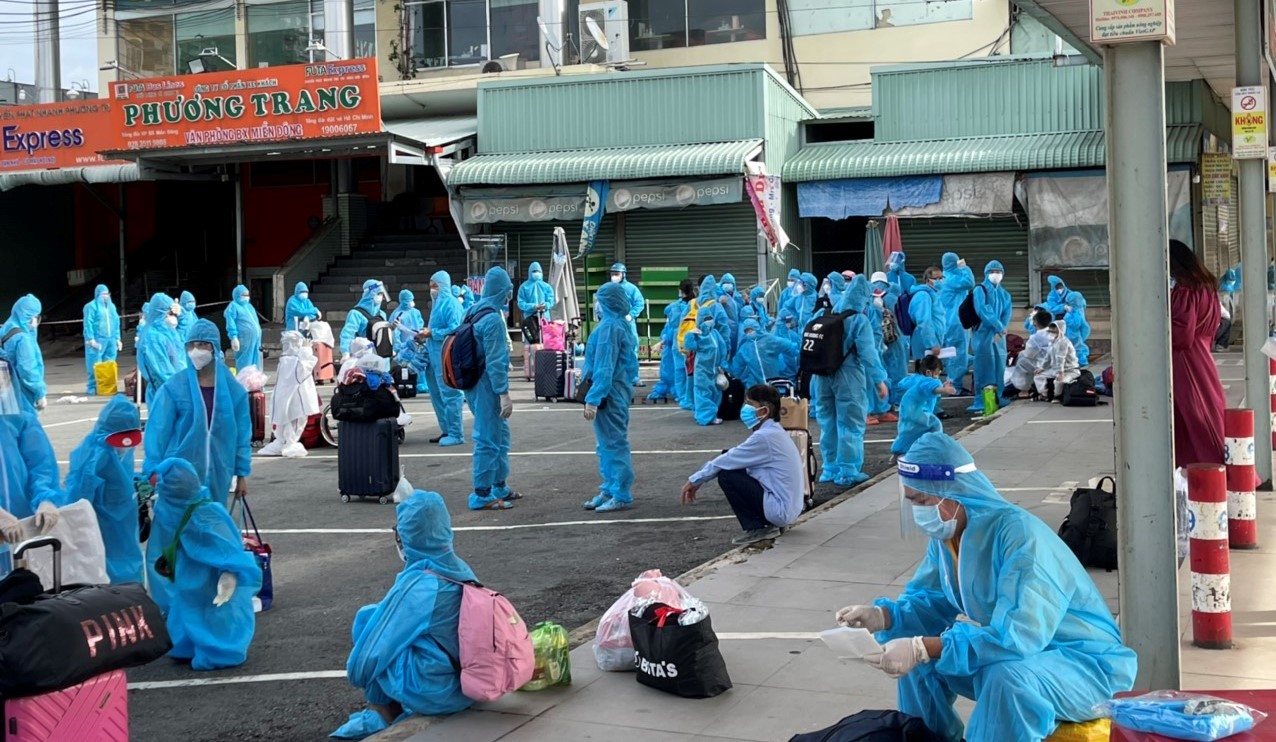 Binh Dinh's residents in Ho Chi Minh City in protective clothes at a bus station to return to their hometowns.
Upon arriving in Quy Nhon City, Binh Dinh province, they immediately moved to the concentrated quarantine site based in a kindergarten.
Q.T - Quang Hung

Within five days, nearly 12,000 people from Ho Chi Minh City and the southern provinces affected by the Covid-19 pandemic rode motorbikes back to the Central Highlands provinces of Dak Lak and Dak Nong to avoid the disease.