Hospitals' negligence caused two deaths of baby and teenager

Binh Thuan Province General Hospital have apologised for the death of a newborn baby due to their neglect.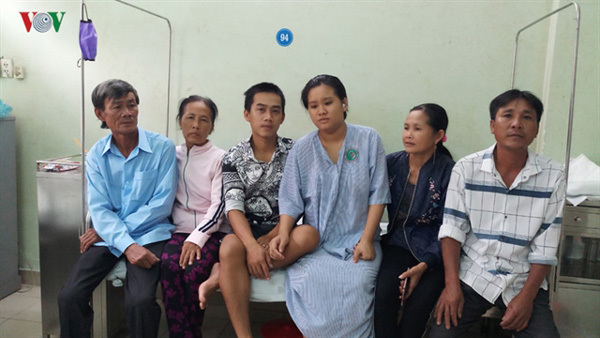 Nguyen Thi Thu Lieu (third, right) with members of her family after her baby died. — Photo vov.vn
The hospital's director, Nguyen Van Thanh, said they have offered compensation and assistance to the child's mother and considering taking action against the staff responsible.
Last month Nguyen Thi Thu Lieu, 31, from Ham Thuan Bac District, was admitted to the maternity unit to give birth.
In the early hours of August 30, she began contractions but was told by a nurse to wait until later that morning.
A video clip of member of staff's turndown was later circulated on Facebook.
Lieu then went into labour around 5am and gave birth on her own, with no medical staff in attendance.
Nurses arrived later to cut the child's umbilical cord and washed him.
But later the baby developed complications with cyanosis and was pronounced dead at 11.15am after being transferred to the paediatric department.
On Wednesday, the hospital met Lieu's family to acknowledge their faults and offer compensation of VND20 million (US$860).
According to Thanh, the newborn died of pneumonia that led to acute respiratory failure.
"It might be the way the nurse spoke to Lieu that made her misunderstand," said Thanh.
"The hospital's medical workers, especially nurses, will need to improve their communication skills to work with patients."
Adolescent's death due to medical error
In another medical incident, on Thursday, Dong Nai Province Paediatrics Hospital officially announced that several medical errors caused the death of a 13-year-old boy on July 24, Vietnam News Agency has reported.
According to the hospital's report, the victim died of septic shock, multiple-organ damage, sepsis and was resistant to most drugs used.
Mai Duc Tin, the victim's father, complained to Dong Nai Department of Health about his son's unusual death. The family blamed the hospital for an initial misdiagnosis which led to infections and ultimately, his death.
Tin said on June 12, his son was in a traffic accident and was sent to Shing Mark Medical University Hospital. Here, doctors diagnosed a broken pelvis.
As the hospital does not have a paediatrics department, he was then transferred to Dong Nai Province Paediatrics Hospital.
However, at Dong Nai Province Paediatrics Hospital, doctors said his pelvis was not damaged.
As the victim suffered terrible pains the following day he was diagnosed with appendicitis and underwent surgery.
After surgery, he went into cardiac arrest for 30 minutes.
A few days later he was sent to the National Paediatrics Hospital in HCM City.
Here, the doctor examined and said he had a broken pelvis, multiple organ failure, liver and kidney infection.
On July 24, after 38 days of treatment, he died of severe organ infection.
Nguyen Trong Noi, deputy director of to Dong Nai Province Paediatrics Hospital, admitted their negligence and medical errors caused the death.
The hospital said they would cover all medical expenses, including during 38 days at the National Paediatrics Hospital in HCM City, and charge medical workers involved in the case.
VNS