Hospitals create a joyous Tet for patients

Many hospitals in HCM City are carrying out programmes to help their patients enjoy the Lunar New Year season, or Tet, which falls on January 25.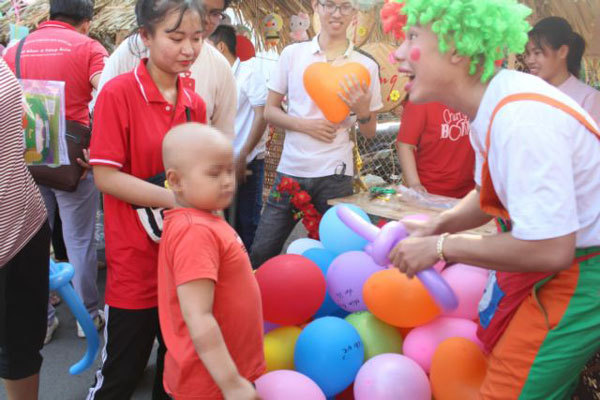 Child patients enjoy Xuân Yêu Thương (Loved Spring) Fair at HCM City Oncology Hospital held on January 5. Photo courtesy of the hospital
The HCM City Oncology Hospital, for instance, will provide free buses for their patients who want to return to their hometown to enjoy Tet with their family on January 21. They also will be presented gifts including cash of VND1 million (US$43), cakes and milk from the hospital.
The hospital's 100 patients with the most financial difficulty on Tuesday received gifts from Vice President Dang Thị Ngoc Thinh as part of the Ngày Mai Tươi Sáng (Bright Future) Fund.
Last week, the hospital and many sponsors organised Xuân Yêu Thương (Loved Spring) Fair for child patients. At the fair, children played traditional games, and enjoyed food and art performances. They were gifted vouchers to buy goods at stalls in the fair.
Dr Pham Xuan Dung, the hospital's director, said: "The hospital has nearly 200 inpatients including children and adults for treatment during Tet. The staff will organise various programmes for them to enjoy Tet at the hospital."
One hundred of the poorest cancer patients at Thong Nhat Hospital also received gifts from Vice President Dang Thị Ngoc Thinh as part of the Bright Future Fund.
The vice president said that the expertise of doctors and advanced techniques at hospitals in the country had helped many patients recover from cancer and that patients at the HCM City Oncology and Thong Nhat hospitals received excellent care.
Duong Thi Sau, 65, of Binh Tan District, who was treated at the hospital and one of 100 patients to receive gifts, said that she was happy with the gift from the vice president and hoped to be discharged from the hospital soon to enjoy Tet with her family.
Last Sunday, on Thu Duc District Hospital's campus, 500 poor patients were eager to go to 40 booths to buy rice, clothes, rice cakes, jams and others without paying any dong at the Phiên Chợ 0 Đồng (Fair with Zero đồng) held annually by the hospital.
At many booths, they were given VND20,000 as a good luck gift for New Year. They were also offered free haircuts if they wanted.
Dr Nguyen Minh Quan, the hospital's director, said the fair held twice a year to help poor patients has expanded to many wards in the district.
Cho Ray Hospital, HCM City's most crowded hospital, has created a colourful flower street for patients to enjoy the Tet season.
The 200-metre flower street features nearly 30 mini-scenes decorated with apricot and peach blossoms as well as flowers, ornamental plants and popular symbols of Tết such as bánh chưng (square cakes) and watermelons.
Nguyen Tri Thuc, director of the hospital, said that for many Vietnamese, Tet is a special occasion for reunions with family members. Patients and their relatives who cannot return home for the Tet holiday can feel the cheerful spirit of Tet at the hospital.
The floral decorations were designed by health workers at 75 departments and units of the hospital.
It is scheduled to wrap up on January 28.
Tet gifts for AO victims
Twenty gift packages were presented to Agent Orange (AO)/dioxin victims in Hanoi on Wednesday ahead of Tet.
Senior Lieutenant General Nguyen Van Rinh, Chairman of the Vietnam Association for Victims of Agent Orange/Dioxin (VAVA), said the programme, the second of its kind, had received warm support from organisations and individuals at home and abroad.
He added that from January 1 to 14, the association along with the Vietnam AO/dioxin magazine and sponsors, visited and presented Tet gifts worth over VND1 billion (US$43,200) to more than 1,200 victims across 23 cities and provinces nationwide. — VNS

Tet (Lunar New Year) is a time for families to get together and celebrate up and down Vietnam, but not for medical workers.

Nguyen Thi Sau, 54, has lived with a deformed face and burn marks for nearly five decades.