Ho Chi Minh City aims to be a smart, world-class city
HCM City is looking for breakthrough models and solutions to realize the goal of becoming a smart, dynamic, creative, regional- and international class metropolis, the city's Chairman Nguyen Thanh Phong said.
Income per capita of $37,000 by 2045
HCM City's Chairman Nguyen Thanh Phong said at a recent seminar on HCM City's development orientation to 2045 that, for more than 45 years, Ho Chi Minh City has been the largest city in the country in terms of population and economic scale. The economic sectors are moving towards modernity, with an increase in services and industry.
Based on the current situation and the country's goal to become a developed, high-income country by 2045, the city has set medium and long-term goals.
Specifically, by 2025, it will be a smart, modern-oriented industrial and service city, maintaining the leading role of the economy and the growth engine of the Southern key economic region and the whole country, being a pioneer in innovation, and a civilized, modern city with good quality of life and per capita GRDP reaching $8,500.
By 2030, HCM City will be a city of services, with a modern industry, a cultural city, a leader in digital economy and digital society, with per capita GRDP of about $13,000; and an economic, financial, commercial, scientific, technological and cultural center of Southeast Asia.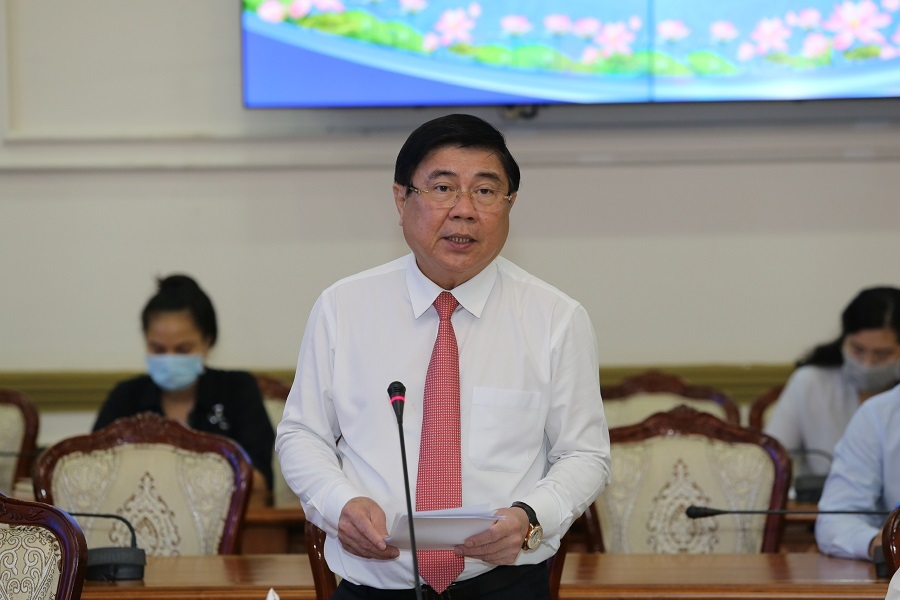 HCM City's Chairman Nguyen Thanh Phong
By 2045, the city will become the economic and financial center of Asia, a city of sustainable development, high quality of life, and GRDP per capita of about $37,000, an attractive destination for the world.
To implement these orientations, according to experts, the city must analyze, evaluate and forecast specific development factors and conditions, arousing its own potential and strengths; and search for breakthrough models and solutions to develop in the new and specify models and solutions.
Mr. Tran Hoang Ngan, Director of the Institute for HCM City Development Research, said that the city's development should follow the direction of a sustainable, developed and smart city. In particular, it is necessary to focus on speeding up digital government and digital society, and improving the quality of public services.
Experts said that the city needed to improve productivity, join global value chains, and apply artificial intelligence (AI) in economic-financial forecasting and simulation by developing quantum computing or applying sci-tech in smart cities and digital society. These can all help the city realize its development goals from now to 2045.
Turning Thu Duc City into center of Eastern region urban chain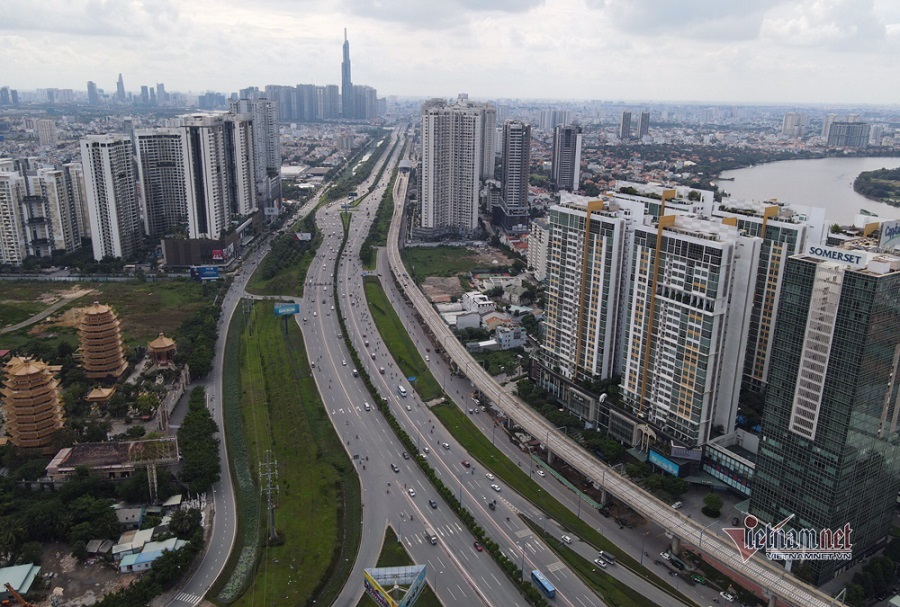 The city of Thu Duc.
Many experts said that HCM City needs a strategic direction for the development of Thu Duc City to be worthy of a new city within a city connected with urban areas in the Southeast. At the same time, the city must move towards a circular economy, towards the goal of sustainable development.
Economist Tran Du Lich said that under a plan approved by the Prime Minister in 2013, Ho Chi Minh City has 17 urban areas from grade 3 to grade 1.
In the region's urban centers, such towns as Bien Hoa City (Dong Nai province); Di An town (Binh Duong province); Nhon Trach City (Dong Nai); Long Thanh airport urban area; Phu My Town (Ba Ria-Vung Tau province), and others together with Thu Duc City, will form a chain of urban areas.
Once traffic infrastructure connects the areas, such as ring roads 2 and 3 and bridges over Dong Nai river link Thu Duc city with Bien Hoa city, Thu Duc City will help speed up the development of urban areas in eastern Ho Chi Minh City.
At the same time, developing Ho Chi Minh City in the direction of a multi-center will reduce the pressure of economic activities and population in the inner city. This is the main development direction to solve traffic jams and environmental pollution.
"It can be said that Thu Duc city is the driving force to develop the urban area of Ho Chi Minh City to the East," Dr. Tran Du Lich said.
Ho Van

Thu Duc City is expected to make up 30 percent of GRDP of HCM City, or 7 percent of GDP of the entire country, thus serving as the new driving force for HCM City to grow rapidly in a sustainable way.

By 2025, digital transformation will contribute 25% of HCM City's gross regional domestic product (GRDP), said Chairman of HCM City People's Committee Nguyen Thanh Phong.