HN chairman orders people not to leave the city while social distancing measures are in place
Hanoi Mayor Chu Ngọc Anh has signed a document to ask districts' administration to not allow people to move out of the city during the time of social distancing, except for those got the permit of the administration.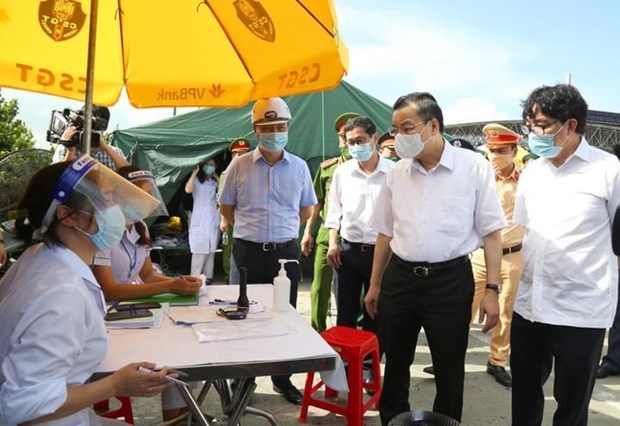 Chairman of the People's Committee of Hà Nội Chu Ngọc Anh (second, right) checks the implementation of COVID-19 pandemic prevention and control in the city.— Photo vietnamplus.vn
Under the message, Anh said the head of the People's Committee of each district must take responsibility if any person was found leaving the city without a permit from the local administration.
Anh also ordered all agencies and organisations, including diplomatic agencies and international organisations, in the city to strictly implement the Government's Directive No 16, and to comply with regulations on keeping a safe distance and to ensure the minimum number of people were going into the office to work.
He required relevant agencies to take urgent measures to curb the spread of the COVID-19 pandemic including quickly tracing suspected cases of SARS-CoV-2 infection; screening suspected cases of SARS-CoV-2 infection when they showed symptoms of cough, fever, shortness of breath or loss of taste; speeding up large-scale testing and screening for people living in high-risk areas as well as people returning from the pandemic-hit localities.
Anh told relevant agencies to actively identify high-risk areas, especially at hospitals, industrial parks, craft villages and traditional markets to take prompt actions to prevent the risk of infection in the community.
He told local hospitals, both public and private, to make a plan for their safe operation and submit it to the People's Committee of the district for approval.
He ordered medical staff at the hospitals to implement a policy of working, eating, and resting on site so that they can continue to take care of patients. The hospitals were required to arrange medical staff into shifts to work from 7-14 days at the hospitals.
They also had to strictly control people coming in and out of the hospitals.
Anh said after one week under the Government's Directive 16, and daily medical declarations via the website www.tokhaiyte.vn and mobile apps Ncovi and Bluezone, the authority had discovered many new cases of COVID-19.
On July 30, the city recorded 119 new cases, including 69 community cases, he said.
Therefore,the application of social distancing measures was absolutely right, timely and effective, he said.
However, he added that the remaining days of the two-week social distancing period were very important.
"If people seriously implement the directive, the city authorities will have a better chance of tracing and discovering all community infection cases," he said. 
Source: VNS