Health technician dedicated to giving blood

Le Van Sy, a health technician at a hospital in central Quang Binh Province, has been dedicated to giving blood for years.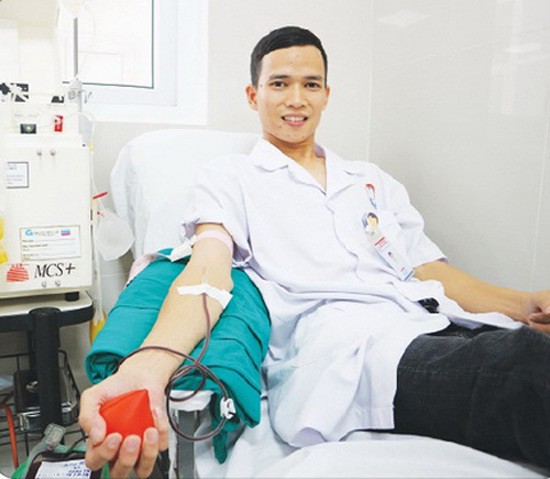 Le Van Sy, a health technician at a hospital in central Quang Binh Province, has been dedicated to giving blood for years. — Photo suckhoedoisong.vn
Sy is quite thin. He weighs only 50 kilogrammes, but he is ready to share his blood for those in need.
Sy was born into a poor family in Hai Thien Commune, Quang Tri Province. He was a thin and weak boy during childhood.
Despite his poor health, he did well at school, and had a dream of going to college and finding a good job to ease the financial burden on his parents.
After graduating from high school in 2009, Sy went down with a severe fever and was hospitalised for treatment, which took two weeks. Sy almost missed the deadline to enrol for the university entrance exam.
During his time in hospital, Sy realised the importance of good health, and when he was discharged he decided to become a health worker.
With support from his cousin, Sy enrolled at the Da Nang Medical No2 College in Da Nang. Two years later, he earned a diploma.
Sy heard that the Vietnam-Cuba Friendship Hospital in Quang Binh Province was hiring health workers, so he decided to give it a try.
In early 2012, Sy became a health technician at the Department of Biochemistry, Haematology and Blood Transfusion.
During his first months, Sy witnessed a blood shortage and the difficulties facing both the hospital and patients' families in emergency situations.
Sy decided to do something to improve the situation. He, together with a group of colleagues, set up a blood bank and devised a list of those who could donate blood in case of emergencies based on blood type.
Since then, Sy has donated blood to save more than 30 patients.
The most impressive case, Sy recalled, was a night shift one year ago.
A pregnant woman was hospitalised after suffering from severe bleeding after giving birth. She needed a blood transfusion as soon as possible.
The woman had blood type O. Unluckily, there was none available from the hospital's blood bank.
While waiting for more people from his blood bank to arrive at the hospital, Sy and his colleague took turns to give blood and saved the woman.
The first time, Sy gave two units of blood – an equivalent to 500ml, although he only weighed 50 kilogrammes.
The Ministry of Health warned that only men weighing more than 50 kilogrammes should donate a maximum of 450ml depending on their health.
"There was no other way. We had to do it or the patient would die," he told Sức Khoẻ&Đời Sống (Health&Life) newspaper.
The two staff managed to donate four units of blood. With the help of colleagues and the patients' families, 12 units of blood were collected.
The woman was saved, and Sy recovered after taking a quick rest.
When they found out about his regular blood donations, his parents were very worried about him and often ask about the side effects.
After being explained how blood donation works, they felt more secure.
Sy said his health had much improved, and would continue rushing to the hospital if a patient was in need.
He wanted to help as much as possible as a drop of blood could save a life, he said. VNS

Nguyen Tri Hieu, 48, from HCM City has donated blood 71 times. However, he has set a goal of donating blood up to 100 times or until his health no longer allows him to.  

The National Institute of Hematology and Blood Transfusion (NIHBT) has opened its first fixed blood donation site at Hoan Kiem Health Centr at No 26 Luong Ngoc Quyen street in Hanoi's Old Quarter.

Although emergency blood donations in remote, border and island areas have been launched in recent years, they are yet to meet the needs of urgent cases.