Health Ministry announces 8 flights with passengers contracting COVID-19

The Ministry of Health on March 16 announced it has found eight flights with passengers on board contracting COVID-19.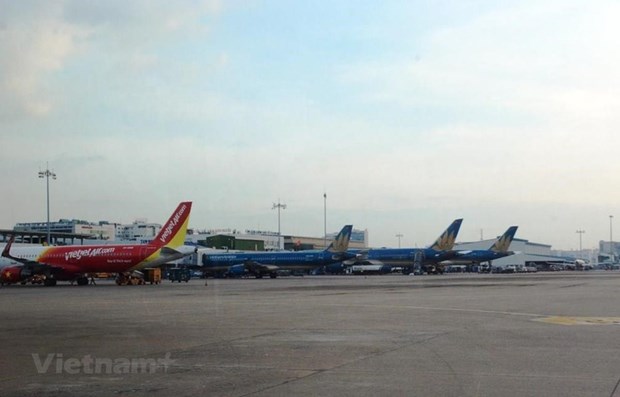 Illustrative image
They are TG 564 from Bangkok to Noi Bai on March 15, SQ 176 from Singapore to Noi Bai on March 15, VJ 826 from Malaysia to Noi Bai on March 4, TK 162 from Istanbul to Ho Chi Minh City on March 8, QH 1521 from Ho Chi Minh City to Phu Quoc on March 9, QH 1524 from Phu Quoc to Ho Chi Minh City on March 13, SU 290 from Moscow to Hanoi on March 13, and QR 970 from Doha to Ho Chi Minh City on March 10.
The ministry asked all the passengers on those flights to contact the disease control centres of the provinces and cities for guidance on health monitoring.
Agents selling tickets for them are responsible for notifying the passengers who bought tickets for those flights.
The number of COVID-19 cases in Vietnam stands at 61 now, 16 of them have been discharged from hospital following their full recovery.
Some new COVID-19 patients initially test negative
Some of the 41 new COVID-19 patients who are being treated at hospitals across Vietnam have turned up negative for the SARS-CoV-2 after the first test.
They include a Vietnamese at the general hospital of the northern province of Ninh Binh whose first test was conducted on March 14. He now shows no symptoms of the disease like cough and fever.
Initial testing results of two foreigners at the Da Nang Hospital in the central city of Da Nang and a British woman at the National Hospital of Tropical Diseases No. 2 in Hanoi's outskirts district of Dong Anh were also negative.
Currently, the National Hospital of Tropical Diseases is providing treatment for 15 COVID-19 patients, most of them now in stable health conditions while the conditions of two others, a 69-year-old British citizen and a 64-year-old Vietnamese, are worsening.
Vietnam has confirmed 57 COVID-19 cases so far, 16 of them discharged from hospital after their complete recovery./.VNA