Health Minister gets AstraZeneca COVID-19 vaccine shot
Minister of Health Nguyen Thanh Long received his first dose of the AstraZeneca coronavirus vaccine alongside three deputy ministers on May 6 in Hanoi.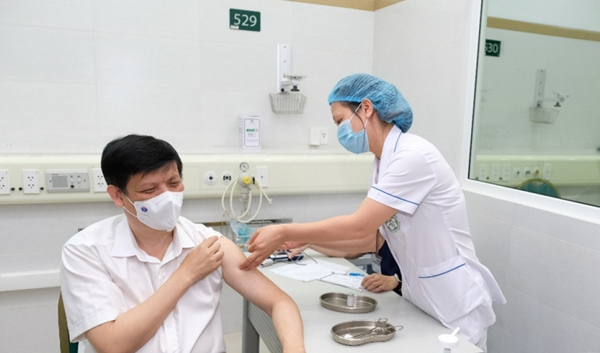 Health Minister Nguyen Thanh Long gets AstraZeneca coronavirus vaccine shot on May 6.
"I'm fine after the injection," Minister Long told local media outlets, adding that the three deputy ministers also feel the same.
He affirmed that Vietnam's ongoing vaccination process is being carried out at the highest possible level of safety and has seen some differences compared to the procedures underway in other countries.
According to the Minister, alongside standardised equipment, pre-examinations, and consultations, individuals who receive their vaccine shot are required to stay at the injection site for at least 30 minutes in order to undergo health monitoring.
The period of health monitoring then continues at home for the following 24 hours and subsequently lasts for three weeks after.
"Safety is our top priority, therefore the Ministry of Health has set up a steering board on inoculation which is comprised of leading health professionals, in order to assist localities with complications during vaccination," said Minister Long.
Vietnam has so far vaccinated nearly 700,000 people against the SARS-CoV-2 virus since the national COVID-19 vaccination campaign was launched on March 8.
Preliminary reports indicate that 16% of recipients recorded common reactions after injection, such as muscle pain and a slight fever, although these symptoms disappeared after 24 hours. Most notably, this rate is rather low compared to other countries globally.
"Up to now, it can be confirmed that COVID-19 vaccinations in Vietnam are safe," noted Minister Long.
VOV

Vietnam will use 60 million doses of AstraZeneca vaccine this year. How long does the vaccine's effectiveness last?