HCMC to announce establishment of Thu Duc City on Dec 31
The HCMC government will announce a resolution on establishing Thu Duc City and arranging administrative units at district and commune levels of the city on December 31.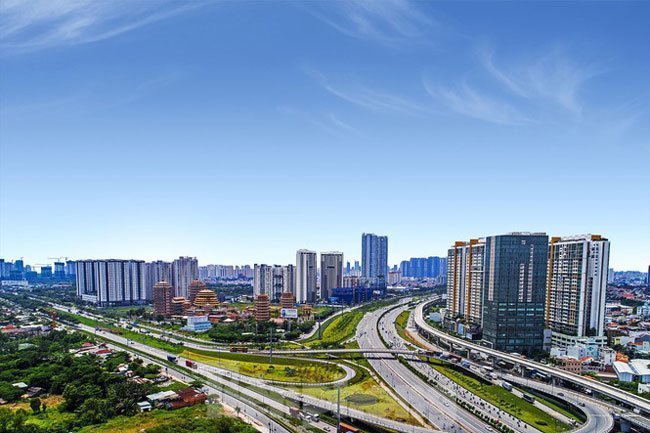 A view of Cat Lai T-junction in District 2, part of Thu Duc City. The HCMC government will announce the establishment of Thu Duc City on December 31 - PHOTO: TPO
Thu Duc City will be established by merging districts 2, 9 and Thu Duc and will be the first city to be under the jurisdiction of a centrally-run city in Vietnam.
The new city, which will cover 211.56 square kilometers and be home to more than one million people, will border HCMC's districts 1, 4, 7, 12 and Binh Thanh, and the provinces of Binh Duong and Dong Nai.
An Khanh and Thu Thiem wards in the current District 2 will be combined to form Thu Thiem Ward covering an area of 3.25 square kilometers. The new Thu Thiem ward will border An Khanh and An Loi wards in District 2 and Districts 1, 4 and Binh Thanh.
Binh Khanh and Binh An wards will be merged into the new An Khanh ward with an area of 3.92 square kilometers and a population of more than 23,000 residents, locating near An Loi Dong, An Phu, Binh Trung Tay, Thao Dien, Thanh My Loi and Thu Thiem wards in District 2 and districts 7 and Binh Thanh.
In total, Thu Duc City will have 34 wards.
Under the resolution, HCMC will have 22 districts, including 16 inner districts, five suburban districts and one city.
Administrative agencies in Thu Duc City must complete the arrangement of their organizational structure within 60 days after the resolution comes into force to ensure the stability of local residents' lives and the smooth operation of organizations and enterprises in the city.
The HCMC government must assign the relevant departments and agencies to instruct locals to alter personal documents. The process will be publicized on the portals and at the headquarters of State administrative agencies and locals will not be charged for changing personal documents.
HCMC Chairman Nguyen Thanh Phong said Thu Duc City is expected to contribute a third of the city's gross regional domestic product or 7% of the country's gross domestic product. SGT

HCM City must ensure transparent governance before establishing a "new city within a city" from the proposed merger of three city districts, experts said on Wednesday at a seminar in the city.