HCMC seeks US$1.3 billion from central Gov't to fund metro construction

The HCMC authority is seeking approval from the municipal People's Council to borrow a total of over US$1.3 billion from the on-lending fund of the central Government to construct the city's second metro line.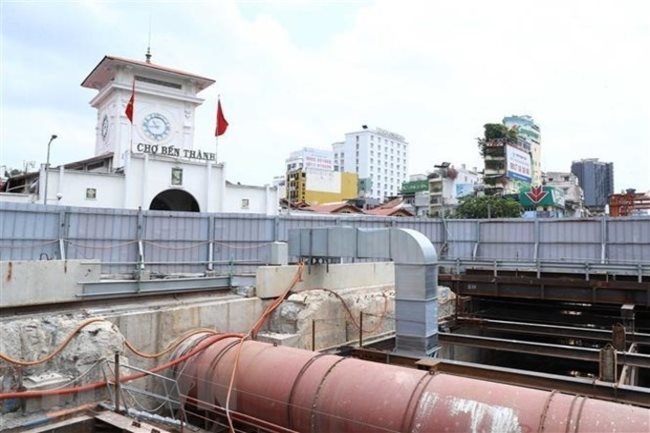 A construction site is in front of the Ben Thanh Market in downtown HCMC. The city government is seeking funds to build the second metro line
According to the proposal, the city government intends to borrow US$962.61 million and 300.72 million euros in the form of foreign loans from the central Government.
The metro line will link Ben Thanh Market in District 1 with Tham Luong Depot in District 12.
The project currently requires total funding of more than VND47.8 trillion (US$2.09 billion), compared with the original VND26 trillion.
The revised capital requirement will come from over VND37.4 trillion worth of official development assistance loans and some VND10.4 trillion from Vietnam's reciprocal capital.
Foreign loans are expected to be allocated to the HCMC budget from the central Government to develop the railway infrastructure and pay for other expenses.
Meanwhile, the municipal budget will use the on-lending funding of foreign loans for items related to transport business operations, such as locomotives, the ticketing system and depot equipment.
The Government said in a November report to the National Assembly that some 18% of households affected by the project had received compensation, and some 9% of the households had handed over their land for the construction of the metro line.
Site clearance, compensation and resettlement for the project are expected to be completed by June next year, according to the report.
Last week, Prime Minister Nguyen Xuan Phuc ordered authorities in 10 cities and provinces to fast-track the execution of key transport infrastructure projects, including the Ben Thanh-Tham Luong metro line, with a focus on removing obstacles to site clearance. SGT
Pham Nhat

Once ready, the Nhon – Hanoi Station metro line is expected to serve more than 23,000 passengers per hour from 2021.

HCMC has cut unnecessary costs to lower the investment capital for its first metro line by VND3.4 trillion (US$146.5 million) to VND43.6 trillion.