HCM City to relax many activities from October 1
The draft directive to loosen many activities in HCM City from October 1 has been revealed.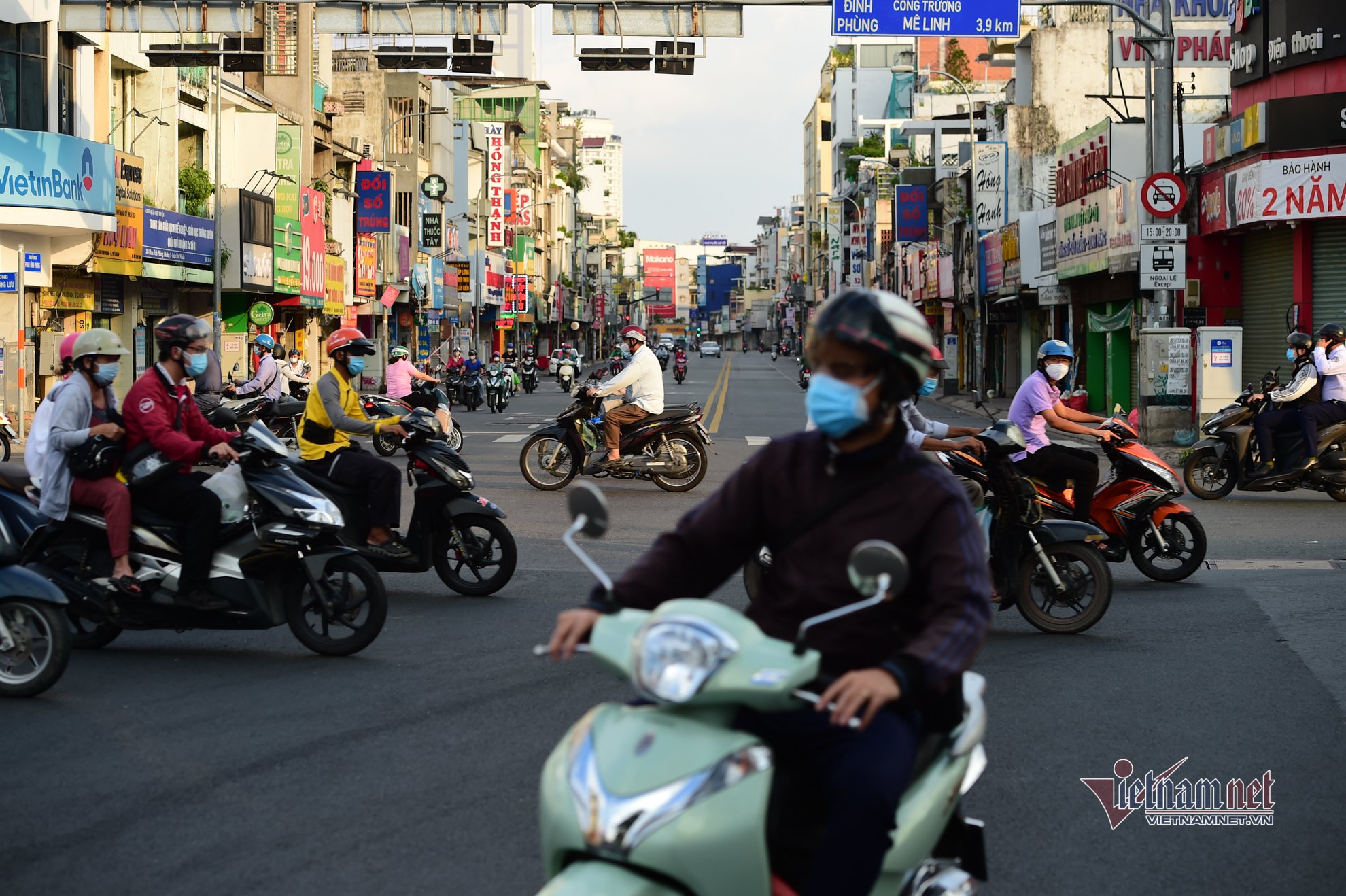 Ho Chi Minh City plans to relax many activities from October 1.
Accordingly, the city plans to gradually relax social distancing measures from 0:00 on October 1, based on the level assessed by the provisional guidance "Safe and flexible adaptation, effective control of the Covid-19 epidemic" of the National Steering Committee on Covid-19 Epidemic Prevention and Control. Here are some major points:
The draft directive allows the operation of enterprises, production and business establishments in industrial parks, export processing zones, high-tech parks, Quang Trung Software Park and Thu Duc City; the operation of cooperatives and households engaged in agricultural, forestry and fishery production and business; agricultural production support services, veterinary establishments, veterinary practice establishments; traffic and construction projects; and commercial activities.
The group of commercial, business and service activities allowed to resume operation includes:
+ Medical examination, treatment, rehabilitation and physical therapy; establishments trading in pharmaceuticals, medical supplies and equipment; plastic services at hospitals, polyclinics.
+ Food supply.
+ Supply of petrol, oil, chemicals; electricity; water; fuel, repair services.
+ Public utility services: water supply and drainage, parks, trees, technical infrastructure, transportation; toll stations; environmental sanitation services; environmental monitoring and treatment services; wedding services; funerals.
+ Representative offices and branches of foreign traders.
+ Credit institutions, foreign bank branches, treasury; establishments providing direct credit-related services, logistics and supporting businesses and people (notaries, lawyers, asset auctions, bailiffs, commercial arbitrations, commercial mediation, legal advice, judicial expertise, asset management - liquidation, security transaction registration, land registration, securities.)
+ Post and telecommunications; publishing, press; doing business on e-commerce floors.
+ Warehouses, transshipment of goods, support services for transporting, exporting and importing goods.
+ Trade centers; supermarkets (including mini-marts), convenience stores, grocery stores, retail establishments of all kinds; restaurants, food service business establishments (only take-away); wholesale markets, retail markets, traditional markets.
+ Haircut and hair salons can operate at up to 50% of their capacity.
+ Resorts, tourist sites, museums are allowed to operate at up to 30% of capacity and only serve guests who have been fully vaccinated or have recovered from Covid-19 or have valid negative testing results.
Events, physical training and sports competitions can be held at a maximum scale of 30% of the capacity and 100% of the participants must be fully vaccinated or have recovered from Covid-19 as permitted by the competent authority.
People's daily cultural, artistic, physical training and health training activities are allowed, with up to 10 people or up to 50 participants who have been fully vaccinated or have recovered from Covid-19.
Weddings with a maximum of 50 attendants under the supervision of local medical staff are allowed.
Production and business organizations and individuals employing workers with Covid-19 Green Cards are entitled to operate provided that they comply with regulations on epidemic prevention set by the health agency.
Childen will still study online. Training activities for people of 18 years old and older can be organized if participants are fully vaccinated.
High-risk business activities include bars, spas, massages, beauty services, on-site catering services, cinemas, discotheques, karaoke parlors, and video game shops will be still suspended.
Certain events, cultural activities, art, religious, and belief activities, meetings, and launching ceremonies will also be suspended.
Ho Van

The downward trend in new COVID-19 infections and a high ratio of vaccination have been among good signals creating the momentum for Ho Chi Minh City to reopen its economy after September 30 as planned.

According to the Ministry of Planning and Investment, Ho Chi Minh City and five provinces in the Southeast region will likely have negative growth in 2021.